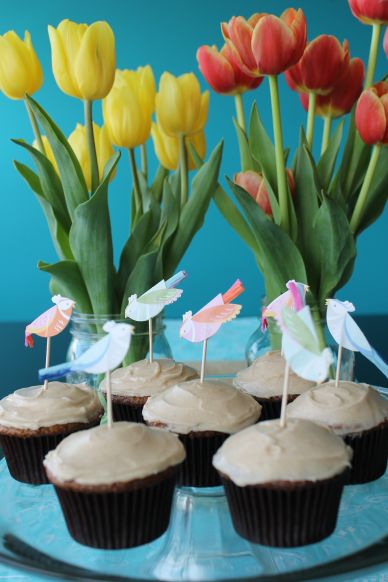 Almost eight years ago, I made my brother and sister-in-law's wedding cake (you can read about that little adventure here). It was carrot cake, and I haven't eaten it or made it since! The recipe I used was from Anna Olson, and it's perfect. It's dense and hydrated and has pineapple in it as well.
Since I knew we had this Classic Carrot Cake on the agenda for this week's Baked Sunday Morning, I decided to make it last week for Easter dessert when I had my parents over for dinner. Instead of making one big 9×13″ cake, I made cupcakes instead, which made it easier to transport the leftovers to my second Easter dinner on Monday, as well as to work.
This recipe is a dream. This carrot cake baked up so much lighter and fluffier than the ones I've made in the past. Instead of pineapple, you stir in toasted coconut and toasted walnuts, which were great additions. I'm against raisins in carrot cake, so I was happy this version didn't call for them either.
The frosting is a basic cream cheese recipe, but with the addition of cinnamon, which reminds me of the filling for the Gingerbread Sandwich Cookies I make every Christmas.
A note on the yield: I got a little over two dozen cupcakes, so if you don't need that many, best to cut the recipe in half.
You can find the recipe here!
More Baked Sunday Mornings here!