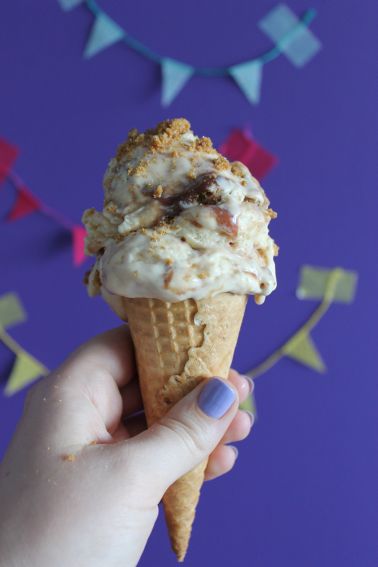 This week was Gastropost's 100th Mission, and to celebrate, we got to create our own mission! I was thinking back to the first few Missions I did back in the summer of 2012, and of course when my thoughts turn to summer treats, that means only one thing to me: S'MORES! For my S'mores mission I made Toasted Marshmallow Ice Cream with a Milk Chocolate Fudge Swirl and Graham Cracker Crust Crumbles. It was a labour of love I worked on over an entire weekend, and I was absolutely thrilled when my photo was chosen as the Mission Inspiration for this week (you can see it in the paper here).
Of course, as I've written before, the very best part of Gastropost has been the community of foodies and the friends that I've made over the past couple of years. Last Wednesday Gastropost threw a 100th Mission Party at Osteria de Ganzi, and I got to celebrate with these two dolls: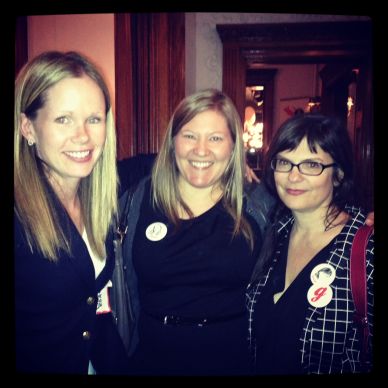 Duncan from Team Gastropost also gave us a sneak peek into some upcoming missions. Can't wait!
S'mores Ice Cream
Source: Ice Cream – Love + Cupcakes,  Swirl – adapted from Smitten Kitchen,  Crumb – adapted from the back of the Honey Maid box, Overall inspiration from Take a Megabite's ice cream love
Ingredients
Toasted Marshmallow Ice Cream
10 oz mini marshmallows
5 egg yolks
1/3 cup sugar
pinch salt
2 cups whipping cream
1 cup milk (I used 2%)
1 tsp vanilla
Milk Chocolate Fudge Swirl
1/3 cup whipping cream
1/4 cup light corn syrup
2 1/2 tbsp brown sugar
2 tbsp cocoa powder
1/8 tsp salt
3 oz milk chocolate, chopped and divided
1 tbsp butter
1/4 tsp vanilla
Graham Cracker Crust Crumble
1/4 cup (1/2 stick) butter
1 1/4 cups graham cracker crumbs
2 tbsp sugar
pinch salt
Directions
For Toasted Marshmallow Ice Cream, first get your marshmallows ready. Turn the broiler on high and line a large baking sheet with parchment paper. Spray the parchment paper with non-stick spray. Spread the marshmallows in a single layer and broil until golden brown. Be careful, because they can burn quickly if you're not watching. Add the marshmallows to a large 4-cup measuring cup or a big bowl.
In a large bowl, whisk together the egg yolks, sugar and salt for about 3 minutes or until the mixture is a pale yellow.
Heat the cream in a medium saucepan over medium heat just until it starts to simmer. Remove from heat. Add a splash of the warm cream to the egg yolk mixture and whisk. Repeat this a few times, then pour the egg mixture into the saucepan with the warm cream. Stir to combine, and heat to 170.  Remove from heat.
Pour hot custard over the marshmallows, then blend with an immersion blender for about a minute. Add the milk and vanilla, and blend for another minute. Place a piece of plastic wrap directly on the surface of the custard and place in the fridge overnight or until completely chilled.
For Milk Chocolate Fudge Swirl, add the cream, corn syrup, brown sugar, cocoa powder, salt and half the chocolate to a medium saucepan. Bring to a boil over medium-high heat, then reduce heat to medium-low and simmer for 5 minutes. Remove from heat and stir in remaining chocolate, butter and vanilla. Let cool to room temperature, and store in the fridge until ready to use.
For Graham Cracker Crust crumbles, preheat the oven to 350 and line a baking sheet with parchment paper. Melt the butter in a medium sized microwave safe bowl in the microwave. Stir in the graham cracker crumbs, sugar and salt until well combined. Dump out the crumbs onto the baking sheet and press down into a layer about 1/4″ thick. Bake for 10 minutes. Let cool, then crumble into a tupperware container and seal, and store in the freezer until ready to use.
To pull this all together, first get out your chosen ice cream storage container. Churn the ice cream in your ice cream maker until it's the consistency of soft serve, and then layer it in the container with the milk chocolate fudge and graham cracker crumbles. Chill overnight and then scoop and enjoy!