I hope everyone had a great Easter yesterday! I had my parents over for a feast of Bacon Wrapped Meatloaf, Mac & Cheese, Twice-Baked Potatoes and a big green salad. This is what happens when you make your Mom watch The Pioneer Woman with you everyday when you're on vacation! Everything was delicious and it was fun to be the host, which appeals to my bossy, meal-planning nature.
But this wasn't the only Easter celebration on my calendar for the month. Last Saturday I went to a YEASTER party and I think it changed my life. YEASTER (must be in all caps) is the invention of my friend Molly. It's a pre-Easter celebration of beer and bread, and it's the best. Of course I wanted to contribute, and spent two weeks in a YEASTER frenzy trying to decide what I wanted to make. First though, let me tell you what Molly prepared because it was all so, so good: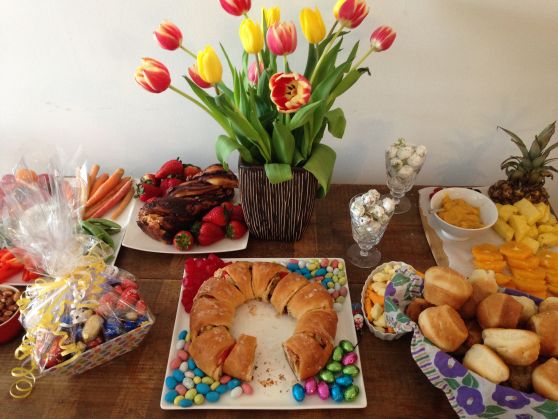 My favourite YEASTER treat was this Chocolate Krantz Cake from the Jerusalem cookbook (to the left of the tulips). This is a yeasted dough, rolled and twisted with cocoa, melted chocolate and pecans, and is heaven on earth.  Molly freestyled this Tea Ring (in front of the tulips), which was stuffed with nuts, cherries and raisins and glazed with icing sugar. This was my second favourite. I also loved these little sesame seed buns (to the right of the Tea Ring), which Molly set out with butter and preserves, but also ham and spicy mustard. I made myself a little slider and it was the first thing I ate. We also had fresh fruit with homemade orange curd, vegetables, cheese, and chocolate eggs, natch.
For my YEASTER treats, the first thing I made was this Strawberry Balsamic Flatbread from Joy the Baker. This is a yeasted focaccia dough, topped with sliced strawberries, crumbled goat cheese, chopped fresh mint, and drizzled with balsamic glaze. It was so fresh and bright for Spring.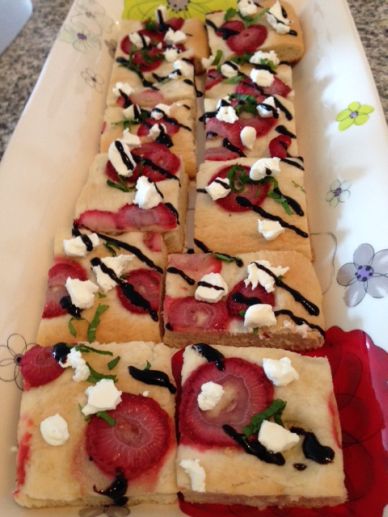 But this last YEASTER treat was my favourite.  Dulce de Leche Rolls with a Vanilla Bean Glaze. This recipe was ideal for the party (which was on Saturday afternoon) because after you make the dough, let it rise and shape it, it sits in the fridge overnight. I brought the unbaked rolls to Molly's and baked them while the YEASTER celebrations started, and served them warm with icing melting all over them. The dough is super soft and fluffy, and instead of rolling it up with cinnamon sugar, you spread a jar of dulce de leche over it. It was really messy and oozy, but I just kind of went with it and everything turned out okay. When the rolls have cooled, you can also wrap them up individually in plastic wrap for friends to take home, or tuck them into the freezer for a another time.
Can I also just conclude that I am still so proud of myself for overcoming my fears of yeast. I still get a little nervous that my dough won't rise, but I think I've learned so much over the past few years, and I was so happy that these treats turned out with no issues. It's a YEASTER miracle!
Dulce de Leche Rolls with Vanilla Bean Glaze
Source: adapted slightly from Smells Like Home only because I had active dry yeast, not instant yeast, so I had to proof it first
Ingredients
Rolls
1/4 cup water, 110°-115°F
2 1/4 tsp active dry yeast
pinch sugar
4 egg yolks
1 egg
1/4 cup sugar
6 tbsp butter, melted
3/4 cup buttermilk
4 cups (20 oz) flour, divided
1 1/4 tsp salt
+ 1 jar dulce de leche
Icing
2 cups icing sugar
1/4 cup milk or cream
1/2 tsp vanilla bean paste
Directions
In a small bowl, add the warm water, and sprinkle the yeast and sugar over top. Stir gently with a spoon, and set aside for 5 minutes until bubbly and foamy.
In a large bowl, whisk together the egg yolks, egg, sugar, butter and buttermilk until combined. Add 2 cups (9 oz) of the flour, the yeast mixture and the salt and stir until combined. Add 1 more cup (4.5 oz) of flour, stir until combined, and turn out dough onto a lightly floured counter. Knead for about 5 minutes, keeping the remaining cup (4.5 oz) of flour nearby, to sprinkle and add when/if the dough gets sticky. I used about half of the remaining cup, and kneaded for a total of about 7-8 minutes. The dough should be soft and a bit tacky, but not sticky.
Add a little bit of vegetable oil (1 tsp or so) to a large, clean, oven safe bowl, and add the dough, moving it around a little until it's oily on all sides. Cover with plastic wrap and let rise for 2 – 2 1/2 hours. (I preheat my oven to it's lowest setting, then shut it off, and let the dough rise in there).
After two hours, get a 9×13″ baking dish and spray it with non-stick spray. Punch down the dough and transfer it to a lightly floured counter and roll it out into a big rectangle (aim for 12×18″). Spread the dulce de leche all over the dough, leaving a 1/2″ border. Roll the dough into a log, as tight as you can, but be advised this will turn into a hot mess, no matter what you do, because the dulce de leche will ooze everywhere. Pinch the dough at the end to seal it together. Slice the dough into 12 pieces and place in the baking dish. Cover with plastic wrap and place in the fridge overnight or up to 16 hours. (Most of my dulce de leche oozed out overnight, but don't sweat it)
In the morning, take the rolls out of the fridge an hour or so before you'll be ready to bake them and let them come to room temp. They'll puff up a bit.
Bake the rolls at 350°F for 30 minutes until golden brown. 

While rolls are cooling a bit, whisk together the icing sugar, cream/milk, and vanilla bean paste (add a little more cream/milk to thin out as needed). Pour icing over the warm rolls and impress everyone.