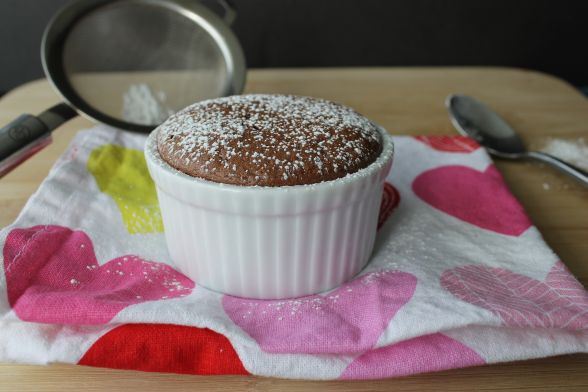 This is the second Baked Sunday Morning in a row where I was nervous about the recipe. I've never made a soufflé before, and actually now that I think about it, I don't think I've ever eaten one before either. The only thing I knew was that they're notorious for deflating or sinking if you've prepared them incorrectly or open the oven door while they're cooking.
I decided to just dive in, as the recipe didn't seem that complicated. The thing about a soufflé is that it's a naturally gluten-free recipe because there's no flour involved. The trick is that you whip the egg whites separately and fold them into a butter/chocolate/sugar/egg yolk mixture, which makes the batter very light and airy.
Here's where things went wrong for me. In an uncharacteristic move for the Baked boys, I didn't find there was enough instruction once we got to the actual baking directions. How full were the ramekins supposed to be? Mine were totally full, and I didn't know if that was good or bad, since they're supposed to rise. Are they supposed to crack on the top? I pulled mine out of the oven at the 8-minute mark, because they looked liked the picture in the book: smooth with no cracks (pictured above). But when I stuck a spoon into it, it wasn't even close to being cooked inside. The recipe does advise to bake further at 2 minute increments until done, so I put mine back in the oven. When they were actually done though, they had some huge cracks all over the top. I'm not sure if the picture in the book was misleading or not, but I think there should have been a note in the recipe about the cracks, because as a soufflé novice, I really had no idea what to expect.
All that said, who really cares as long as it tastes great, right? I liked the flavour of the soufflé, and I used my Vietnamese Saigon Cinnamon that I ordered from The Spice House last year, and it gave it nice warm undertones. I just felt myself wishing this was a warm brownie instead of a soufflé. Conclusion: not really my thing, but it was fun to test it out and see for myself.
You can find the recipe here!
More Baked Sunday Mornings here!