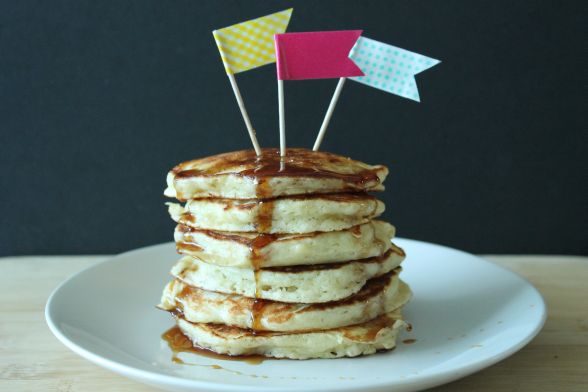 When I was growing up, pancakes weren't a frequent breakfast option in our house, but when we did have them, they always came out of a box (sorry Mom!). I legitimately did not realize you could make pancakes without the box mix until I was like 23 and saw Christine Cushing make them on the Food Network.
I can't even begin to tell you how many pancake recipes I've tried since then. There have been good, bad and ugly, that's for sure. Then I discovered this recipe from Joy the Baker, and it was the pancake perfection I'd been searching for since I left the box behind. I still try new recipes every now and then (i.e. Peanut Butter Bacon, Banana Bourbon), but this is the standard that I come back to time and time again. They cook up with golden crispy edges which I love, and are still soft and fluffy on the inside. The buttermilk adds a richness and tang that I adore.
When it comes to cooking pancakes, I go with a non-stick skillet, and still spray it with non-stick spray just to make sure everything flips easily. I keep the pancakes warm in a low 200° oven, set on a cooking rack on top of a baking sheet to make sure they stay crispy and don't get soggy.
Another trick I love is to freeze any leftover pancakes by letting them cool, and then wrapping little bundles in plastic wrap and sticking them in the freezer. To reheat, I just pop them in the toaster, and this way they get nice and crispy.
Previous Favourites:
My Favourite Buttermilk Pancakes
Yield: 1 dozen medium sized pancakes
Source: Joy the Baker
Ingredients
1 cup buttermilk
2 eggs
2 tbsp vegetable oil
1/4 cup (1/2 stick) butter, melted and cooled slightly
1 cup flour
4 tsp brown sugar
4 tsp baking powder
1 tsp salt
Directions
In a small bowl, whisk together the buttermilk, eggs and oil, then whisk in the butter.
In a medium bowl, whisk together the flour, brown sugar, baking powder and salt.
Add the wet ingredients to the dry ingredients, and whisk to combine, just until the dry ingredients disappear. Don't over mix – there will be lumps, and that's okay. This is a thick batter.
Heat a non-stick skillet over medium-low heat and use a 1/4 cup measuring cup to dollop batter into the pan. Cook until the pancakes start to bubble, about two minutes or so, then flip and cook for two more minutes.