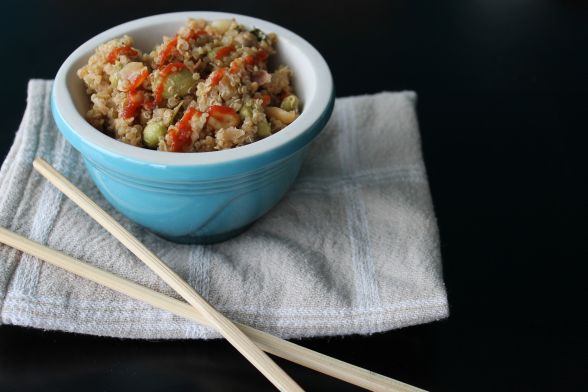 I've been posting a lot of dinner recipes lately, and I love it. I'm on a hot streak of kitchen hits and I have to document them here or I totally forget about them. I've actually made this TWICE in the past two months, which may not seem like a big deal, but to me it is, since I rarely repeat recipes as I'm constantly trying to cook everything on my Pinterest Dinner board. Other things this recipe has going for it:
Quick
One pan (+ rice cooker)
Full of vegetables
Packs up well for lunch the next day
PEANUT SAUCE
This is just a stir-fry with cooked quinoa and couldn't be easier. As Kristin says though, the trick to this dish or any stir-fry is to have everything mixed, chopped and ready to go before you start to cook. I used chicken in mine, but I think tofu would be great, and also lots of cilantro.
Thank you to my friend Christine who shared her obsession with Iowa Girl Eats with me last year. She's also brought you this amazing Pulled Chicken, Taco Dip and Apple Crisp Muffins. Now I want to make all those things again!
Thai Peanut Quinoa Bowl
Source: Iowa Girl Eats
Yield: 3-4 servings
Ingredients
Thai Peanut Sauce
1/4 cup soy sauce
1/4 cup rice vinegar
2 tbsp water
1 tbsp + 1 tsp peanut butter
1 tbsp + 1 tsp sugar
1 tsp sriracha (you can use more or less depending on your spice threshold)
Stir Fry
1 cup quinoa
2 cups stock (chicken or vegetable) or water
2 boneless, skinless chicken breasts, sliced or a block of tofu, cubed
2 cups coleslaw mix
1/2 cup frozen shelled edamame
2 green onions, chopped
1 egg, whisked with 1/2 tsp sesame oil
1/2 cup peanuts, chopped
Directions
First get your quinoa going. I make mine in my rice-cooker and it works like a charm.
Next, make the sauce by adding all sauce ingredients to a microwave safe bowl and heating for 20 seconds. Whisk together until smooth and set aside.
Heat a large non-stick skillet or wok over medium high heat. I give it a spray with non-stick spray. Cook the chicken or tofu until golden brown, them remove to a plate.
Add a little bit of oil to the skillet (1 tsp) then add the coleslaw mix, edamame and green onions, and cook for 2-3 minutes. Make a space in the centre of the skillet and add the egg, and stir until cooked/scrambled.
Add the chicken or tofu back to the skillet, along with the cooked quinoa, peanut sauce and half of the peanuts. Stir until everything is combined and hot. Divide onto plates and sprinkle with the remaining peanuts.