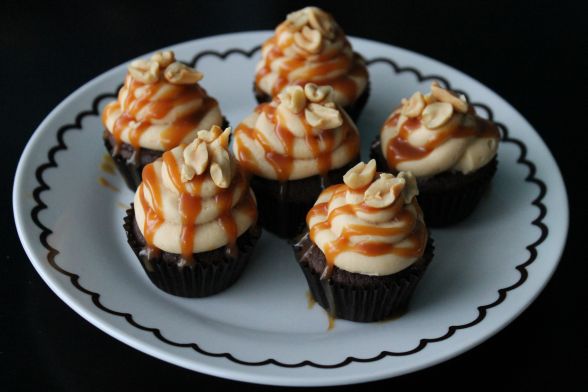 I'm very emotionally invested in the birthdays of my co-workers. If I know it's your birthday, and you're in the office, there will be treats on your special day. I don't care if you won't tell me the actual day (I celebrate birthmonths too), or don't want to disclose your age (irrelevant to birthday treats) or you claim you don't celebrate your birthday. This is an excuse for me to investigate the things you like and spoil you with a sugar explosion at 9am. So welcome to Snickers Brownie Bites.
Personally, Snickers bars don't even crack the Top 20 on my Planet Byn Chocolate Bar Power Rankings. But this is not about me. I discovered my co-worker loves them after Halloween when we were going through some leftover candy and I filed that nugget of intel away in my brain for later. I was originally going to go with Snickers Cheesecake Brownies for him, but then Danielle sent me this link which I cross-referenced to Annie's post on Snickers Cupcakes and here we are.
We've got a homemade two-bite brownie stuffed with a Snickers bite, topped with Salted Caramel Buttercream, drizzled with more Salted Caramel and sprinkled with peanuts.  I'm really glad I made these teeny because they were total sugar bombs. The most important thing was that my co-worker loved them and they made our gloomy, rainy Friday a little bit more fun!
(We actually had two birthdays at work this week, and I made Oreo Stuffed Chocolate Chip Cookies for the other one. People did not understand. "How did you get the Oreo in there?" Classic.)
Snickers Brownie Bites
Source: Mini Brownies from a recipe my Mom has from a magazine in the 80s, Salted Caramel from Two Peas & Their Pod, Buttercream adapted from My Favourite, overall idea from the the blogs I mentioned above
Yield: 24 brownie bites
Ingredients
Brownies
1/2 cup butter
2/3 cup brown sugar
6 oz semi-sweet or bittersweet chocolate
2 eggs
1 tsp vanilla
2/3 cup flour
24 Snickers Bites
Salted Caramel
1 cup sugar
6 tbsp butter (3/4 stick)
1/2 cup whipping cream
1/2 tbsp flaky sea salt (i.e. Maldon)
Salted Caramel Buttercream
1/2 cup (1 stick) butter
2 1/2 cups icing sugar
1/2 cup salted caramel
2 tbsp whipping cream
+ peanuts for garnish
Directions
Preheat oven to 350° and spray a mini muffin tin with non-stick spray.
In a medium saucepan, melted the butter, brown sugar and chocolate over medium heat, and stir until smooth. Remove from heat and let cool for a few minutes.
Add the eggs and vanilla and mix well. Add the flour and stir until just combined.
Add the brownie batter to the muffin tins, filling about 3/4 full. They'll rise a little bit in the oven. Bake for 10-12 minutes until a toothpick inserted into the centre comes out clean.
While the brownies are still warm, stick a Snickers bite in the centre of each one, and press down. Let the brownies cool completely.
To make the salted caramel, add the sugar to a medium saucepan over medium heat. It will melt slowly and turn a caramel colour. Add a candy thermometre, and when it reaches 350°, remove from heat and add the butter. It will hiss and pop a little bit. Stir until the butter is melted, then add the cream and salt and stir until smooth and combined. Cool to room temperature (you might want to do this step the day before).
To make the icing, mix together the butter, icing sugar, salted caramel and cream with an electric mixer, or even in the food processor. Mix until smooth, and use a little bit more cream if it's too thick.
Pipe the icing onto the brownie bites with an icing bag and plain tip, or just spread on with a knife. Drizzle with salted caramel and top with a few peanuts.