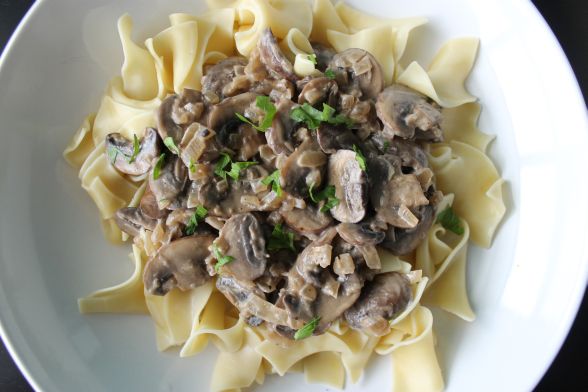 Updated with a new picture January 12, 2017
As soon as the weather warms up, all thoughts of cozy comfort food will be lost. It'll be all about green things and fresh vegetables and the annual tradition of trying to convince myself I like asparagus. So I'm logging this here for the Fall 2014 Byn, because I want to remember how quick, easy, warm, cozy and comforting this was.
Mushroom Stroganoff is a legit 30 minute meal, and most of that time is just slicing up the mushrooms. It would have been even faster if I bought a package of the pre-sliced ones, but I find chopping oddly therapeutic, so I like to slice them myself.  A simple, creamy sauce of sour cream and balsamic vinegar (sounds weird, just go with it) coat the mushrooms and egg noodles and I wouldn't change a thing.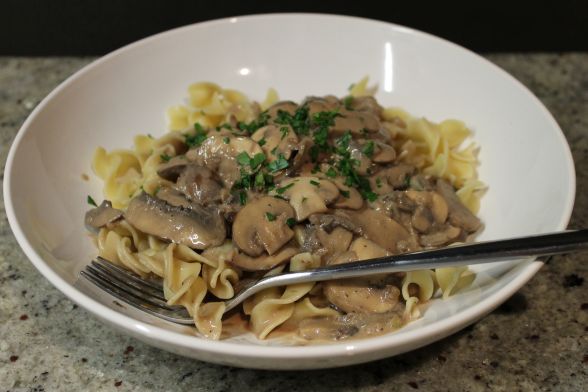 Mushroom Stroganoff
Source: A Cozy Kitchen
Yield: 2 servings
Ingredients
3 tbsp butter
1/2 onion, minced
2 cloves garlic, minced
8 oz cremini mushrooms, sliced
1/4 cup + 2 tbsp sour cream
1 tbsp + 1 1/2 tsp balsamic vinegar
1/2 tsp salt
1/2 tsp pepper
+ cooked egg noodles & chopped parsely for serving
Directions
In a medium saucepan or dutch oven melt the butter over medium heat, then saute the onion for about 5 minutes or until soft. Lower the heat a bit, and add the garlic, mushrooms, sour cream, balsamic vinegar, salt and pepper, stir well to combine, and let simmer for about 8 minutes or so, until the mushrooms are cooked. Add salt and pepper and taste to see if it needs more.
Serve over egg noodles with a sprinkle of parsely.