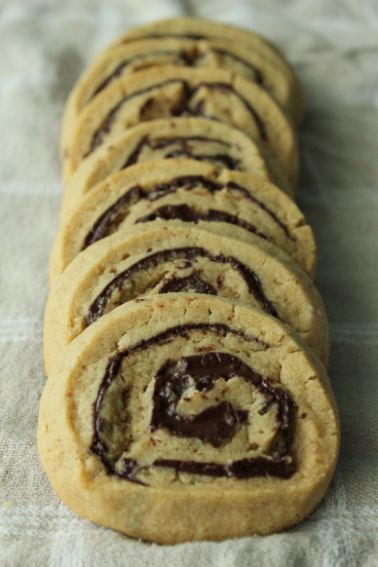 I was a little nervous about this week's recipe.  A few weeks ago Matt posted an interview with one of the recipe developers he and Renato work with for their cookbooks, and she specifically name checked these cookies as the most difficult recipe she has developed for them. Uh oh.
It turns out they weren't so bad; maybe not the prettiest cookie out there, but Matt says in the header note that you shouldn't be too obsessed with making them look perfect.
This is essentially a slice and bake peanut butter cookie with a dark chocolate swirl. You roll out the cookie dough into a big rectangle, spread it with melted dark chocolate, roll it into a log, and then slice it up to bake. My main issue was that the cookie dough was super soft, even after the log chilled for a few hours in the fridge, but the chocolate firmed up. This made it a little challenging to roll into a log, and then to slice, as I was battling two different consistencies. At first I tried to slice the cookies off gently with a small knife, and promptly made a mess, so I switched to a huge knife and just took no prisoners and aggressively sliced them off.
The cookies ended up nice and soft, with a nice contrast between the sweet peanut butter cookie and the bitter chocolate. It's interesting to note that the recipe developer mentioned that she still thinks the cookie should have a milk chocolate filling, so that's another option, but I personally loved these with dark chocolate.
You can find the recipe here!
More Baked Sunday Mornings here!