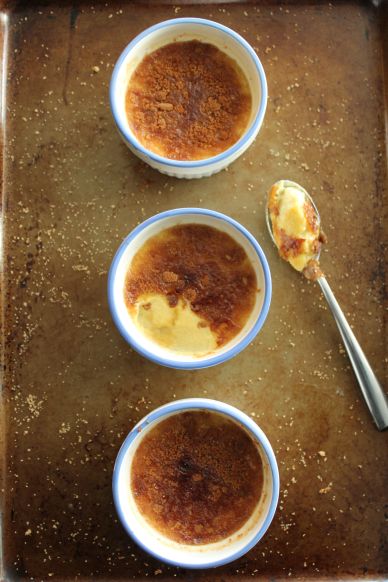 I never order Crème Brûlée when I'm out, but I know people who must have it if they see it on a menu. Sure, I like it, but it's not something I ever crave, or feel the need to make at home. Of course, for this week's Baked Sunday Morning, I made an exception.
I don't have anything really original to say about Creme Brûlée, except that as stated above, people go nuts for the crunchy lid of caramelized sugar covering the smooth vanilla custard underneath. I used vanilla bean paste in my custard, so it was full of little black seeds and quite pretty. I don't own a kitchen torch, so I tried my luck under the broiler when it came to the topping, and had uneven results (I also should have sifted the brown sugar before sprinkling it over top because I had a few lumps). Trust me when I say that the co-workers who I brought these for could not care less, and ate them in about two minutes.
You can find the recipe here!
More Baked Sunday Mornings here!