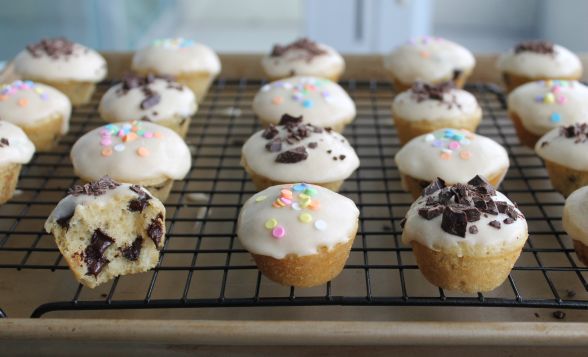 Our Gastropost Mission this week forced us to choose between two sweeties: Maple Syrup vs. Honey. I feel as though there's a time and a place for honey (i.e. on peanut butter toast), but my heart belongs to maple syrup. One of my very first foodie awakenings after university was realizing that there was a difference between Aunt Jemima pancake syrup, which is what I grew up with, and legit pure maple syrup. I never turned back!
Instead of making pancakes this week, which is what I figured most members of Team Maple would be doing, I decided to make these little pancake muffins that I've had my eye on forever! There's maple syrup in the batter, which is also studded with chocolate chips, and then again in the brown butter glaze, which is outstanding. It was really hard to stop eating these…they're addictive.
Chocolate Chip Pancake Mini Muffins with Brown Butter Maple Glaze
Source: Take a Megabite
Yield: 24 mini muffins
Ingredients
Muffins
1 cup flour
3 tbsp sugar
1 tsp baking powder
1/2 tsp baking soda
1/4 tsp salt
2/3 cup buttermilk (I just used 2% milk)
1 egg
2 tbsp butter, melted
1 tbsp maple syrup
1 tsp vanilla
1/2 cup chocolate chips
Glaze
1 cup + 2 tbsp icing sugar
3 tbsp butter, browned
3 tbsp milk
1 tsp maple syrup
1/2 tsp vanilla
+ chopped chocolate or sprinkles for topping
Directions
Preheat oven to 350 and spray mini muffin tins with non-stick spray.
In a medium bowl, whisk together the flour, sugar, baking powder, baking soda and salt.
In a small bowl, whisk together the buttermilk, egg, butter, maple syrup and vanilla.
Pour wet ingredients over dry, and stir together until just combined. Gently fold in the chocolate chips.
Scoop into muffin tins and bake for 10 minutes, until a toothpick inserted into the centre comes out clean.
For the glaze, whisk together all the ingredients in a small bowl. If too thick, add milk. If too thin, add more icing sugar.
When the muffins are cool, dunk the tops of the muffins into the glaze and sprinkle with chopped chocolate or sprinkles.