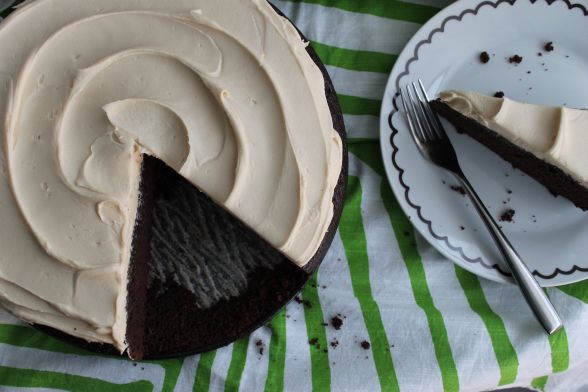 Don't get too excited. Yes, I am actually posting a holiday* recipe BEFORE said holiday, which never happens, but there's something you should know. The can of Guinness and cute little bottle of Baileys needed for this cake were purchased approximately 358 days ago, when I thought it might be a good idea to make this for a St. Patrick's Day treat last year.  They have been chillin' in my fridge since then, and sort of became a regular part of the scene in there, and I totally forgot about them. So I'm not really early at all, more like a year late. Good thing they hadn't expired!
Actually, I ditched the Guinness and brought home a can of this Vanilla Porter from Mill Street that's brewed with vanilla extract and supposedly has chocolate undertones.  This boozy dreamboat of a cake has a whole cup of beer in the batter, which bakes up thick and dense, and isn't really that sweet. It's a good thing we have My Favourite Buttercream spiked with Bailey's to slather overtop. The combination works really well, and I've been curious about it this since seeing these cupcakes on Smitten Kitchen way back when. Bonus: the cake is a one-bowl wonder!
*If you consider St. Patrick's Day a holiday, which I probably did between 1999-2002, but no so much anymore.
Chocolate Stout Cake with Baileys Buttercream Frosting
Source: Cake from Taste of Home, Frosting adapted from My Fave
Ingredients
Cake
1/2 cup (1 stick) butter
1 cup Guinness (or other dark ale)
2 cups sugar
3/4 cup cocoa
2 eggs
2/3 cup sour cream
3 tsp vanilla
2 cups flour
1 1/2 tsp baking soda
Frosting
1/2 cup butter, room temperature
2 1/2 cups icing sugar
1/4 cup Baileys
Directions
For cake, preheat oven to 350, and spray a springform pan with non-stick spray. Line with parchment paper, and spray that.
In a large saucepan, heat the butter and the beer over medium heat, until the butter is melted. Add the sugar and cocoa powder and whisk until smooth. Add the eggs and vanilla and whisk again.
Add the flour and baking soda and stir until combined and no floury bits are left. Pour into pan and bake for 45-50 minutes or until a toothpick inserted into the centre comes out clean. Cool completely.
For frosting, whip together the butter, icing sugar and Baileys in a food processor or with an electric mixer until smooth and fluffy. Spoon all the frosting onto the top of the cake and smooth out with an offset spatula.