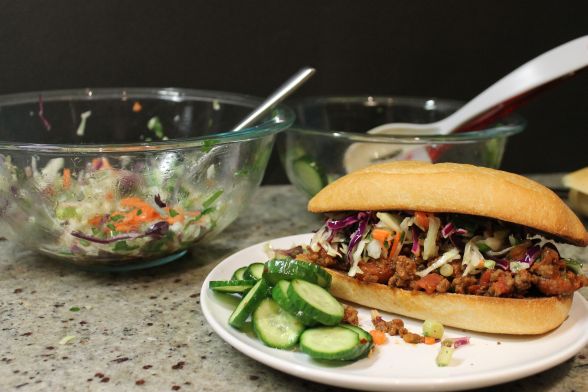 I love knowing what other people eat for dinner during the week. Do they cook a regular rotation of favourites or try new things? How do they grocery shop? One big shop on the weekend or little shops throughout the week? Do they plan specific meals or just create meals on the fly? I'm obsessed. I'm a very organized meal planner, and one of the biggest reasons is that I don't have a green bin in my condo, so any food waste that I have goes in the garbage. Green guilt! Because of that, I shop only for what I need for the week, and try to stick to my meal plan fairly closely. Does this sound totally boring?
The thing is, I'm pretty much constantly cooking new things. Anything that I love ends up being posted here, so I don't forget about it, but then I tend to move on to the next new thing and forget anyway. There's just not enough time to make all the delicious things on the internet!
I made these Thai Sloppy Joes last week and it was almost embarrassing how quickly I devoured one.  Obviously you can never go wrong with Sloppy Joes in my opinion, and I loved the Asian twist with this recipe, especially the slaw that you pile on top.  I'm gonna try really hard not to forget these.
Thai Sloppy Joes with Asian Slaw
Source: Food & Drink Magazine (I reduced the amount of sesame oil, but otherwise it's the same)
Yield: 3 or 4 Sloppy Joes
Ingredients
Slaw
3 tbsp grapeseed oil
1/2 tsp grated lime zest
1 tbsp lime juice
1 tsp sesame oil
1/2 tsp sugar
1/2 tsp soy sauce
3 cups coleslaw mix (the only time I buy salad in a bag)
3 green onions, thinly sliced
2 tbsp chopped cilantro
+ kosher salt & freshly ground black pepper
Joes
1 lb extra-lean ground beef
1 small onion, chopped
3 cloves garlic, minced
1 tbsp thai curry paste (recipe says green, I used red)
1 cup diced tomatoes
1/4 cup ketchup
1/4 cup chopped cilantro
1 tbsp lime juice
1 tbsp fish sauce
+ kosher salt & freshly ground black pepper
+ bread vehicle of your choice
Directions
For the slaw, in a medium bowl, whisk together the oil, zest, lime juice, sesame oil, sugar and soy sauce. Add the coleslaw mix, green onions, and cilantro and toss to coat. Season with salt and pepper. Let sit at room temp while you make the Sloppy Joes.
For the Joes, heat a large skillet over medium high heat, spray with non-stick spray, and add the beef and onions. Cook until beef is no longer pink and the onion has softened, about 5-8 minutes or so.
Add the garlic and curry paste, stir to combine, and cook for about a minute, then add the tomatoes and ketchup. Bring to a boil, then lower to a simmer until mixture has thickened, about 5 minutes.
Remove from heat, and stir in the cilantro, lime juice and fish sauce.  Season with salt and pepper.
Toast your chosen bread vehicle under the broiler, then pile on the sloppy Joe mixture, then the slaw. Use a bib if necessary.
***Do you want some pickled cucumbers too? Mix equal amounts rice vinegar and sugar with a pinch or two of red pepper flakes, whisk to combine, add sliced cucumber and let sit for 20-30 minutes.***