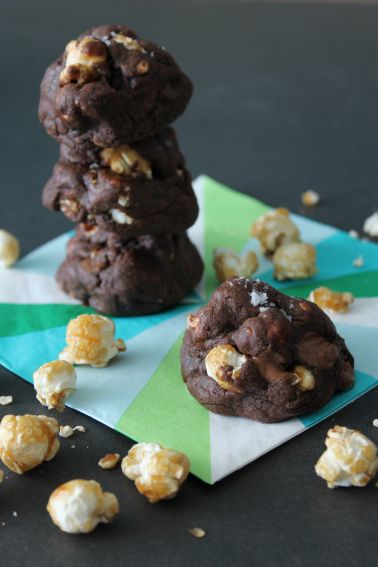 When I first saw our Mission for this week, Screen Snacks, there was only one thing that came to mind: POPCORN. My go-to snack when I go to the movies is always popcorn — I've never been a Swedish Berry or a M&Ms girl. Give me a big bag of popcorn with one of those packets of white cheddar sprinkles and I'm in my happy place.
My first thought for this mission was the Buttered Popcorn Cookies from The Smitten Kitchen Cookbook, but I decided to switch it up a bit and instead made a chocolate cookie, with milk chocolate chips and caramel corn, and a little sprinkle of sea salt on top. They turned out pretty well, except the caramel corn doesn't retain all of it's crunch once baked and cooled. Still a fun little snack though.
You can see my photo in the National Post here!
Chocolate Caramel Corn Cookies
Source: Top with Cinnamon, minus Rolos & Nutella, plus Caramel Corn
Ingredients
1/2 cup (1 stick) butter
1 1/2 cups brown sugar
2 eggs
2 cups flour
1/2 cup cocoa powder
3/4 tsp baking powder
1/4 tsp salt
1/2 cup milk chocolate chips
2 1/2 cups caramel corn (got mine at Bulk Barn)
+ flaky sea salt for sprinkling, if you like
Directions
Preheat oven to 350 and line cookie sheets with parchment paper.
In a large microwave safe bowl, melt the butter in the microwave, then stir in the brown sugar. Stir in the eggs.
Add the flour, cocoa powder, baking powder and salt. Stir until flour is just combined. I busted out my electric mixer at this point because the dough was very thick.
Fold in the chocolate chips, then gently fold in the caramel corn.
Scoop out onto cookie sheets, press down slightly and sprinkle with flaky sea salt if you want. Cookies won't spread too much so you can fit lots on one sheet.
Bake for 10 minutes, then cool completely.