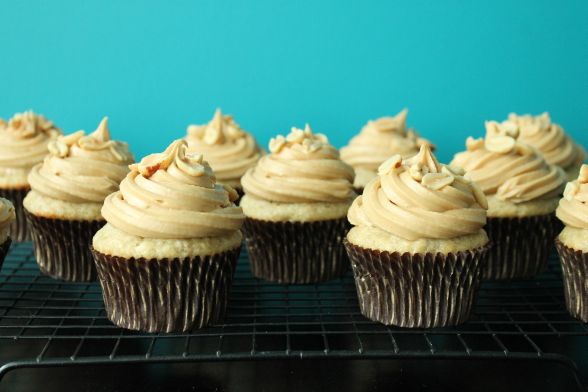 It's so much fun to hang out with other food bloggers: they just get it. These are the people who understand the importance of two new flavours of Oreos. Who hate salad in a bag as much as I do. They know the feeling of making a co-worker's eyes glaze over after you've been talking about local fruit for half an hour.  I love these guys.
Last weekend a few of my peeps from #FBC13 got together for a little potluck, and it was a delicious feast of amazingness: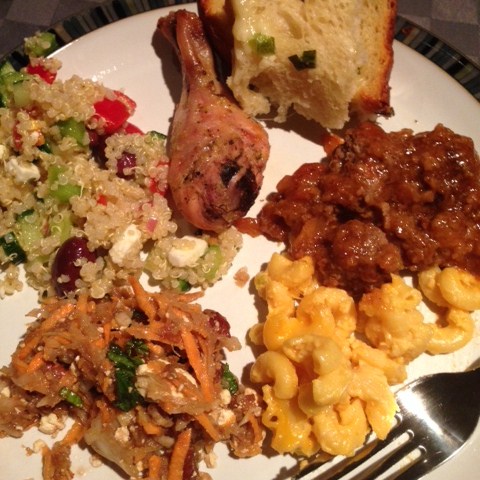 Everything was incredible! And of course food bloggers understand the need for three desserts! Meg made some amazing Nutella Ice Cream, Lou made some delicious Bacon, Date & Chocolate Chip Cookies, and I brought these Banana Cupcakes with Peanut Butter Frosting. The lovely Meg, who hosted us at her home, is expecting Baby #2 and craving banana desserts like whoa, so who am I to deny a pregnant lady what she wants?
Banana Cupcakes with Peanut Butter Frosting
Source: My two faves – Cupcakes from Anna Olson, Frosting from Barefoot Contessa At Home
Yield: 12 cupcakes
Ingredients
Cupcakes
1 1/4 cups cake & pastry flour (use regular flour in a pinch)
1/2 cup + 2 tbsp sugar
1 1/4 tsp baking powder
1/4 tsp baking soda
1/4 tsp salt
1/4 cup (1/2 stick) butter, room temperature, cubed
1 cup mashed ripe bananas (about 3 bananas)
1 egg
1 tsp vanilla
Frosting
1 cup smooth peanut butter (not natural)
1 cup icing sugar
1/3 cup whipping cream
1/4 cup (1/2 stick) butter, room temperature
3/4 tsp vanilla
1/4 tsp salt
+ salted peanuts for decoration
Directions
For cupcakes, preheat the oven to 350, and line muffin tin with paper liners.
In a large bowl, whisk together the flour, sugar, baking powder, baking soda and salt. Add the butter and mix together with a fork or your fingers until the mixture is crumbly and there are no big bits of butter.
In a medium bowl, whisk together the mashed banana, egg and vanilla until combined. Pour over the dry ingredients and mix until smooth and combined (you can just use a whisk or spatula, don't need an electric mixer).
Pour batter into liners and bake for 18-20 minutes or until a toothpick inserted into the centre of the cupcakes comes out clean. Cool cupcakes completely before frosting.
For the frosting, add everything to a bowl (I used my food processor) and mix until smooth and combined. Pipe onto cupcakes and top with peanuts if you want.