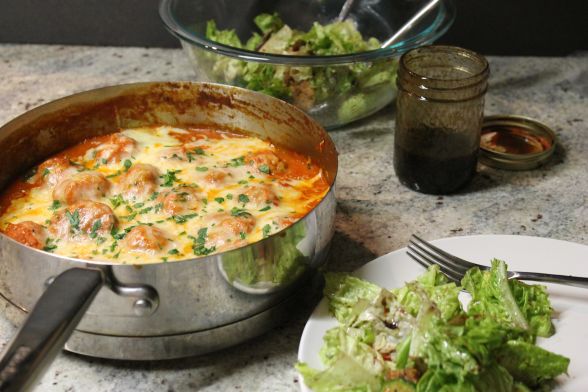 Remember the good old days when there were still Olive Gardens in Toronto? My friends and I used to go in high school and I vividly remember having chicken parmesan there and it blowing my mind. Deep fried crunchy deliciousness topped with tomato sauce and so much cheese. Holy cow. Throw in the salad and those breadsticks and it was like heaven for my 17 year old self.
When I saw this recipe on Annie's Eats it was like a chorus of angels started singing to me and I bought all the stuff to make it right away. I love, love, loved this dish and am drooling just writing about it. The meatballs are hydrated and flavourful and the creamy tomato sauce is perfect. I added a bit too many red pepper flakes, so my sauce had a bit of a kick too, which you can control if you're not into that.
Like Annie, I just ate my meatballs with salad, but of course they would also be good on pasta. I also realized I had another recipe pinned that used them in paninis, and of course they would be excellent as a sub like this kind of situation. I want to make these again so I can do just that. SO GOOD!
Chicken Parmesan Meatballs in Creamy Tomato Sauce
Source: Annie's Eats
Ingredients
Sauce
1 can (28oz) whole tomatoes
1 tbsp butter
1/2 onion, finely chopped
2 tbsp tomato paste
2 cloves garlic, minced
1/4 tsp red pepper flakes
1/3 cup whipping cream or half & half
Meatballs
1/2 cup panko
1/3 cup grated onion
1 tsp dried basil
1/2 cup grated parmesan
3/4 tsp salt
1/4 tsp pepper
3 cloves garlic, minced
1 egg
1 lb ground turkey (I know these are called chicken parm meatballs, but I actually prefer ground turkey)
+ grated mozzarella
+ grated parm
+ minced basil or parsley
Directions
For the sauce, first puree the tomatoes in a blender or food processor (I stuck my immersion blender right in the can to blend). This begs the question, why not just used a can crushed tomatoes? I'm sure that's fine too.
In a large, deep skillet (ovenproof if you have it), melt the butter over medium heat, then add the onion and saute for a few minutes until softened. Add the tomato paste, garlic and red pepper flakes and saute for about half a minute. Pour in the pureed tomatoes, season with salt and pepper, stir well, and bring to a boil, then reduce heat to medium-low and let bubble away while you make the meatballs.
For the meatballs, preheat oven to 400, line a baking sheet with foil and spray with non-stick spray. In a large bowl, stir together the panko, grated onion, dried basil, parmesan, salt, pepper, garlic and egg. Add the turkey and mix well (use your hands) and form into meatballs. Place on baking sheet and bake for 20 minutes until golden brown and cooked through.
When the meatballs are almost done, add the cream to the tomato sauce and stir until combined. Add the meatballs and stir.
Top the meatball/sauce combo with as much mozzarella and parm as you like and either cover the pan until melted, or stick it in the oven until bubbly. Sprinkle with basil or parsley.