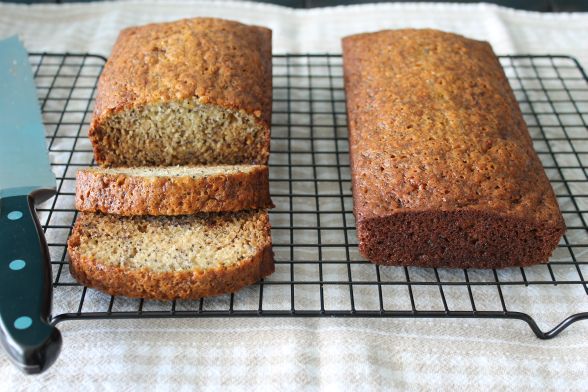 While the rest of my Baked Sunday Morning friends are making a truly terrifying Banana in a Blanket cake this weekend, I decided to make something a little easier. The Banana in a Blanket is a roll up cake, and I've never made one before and didn't really feel like taking that on today.  So I made something else from the Banana chapter of Baked Elements that the group already made last year.
I'm super picky about Banana Bread, and I really only like the one my Mom makes. This recipe is good, but it's a little too sweet for me (it has 1 cup of sugar, plus 1/4 cup of honey), but I do like the addition of poppy seeds. My only other note is that I like to split most loaf recipes into two pans, that way they bake quicker, and you can keep one, and give the other one away.
You can find the recipe here!
More Baked Sunday Mornings here!