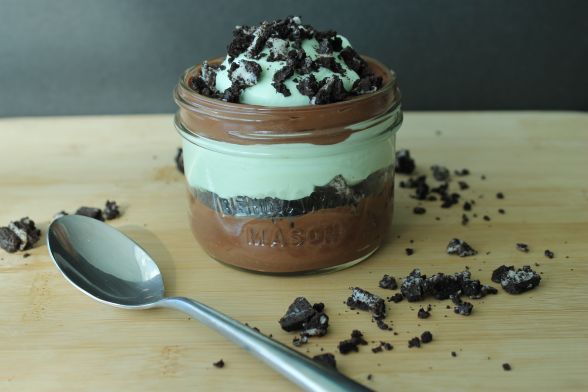 Gastropost asked us a tough question this week: Vanilla or Chocolate? I think it's an easy answer. Do you ever find yourself with an intense craving for vanilla? No, I don't think so. And that is why I'm on Team Chocolate. You'll never find me taking shots of vanilla extract out of the bottle, but you most definitely will see me sneaking handfuls of chocolate chips out of the bag.
When a chocolate craving hits, it's just a matter of deciding what format I'm in the mood for. For this mission I went with a dark chocolate pudding, layered with white chocolate mint whipped cream and crushed Oreos for a little crunch. It's inspired from one of the best recipes from the Joy the Baker cookbook (see #26), but the actual recipes are from Smitten Kitchen.
(Ha! Almost exactly a year ago I made another pudding in a jar for a Gastropost Mission! Milk Chocolate & Peanut Butter Puddings!)
Dark Chocolate Pudding with White Chocolate Mint Whipped Cream
Source: Smitten Kitchen (pudding here, whipped cream here)
Yield: 3 pudding parfaits (this is half the original recipe)
Ingredients
Pudding
1/4 cup sugar
2 tbsp cornstarch
pinch salt
1 1/2 cups milk (I used 2%)
3 oz dark chocolate, chopped (or 1/2 cup chocolate chips)
1/2 tsp vanilla
Whipped Cream
3 oz whipping cream
2 oz white chocolate chopped
1/4 tsp peppermint extract
+ green food colouring if you want
+ chopped Oreos to layer and garnish
Instructions
For the pudding, whisk together the sugar, cornstarch and salt in a small saucepan. Set over medium heat, and whisk in the milk. Heat until the pudding thickens, stirring frequently, then add the chocolate and stir until melted and smooth. Remove from heat and stir in vanilla. Pour hot pudding into a bowl, and place a piece of plastic wrap directly over top. Put it in the fridge to chill a few hours or overnight.
For the whipped cream, heat the whipping cream in a microwave safe bowl for about 30 seconds or until hot. Add the white chocolate and let sit for a minute, then whisk until mixture is smooth. Add the peppermint extract and mix again, and a bit of food colouring if you want. Pour into a bowl, cover, and pop it in the fridge to chill a few hours or overnight.
When everything has cooled, take the bowls out of the fridge. Give the pudding a stir, and whip the cream with an electric mixer until soft peaks form. Get three little jars or glasses out and layer up the pudding and whipped cream, sprinkling chopped Oreos between the layers and on top.