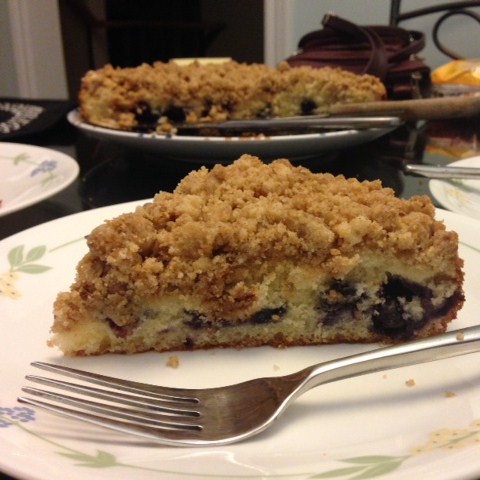 Food Network Canada has started showing Barefoot Contessa episodes again on Sunday mornings at 10am, and I just can't get enough. After Anna Olson's show Sugar, BC was my #2 obsession when I started watching Food Network over 10 years ago. I loved everything about Ina: her house, her cooking, her entertaining style, and of course, Jeffrey.  Watching the new episodes prompted me to pull out all my old Barefoot Contessa cookbooks. I practically have them memorized! I think that's one of the few downsides of food blogs: with the never-ending stream of new content, I find myself cooking less and less from my favourite cookbooks, and making those recipes I love from back in my pre-blogging days.
As I was simultaneously watching her show and flipping through Barefoot Contessa at Home last weekend, I put a post-it on this recipe for Blueberry Crumb Cake. I knew I had some Ontario blueberries in the freezer from last summer and was so excited to make this. It's a simple, one-bowl cake that can be pulled together in no time. It has a delicious, soft, buttery cake base, studded with lots of blueberries, and a crunchy, cinnamon streusel topping. My parents and I snacked on it as a treat the night before they went back to Florida, and I brought the leftovers to work the next day, where it was declared by some as the best thing I've ever brought in. Hmmm. I think I should start some Planet Byn power rankings in the office.
Blueberry Crumb Cake
Source: Barefoot Contessa at Home
Ingredients
Streusel
1/4 cup sugar
1/3 cup brown sugar
1 tsp cinnamon
1/2 cup (1 stick) butter, melted
1 1/3 cups flour
Cake
6 tbsp butter (3/4 stick) room temperature
3/4 cup sugar
2 eggs
1 tsp vanilla
1/2 tsp grated lemon zest
2/3 cup sour cream
1 1/4 cups flour
1 tsp baking powder
1/4 tsp baking soda
1/2 tsp salt
1 cup blueberries (fresh or frozen)
Directions
For the streusal, in a small bowl, stir together the sugar, brown sugar and cinnamon with a fork. Stir in the melted butter, until combined, then add the flour and stir until clumps form and all the flour is incorporated. Set aside.
For the cake, preheat the oven to 350 and spray a 9″ cake pan with non-stick spray (I used a springform pan).  In a large bowl, cream together the butter and sugar until light and fluffy. Mix in the eggs, then the vanilla, lemon zest and sour cream until everything is smooth and combined. Add the flour, baking powder, baking soda and salt, and mix together just until combined. Gently fold in the blueberries, and pour batter into the pan, and smooth out.
Crumble the streusal evenly over the top, and bake for 40-50 minutes until a toothpick inserted into the centre of the cake comes out clean.