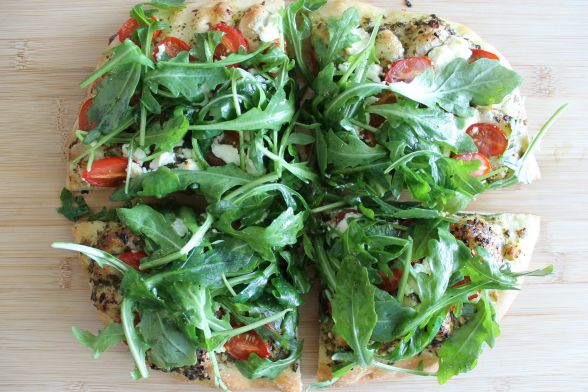 Updated with a new picture May 25, 2016
I mentioned in my Blog-iversary post the other day that I wanted to stop feeling pressure to only post styled photos, because "Sometimes you make an amazing pizza and it's 9pm, and it's the most delicious thing you've eaten all week, and all you have is an picture from your phone with dark light. It's fine. It doesn't matter. Post it anyway". So today I'm following my own advice, and showing you the aforementioned pizza. (Update: I still couldn't help myself from updating this with a better picture!)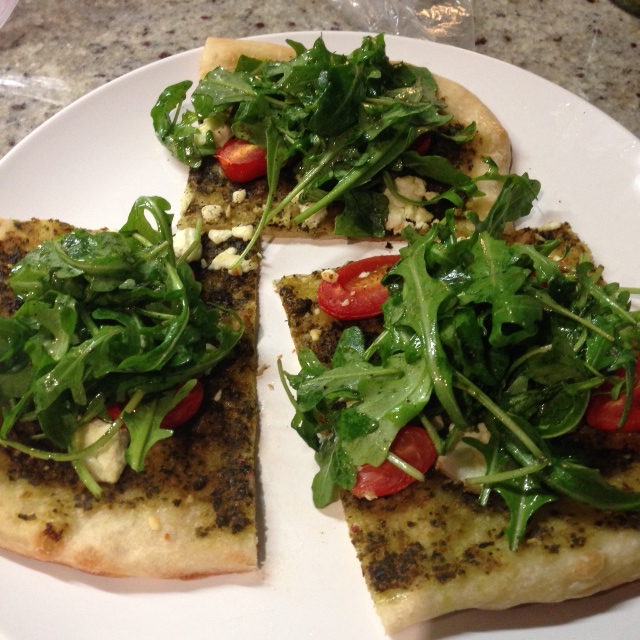 It was so, so, so good. I unearthed some homemade pizza dough from the depths of my freezer, as well as a jar of basil pesto that I made at the end of last summer. Just inhaling the smell of all that basil almost made me shed a tear as I thought of sunny Sunday mornings going to the farmer's market and picking up fresh fruit and veggies for the week.  The pizza then gets topped with cherry tomatoes, which roast and get sweet and caramelized in the oven, and crumbled goat cheese. Once it's baked, you pile on a bunch of arugula, dressed simply with olive oil, lemon juice, salt and pepper. It's like getting your carby comfort food and a salad at the same time, which is quite efficient when you think about it.
Goat Cheese & Arugula Pizza
Source: Shutterbean
Ingredients
– pizza dough (this recipe is what works for me, or you can buy dough at the grocery store, or use flatbread)
– pesto (reaching way back into the archives for this recipe, or you can buy a jar)
– goat cheese
– cherry tomatoes, halved
– arugula
– olive oil, lemon juice, salt + pepper
Directions
Crank your oven to 500. Pour about half a tablespoon of olive oil on a baking sheet and spread out the dough on top of it.
Spread with pesto and top with crumbled goat cheese and cherry tomatoes.
Bake for about 12-15 minutes, but keep an eye on it so it doesn't burn.
While the pizza is baking, shake up equal amounts olive oil and lemon juice in a jar (I used 1 tsp of each) with a bit of salt and pepper. Toss the arugula with the dressing.
Let pizza cool for a few minutes before slicing and topping with arugula.