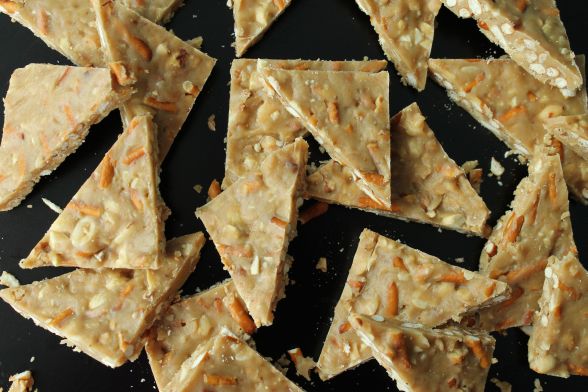 Bale Bars. Otherwise known as: No-Bake White Chocolate Caramel Peanut Butter Pretzel Bars. That's a lot going on for this simple looking bar. They're incredibly sweet, and I have to admit I'm not sold. I feel like they would be a better combined with something else; maybe layered on top of brownies (like these), or crumbled on top of ice cream as one of my fellow BSMers suggested. I think the main reason for this is that I have a similar cookie in my archives which uses the same method of melting white chocolate and peanut butter together, and I like them a lot better.
I have just one other issue with these guys, as someone who is very protective of her (expensive) vanilla extract. A whole tablespoon PLUS a teaspoon of vanilla! I cringed a little as I was pouring it out.
You can find the recipe here!
More Baked Sunday Mornings here!