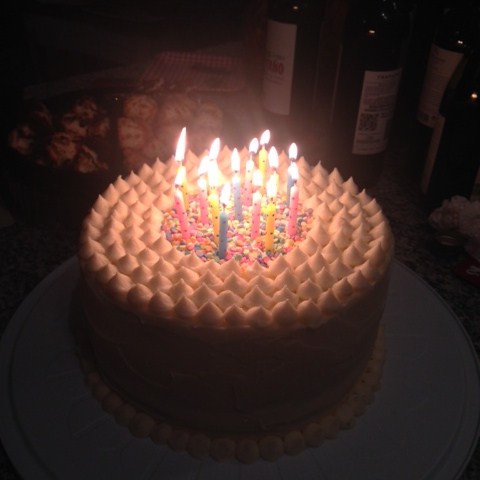 Uhhh…this month was a bust y'all. I didn't get up to much food-wise as I was knocked out with the flu for a week, and the polar vortex had me in major hibernation mode. Just a few notable things:
I made a birthday cake for my friend Molly at the very beginning of the month (pictured above). It was a triple layer chocolate cake (recipe here) filled with Chocolate Malt Frosting and covered in My Favourite Buttercream. It was amazing if I do say so myself.
My friends Kristine & Nicole came over for our annual Golden Globes feast. I made a pasta dish that I'll blog about soon, as well as Caesar Salad and this amazing Garlic Rosemary Bread from Take a Megabite. We ate that Chocolate Bourbon Tart for dessert.
I met up with Tatiana, Lillian and her little cutie pie son for lunch today at Bannock. I was planning on my regular turkey burger but was swayed by the Winterlicious menu, and ended up having a kale caesar salad, roasted pork shoulder, garlic fries and mustard greens kimchi, and chocolate cannoli for dessert. All for $15. That's a steal of a deal right there. 
Other non-foodie things I was obsessed with this month:
I'm not quite sure how I forgot to mention this in my December wrap-up, but it goes without saying that I'm obsessed with the new Beyonce album, and have pretty much had it on constant rotation since December. I LOVED her performance at the Grammys with Jay Z, where according to my Mom "It was like being in their bedroom!". Amazing!
Saw Jay at the ACC last Monday too, and it was like I could feel the winter blahs lifting. He never disappoints.
I'm all caught up on Scandal, and now just patiently waiting for it to return on February 27th! #copewithoutpope
My co-worker gave me four seasons of The Good Wife to watch, and I burned through the first one when I had the flu. I like it, but after Scandal, it seems to move really slowly. And for someone who watched Don't Tell Mom the Babysitter's Dead, like infinite times as a tween/teen, I still love Josh Charles.
I'm so behind on my Oscar movies, but did see Jack Ryan: Shadow Recruit last week. Just a great popcorn flick to get you through a -30 Friday night!
Only read one book this month but it was a good one! The Husband's Secret by Liane Moriarty was on Entertainment Weekly's Top 10 in Fiction for 2013 and I flew through it. What would you do if you found a letter addressed to you from your very alive spouse to be opened only after they were dead? Ooooh, how could you not tear through this one?