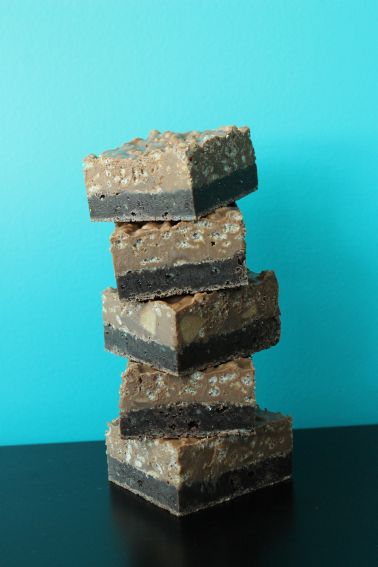 I showed an amazing amount of restraint by not bringing any treats into the office for the whole month. I was a little baked out after the holidays, plus people usually aren't that excited to see baked goods when they're on their January detox/cleanse/whatever.
All that came to an end this week when I brought in these insane brownies for my co-workers birthday. I actually made these years ago for yet another co-worker in my old department, but they never showed up on this blog. There's a brownie layer on the bottom, topped with chopped peanut butter cups, and finished with a layer of melted milk chocolate, peanut butter and rice krispies. A much needed sugar rush for a freezing January afternoon.
Peanut Butter Crack Brownies
Source: Brownie Recipe from an old Good Housekeeping magazine, topping from How Sweet It Is
Ingredients
Brownie
3/4 cup (1 1/2 sticks) butter
4 oz unsweetened chocolate
1 cup sugar
1 cup brown sugar
3 eggs
1 tsp vanilla
1 cup flour
1/2 tsp salt
Topping
1 cup chopped Reese Peanut Butter Cups (next time I would just use a bag of minis)
1/2 cup chopped salted peanuts (I left these out)
1 1/2 cups milk chocolate chips
1 1/2 cups peanut butter
1/2 tbsp butter
1 1/2 rice krispies
Directions
Preheat the oven to 350, line a 9×13 pan with foil, and spray the foil with non-stick spray.
For the brownies, melt the butter and chocolate in a medium saucepan over medium heat, then remove from heat. Stir in the sugars until combined. Stir in the eggs and vanilla until combined. Add the flour and salt and gently fold in until just combined. Pour in prepared pan and bake for 20 minutes.
Sprinkle the chopped Peanut Butter Cups and peanuts overtop and bake for another 5 minutes.
In a medium microwave safe bowl, add the milk chocolate chips, peanut butter and butter. Heat in 30-second intervals, stirring between each one, until everything is melted and smooth. Stir in rice krispies.
Pour rice krispie mixture overtop brownies and spread evenly with an offset spatula. Chill for about 2 hours until the topping sets, then slice.