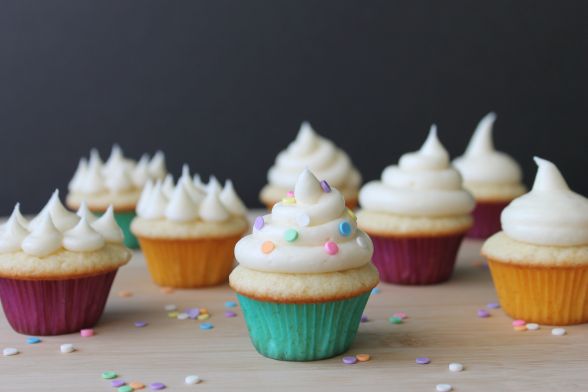 After almost four years of blogging, I've decided it's unacceptable that some of my all-time favourite recipes still haven't made it on my website. Things like my Mom's Banana Chocolate Chip Muffins or my go-to Peanut Butter Cookies are missing, and I can't let this stand any longer.
So welcome to a new series of My Favourites where I'll finally write about my some of the most frequently made recipes in my little kitchen. I can't think of a better place to start than my favourite Buttercream Frosting. This is without a doubt the recipe that I get asked for the most by friends and co-workers. It's super simple, and only four ingredients, but I still have to look it up from time to time. It's buried on the blog in so many other recipes, but never had it's own moment to shine.
I've used this frosting on countless cupcakes over the years, as well as on just about every birthday cake you've seen me make for my nieces and nephews, as well as on seasonal cookies. It's easy to make, sweet and creamy, and never fails me. While the basic frosting is just butter, icing sugar, milk or cream and vanilla, you can simply swap in a flavoured extract, spices, booze or zests to get what you need. A few examples:
I've added honey to make a Honey Vanilla Buttercream
Adding coffee extract or instant espresso powder gives you Espresso Buttercream
Drizzle in a bit of maple syrup for Maple Buttercream (you can use maple extract too)
Peppermint extract and green food colouring are a no-brainer for Mint Buttercream
Grating in lemon zest and a bit of lemon juice for Lemon Buttercream
A sprinkle of cinnamon would make a great Cinnamon Buttercream to top Carrot Cake
In all those cases I made the recipe as listed below, then added whichever add-in and tasted it until I got what I wanted.  You can also replace the cream with Bailey's for an Irish Cream Buttercream, and in one crazy amazing instance I replaced it with homemade salted caramel. I didn't regret it!
Now, as far as quantities go, making the full recipe is enough for two dozen cupcakes with lots leftover, or a two-layer cake. For a three-layer cake that you want to pipe detail on, that takes about 1 1/2 batches of the below measurements. It's easy to scale up or down, and it doesn't affect the flavour or consistency. Leftover frosting can be frozen too, for frosting emergencies.
I'm so happy that this finally has the dedicated post it deserves!
My Favourite Buttercream Frosting
Source: an old Canadian Living
Ingredients
1 cup (2 sticks) butter, room temperature
5 cups icing sugar
1/2 cup whipping cream (milk can be used in a pinch)
1 tsp vanilla
+ add-ins of your choice
Directions
Add the butter to a large bowl and whip with an electric mixer for a minute or so to lighten.
Add the icing sugar, cream and vanilla. I stir it a bit with a spatula until it starts to come together, then switch to the electric mixer (this is just so my kitchen doesn't end up covered in icing sugar). Whip for a couple minutes until nice and smooth.
Add any extra extracts, spices, zests or food colouring and blend until combined.