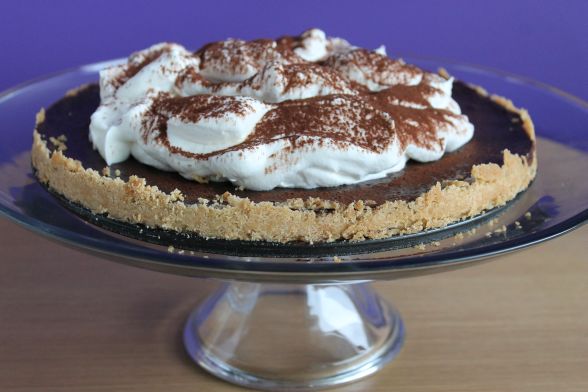 This week's Baked Sunday Morning recipe is a Chocolate Whiskey Tart from the Booze section of Baked Elements. Some of the recipes in this chapter call for whiskey and some use bourbon, which let me to the following question: wtf is the difference? I did some google research, and my conclusion can basically be summed up as follows: all bourbons are whiskey, but not all whiskeys are bourbon. Got that?
This tart is pretty simple as far as Baked recipes go. The crust is just a box of shortbread cookies crushed up with butter, a bit of sugar and salt, and pressed into the bottom of a springform pan. For the filling, you just make a chocolate ganache with cream and a mixture of milk and dark chocolate, then add a couple of eggs, flour and your booze. Since I had bourbon at home, and my internet research showed me that my bourbon is technically whiskey, I used that, and thus changed the name of my tart. On the top is a puffy cloud of bourbon spiked whipped cream dusted in cocoa powder.
The only thing I have to say here is that I think I would have liked more crust for my tart, so I might double it next time, so it's a bit thicker on the bottom, and I can press it further up along the sides. Other than that, the filling is smooth, rich and delicious, and the bourbon really shines through.
You can find the recipe here!
More Baked Sunday Mornings here!