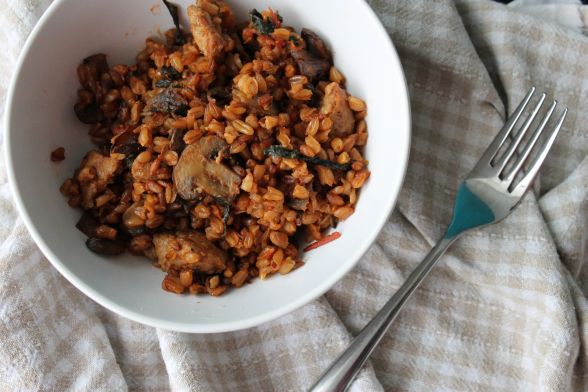 I have pretty high standards for a made-from-scratch weeknight meal. Obviously it has to taste good. If it's fairly quick to pull together, that's great too. The fewer pots it uses up the better. And if it reheats well for the lunch the next day, that's a bonus. In the summer, these are easy criteria to fulfill with fresh, local produce everywhere you turn, but in the winter, the cozy, warm meals we crave are sometimes complex labours of love that take forever and leave you with a kitchen full of dirty pans.
But not this! And it only uses one pot! I made this after work last week and it was incredible. I'm on board with farro too. It's a bit like brown rice, but bigger and chewier. I get mine in the bulk section of Whole Foods, and only sometimes end up spilling it all over the floor (oops). It gets cooked with sausage, mushrooms, tomatoes, some spices and swiss chard thrown in at the end to make you feel good about eating something green. It takes a little time to cook, depending on the type of farro you have, but I'm okay with that, because you can do other stuff in the meantime. Super cozy and satisfying, and perfect for a weeknight dinner, with delicious leftovers for the next day.
Farro with Sausage, Mushrooms & Swiss Chard
Source: Elly Says Opa
Yield: 4 servings
Ingredients
1 tbsp olive oil
12 oz Italian sausage (mild or spicy / pork or turkey, your call), casings removed
1 medium onion, diced
8 oz cremini mushrooms, sliced
3 cloves garlic, minced
1 cup farro
1 15oz can fire-roasted diced tomatoes
1 3/4 cups chicken broth
1/2 tsp dried oregano
1/8 tsp crushed red pepper flakes
1 bunch swiss chard (or other leafy green of your choice)
+ crumbled goat cheese or shaved parmesan
Directions
Heat the olive oil in a large saucepan or dutch oven over medium heat. Add the sausage and break apart, and cook until golden brown.
Add the onion and cook for about 2 minutes, then add the mushrooms, garlic and a pinch of salt. Cook until the mushrooms have softened.
Add the farro, stir until the grains are coated, and let cook for about 2 minutes, stirring frequently so they don't stick to the bottom of the pan.
Add the tomatoes, chicken broth, oregano, and red pepper flakes, stir and bring to a boil. Reduce the heat to medium-low, cover, and let simmer until most of the liquid has been absorbed. This took about 45 minutes for me.
Stir in the chard and cook until it wilts, about 3-5 minutes.
Serve with crumble of goat cheese overtop or freshly shaved parmesan cheese.