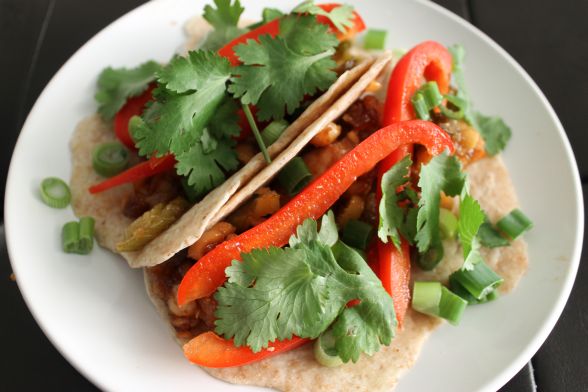 I'm obsessed, OBSESSED I say, with these Kung Pao Chicken Tacos that I found on How to Eat over my Christmas holidays. I met the lovely Dara & Erin at the Food Bloggers of Canada conference last year, and their blog is one of my favourites that I'll visit if I want some fresh, healthy recipes. Kind of needed after all the treats of December, right?
You know I have my issues with chicken, but something magical happens in this recipe when you marinade the chicken in soy sauce for a little while before cooking it. The chicken then gets coated in a bit of cornstarch before browning it, which gives it a crispy coating, and then you toss in cashews, celery and a super delicious sauce. The girls suggest eating the filling as tacos, with strips of crunchy red pepper, chopped green onions and a squeeze of lime; I added cilantro because I had some in the fridge. They also mention the filling would be great over rice, and I agree, I may do that next time. There will definitely be a next time!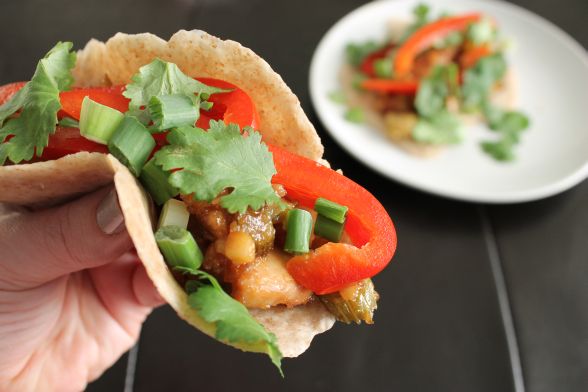 Kung Pao Chicken Tacos
Source: How to Eat
Yield: This was enough for two lunches for me; you can double the chicken if you want more
Ingredients
2 boneless, skinless chicken breasts, cut into small cubes
2 tbsp + 4 tbsp soy sauce
3 tbsp honey
2 tbsp sesame oil
4 tsp rice vinegar
1 tsp sriracha (use more or less depending on your spice tolerance)
2 garlic cloves, minced or grated with a microplane
1/4 cup cornstarch
1 tbsp grapeseed oil (or other flavourless oil of choice)
3 stalks celery, sliced
1/4 cup chopped cashews
+ tortillas (homemade if you want)
+ sliced red pepper, green onions and cilantro for topping
+ lime wedges for squeezing
Directions
Add the chicken and 2 tbsp soy sauce to a ziploc bag and smoosh around until chicken is covered. Set aside for 30 minutes.
For the sauce, whisk together the remaining 4 tbsp soy sauce, honey, sesame oil, rice vinegar, sriracha and garlic.
When the chicken is finished marinating, add the cornstarch to a plate or bowl and toss the chicken pieces until each piece is coated in cornstarch.
Heat oil in a wok or skillet over medium heat, add the chicken, and brown on all sides. Carefully remove to a plate, then add the celery and cook for a few minutes until softened. Add back the chicken, cashews and sauce and toss gently (this is so the crispy cornstarch coating doesn't fall off the chicken). Let bubble and cook until the sauce has thickened.
Scoop into tortillas and top with sliced red pepper, green onions and cilantro. Squeeze a little lime overtop.