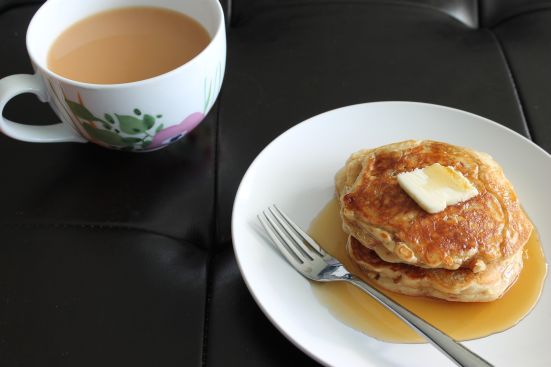 It's hard enough to return to work post-holiday vacation bliss, but do we really need a POLAR VORTEX to make things more difficult? It was -40 here yesterday, which makes it just a little bit harder to deal with life, especially under 526 layers of clothes (tights, long janes, yoga pants, hoodie, puffy coat, scarf, hat, gloves, mittens, socks and clunky Sorel boots). My hair has also been looking like a hot mess after being smooshed under all those items, once it's finally set free when I arrive at my office.
So let's daydream of last week, when it was all about pancakes vs. waffles, and staying inside all day when it was cold and binge watching Scandal. SCANDAL! Why didn't anyone tell me how amazing/insane/addictive this show is? My friend Heather loves it, but no one else in my life has impressed upon me the URGENCY to watch this show that I now feel I must pass on to you.
If you're late to the Scandal party like me, this is all you need to know: Kerry Washington plays a professional "fixer"/crisis manager in Washington, D.C. named Olivia Pope, and let's just say hi-jinx ensue.  There are just too many thoughts and feelings I have about this show, including, but not limited to, the following (don't worry, no spoilers):
First of all, I seriously cannot wait for the first opportunity I have to yell "It's handled!" at my boss and dramatically exit the office (this will never actually happen, don't worry).
What does Olivia's meal plan/grocery list for the week look like? Wine. Popcorn. Wine. Popcorn. Wine.
I'm back on Team Shonda. I used to watch the early years of Grey's Anatomy, but I fell off when Izzie and George got together. It's fun to see people who used to be on Grey's pop up on Scandal, too.
Fitz's hair. Shonda's casting directors obviously have a dreamy hair box to tick on their casting sheets.
Obviously I needed some sustenance to get me through all the episodes so I made these pancakes from Joy the Baker that I've had pinned forever.  We're no stranger to putting bacon in our waffles here on Planet Byn, so of course I was all in on bacon pancakes. And peanut butter too? YES! Just trust me on that! I love the salty/sweet/savoury thing going on with bacon, maple syrup and peanut butter. Just be warned that these are really thick pancakes, so make sure you let them cook pretty much all the way through before flipping.
Peanut Butter Bacon Pancakes
Source: Joy the Baker
Yield: 8 pancakes (depending on the size you make them)
Ingredients
1 cup flour
1 tbsp brown sugar
1 tsp baking powder
1/2 tsp baking soda
1/2 tsp salt
2 tbsp butter
2 tbsp natural peanut butter
1 egg
1 cup buttermilk
1 tsp vanilla
5 slices bacon, cooked crisp and crumbled or chopped into pieces
Directions
In a small bowl, whisk together the flour, brown sugar, baking powder, baking soda and salt.
In a medium microwave safe bowl, melt the butter and peanut butter. Whisk until smooth, then add the egg, buttermilk and vanilla and whisk again. Add the dry ingredients, and whisk until just barely combined. Gently fold in the bacon.
Heat your favourite pan over medium heat, and spray with non-stick spray or melt a little butter. Cook your pancakes for about 3-4 minutes on the first side, then flip and repeat on the other side. You can keep the pancakes warm in a 200 degree oven until you're done making them all.
Obviously serve with a pat of butter and a generous pour of maple sizzurp.