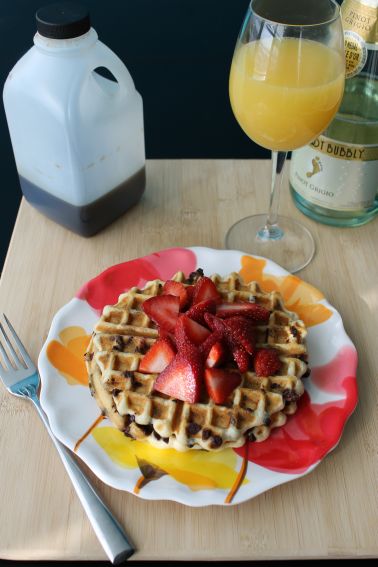 Happy 2014! If you're looking for some type of green smoothie to start your year off right, you've obviously come to the wrong place.  Here's what I tweeted on New Year's Day: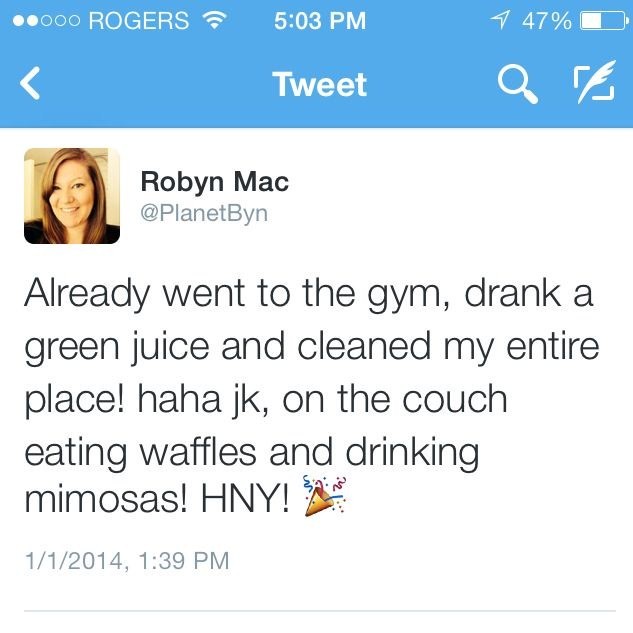 I had two glorious weeks off over the holidays, and I was joking that I wanted the hardest part of my day to be deciding between waffles and pancakes, and nothing more strenuous than that. I ended up trying one new recipe of each, and they were both winners, so that's what you'll see this week.
Megan at Take a Megabite, has so many waffle recipes on her blog that it's hard to choose which ones to make, and she has many boozy waffle recipes at that. I ultimately decided on these waffles, which I've made before, but swapped champagne for the beer, like she did in this recipe. If that sounds weird, it's not, because the bubbles make the batter nice and light and foamy. Brown butter, chocolate chips and maple syrup just take them over the top, and I washed them down with a ginourmous mimosa to start the year off right!
As far as kitchen-related resolutions go, I'm happy to report that my 2013 mission to do all the dishes before going to bed actually went pretty well! I'd say it's more or less a habit now, and it feels so good to wake up to a clean kitchen. Overall, I'd say it was a good year on Planet Byn, but I'd like to blog more and blog better in 2014. More on that in February when we celebrate my 4th blog-iversary!
Hope  your new year is off to a sweet start!
Chocolate Chip Champagne Waffles
Source: adapted just a bit from Take a Megabite  (left out the orange zest, swapped champers for beer)
Yield: 4 big waffles…but this will depend on the size of your waffle maker
Ingredients
1 cup + 2 tbsp flour
1 tbsp sugar
2 tsp baking powder
1/2 tsp baking soda
1/2 tsp salt
2 1/2 tbsp butter
1/2 cup champagne
1/4 cup + 2 tbsp milk
1 egg
1/2 tsp vanilla
1/2 cup mini chocolate chips
+ sliced strawberries and maple syrup for topping
Directions
In a small bowl, whisk together the flour, sugar, baking powder, baking soda and salt.
In a small saucepan, brown the butter over medium heat (tutorial here). Remove from heat and add the champagne and milk, and whisk until combined and warm. Whisk in egg and vanilla.
Pour wet ingredients into dry, and mix just until just barely combined. Gently fold in the chocolate chips. They may get a bit melty, but that's okay.
Cook in your waffle maker, then top with strawberries and maple syrup!