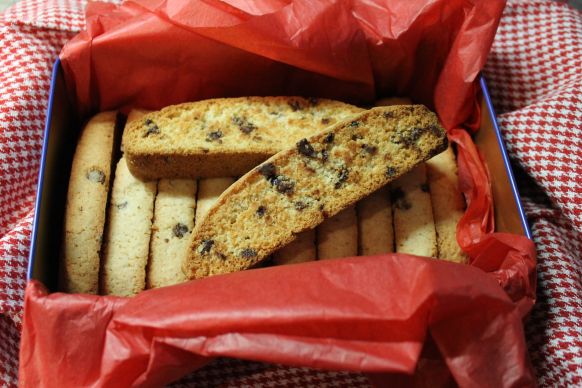 It's Gastropost Saturday, and our mission this week was "The Gift of Food". Let's be honest, I don't just give the gift of treats at Christmastime; it's pretty much a year round mandate here on Planet Byn. But I did give a very special gift this year, and it was something I've never made before.
See, I have a baking blind spot when it comes to biscotti. I just prefer a chewy, ooey, gooey cookie over a crunchy one, so it's not something I've ever made. My co-worker, however, makes himself a cappuccino after lunch everyday, and always eats it with a biscotti from a giant tub that he purchases at Costco. You know I can't let this stand. I surprised him with this tin of homemade Banana Chocolate Chip Biscotti last Friday, and he was so excited that he tried to share it with everyone in the office. He was even more excited when I told him it was his to take home. I love that something as simple as a tin of cookies can make someone so happy.
Thank you to my friend Heather for the recipe! She made this for our bake sale back in October, and it was a huge hit!
Banana Chocolate Chip Biscotti
Source: Heather
Yield: This is half the original recipe and made about 14 cookies, plus the little ones on the end.
Ingredients
1/4 cup (1/2 stick) butter, room temperature
1/2 cup sugar
1/4 cup ripe, mashed banana
1 egg
1/2 tsp vanilla
1 1/2 cups flour
1 1/2 tsp baking powder
1/8 tsp salt
1/4 cup mini chocolate chips
Directions
Preheat the oven to 350 and line a cookie sheet with parchment paper.
In a large bowl, cream together the butter and sugar until combined. Add the banana, egg, and vanilla and mix again until fluffy.
Add the flour, baking powder and salt, and mix again just until no floury bits remain. Fold in the chocolate chips.
Scoop dough onto the cookie sheet and shape into a rectangle, roughly 10″ long and 3″ wide. Bake for 25 minutes, or until a toothpick inserted into the middle comes out clean. Let cool for 15 minutes.
Gently move baked cookie rectangle onto a cutting board, and using a serrated bread knife, slice into 1/2″ slices. Turn slices cut side down on cookie sheet and bake for 10 minutes, then flip over and bake for 10 more minutes. Cookies will be nicely golden brown, which according to Heather is what you want (I was nervous I over baked mine!). Let cool before packing up.