Every year I host a little Christmas party for my friends, where we eat cookies, drink champagne, and toast the holidays. It's selfish really; in years past I used to make up cookie packages and deliver them around to everyone, whereas now, everyone comes to me! This little soiree is always BYOT, where the T stands for Tupperware, so everyone can bring some treats home to share or hoard for themselves. I love it!
I took my cookie selections VERY seriously this year, after about half of my choices from last year were either gross (Bailey's Marshmallows) or not cute (Brie Pops). I decided on four classics, plus six new additions, half of which I had already made earlier in the year, so I knew they would be keepers. Here we go:
1. Gingerbread Sandwich Cookies + 2. Soft Frosted Sugar Cookies + 3. Maple Pecan Pie Triangles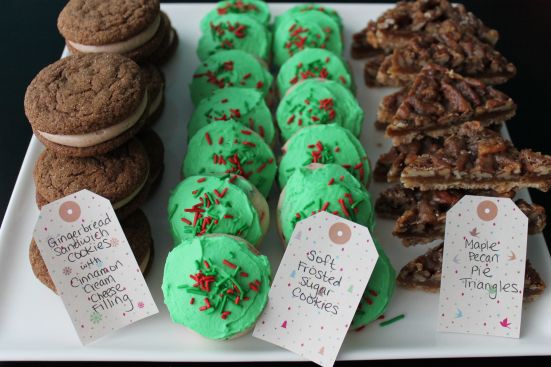 These are three standards that are destined to be regulars every year. As The Barefoot Contessa would say, they're classics with the volume turned up. Everybody loves these Gingerbread Sandwich Cookies, and the cinnamon cream cheese frosting that sandwiches them together takes it into crack territory. My friends Nicole & Geoff have said in the past that the Soft Frosted Sugar Cookies are secretly their favourite, so I'll always include those. Last year was the first time I made these Maple Pecan Pie Triangles, and they're so easy and so delicious, that they're going into the regular rotation as well.
4. Pretzel M&M Cookies + 5. Nutella & Rolo Stuffed Double Chocolate Chip Cookies
The reign of the Pretzel M&M Cookie officially came to an end this year. This used to be the cookie that was the first thing to go at parties past, but this year there were so many still left over at the end of the night! Not sure if this was because some of my regulars couldn't make it because of the weather, or because there were so many other new things to try this year, but I'm still obsessed with them, so they'll stay on the list.
Now for the newbies! These Nutella & Rolo stuffed cookies are pure, over-the-top insanity. I first made them back in November to test them out, as if there was any doubt that a double chocolate chip cookie, stuffed with a blob of Nutella and a freaking Rolo would somehow be any less than amazing. My co-workers told me they were the best thing I've ever baked, and they're definitely up there. Eating one of these warm out of the oven with a cold glass of milk is a heavenly experience. (I'm going to do a separate post on these later this week)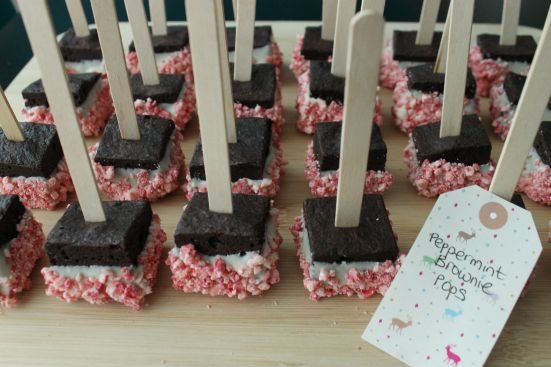 I always like to have a chocolate/mint treat at Champagne & Cookies, and this year I picked these because, well, everything tastes better on a stick, right? This is a simple cocoa brownie, cut into cubes, dipped in white chocolate, and rolled in chopped Andes Peppermint Crunch Baking Chips. I like this concept, but I think I would use a different brownie recipe if I made these again, and perhaps dip them in dark chocolate and roll in crushed candy canes.
7. Alfajores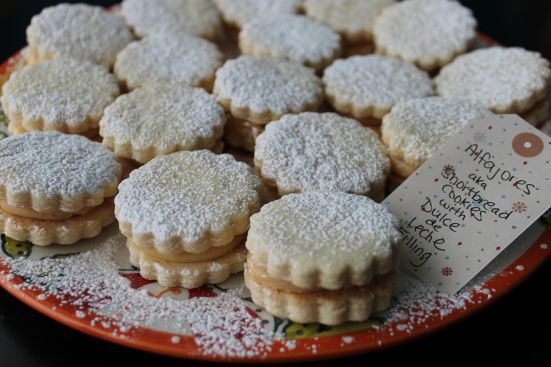 This was the one wild card slot that was left open right until the week of the party. I had a few final contenders dancing around my mind, but ultimately settled on these Alfajores when I saw them on Cindy's cookie round-up. Alfajores are a South American cookie, which is basically a shortbread cookie sandwiched together with Dulce de Leche. My friend Josie's boyfriend is Venezuelan, and this was their first year attending my party, so I thought it would be fun to make these for him. Unfortunately for me, I couldn't find jarred Dulce de Leche anywhere, and this is DISGUSTING, so I ended up making my own in the microwave, which actually worked out well! It didn't get as golden brown as I thought it would, but the taste was on point, so it was no big deal. I've subsequently found this method of making DdL in the slowcooker, so I'll have to try that out sometime soon.
8. Peanut Butter Cookie Dough Balls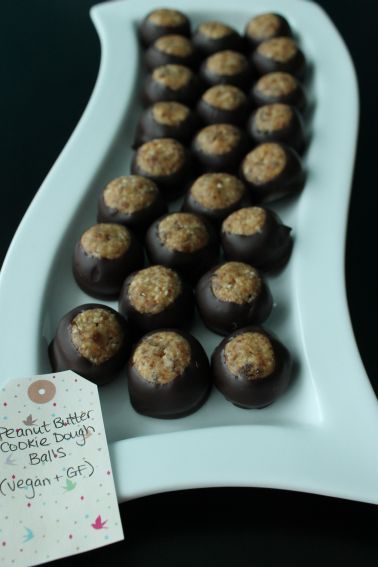 Now, I was very disappointed in the Vegan + GF treats I made last year, so wanted to step up my game this year. I made these Peanut Butter Cookie Dough Balls again, and dipped them in dark chocolate to look like Buckeyes, and they were incredible. I couldn't stop eating them. Success!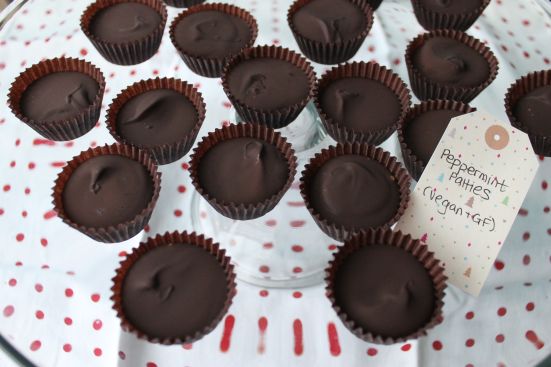 Angela from Oh She Glows posted these a couple days before the party, and I knew they were it. Gluten-Free, Dairy-Free, Egg-Free, and taste like Junior Mints? YES! Instead of rolling and dipping these into Peppermint Patties, I just poured the filling into mini cupcake liners, and topped each with a thick layer of dark chocolate. Once frozen, you can just pop them out of the liner and eat. Next  year I'll sprinkle a little crushed candy cane on top!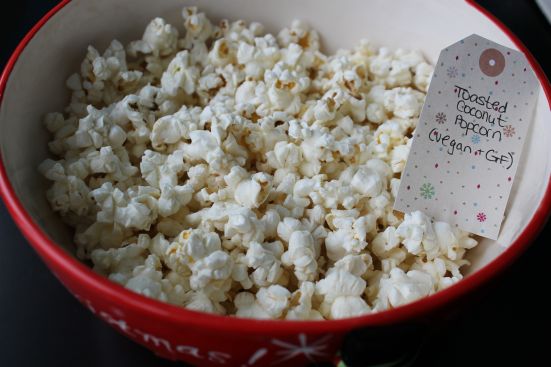 This was my 10th and final choice for a Vegan + GF treat for the party, but I didn't actually end up making it, because we had more than enough snacks for everyone. (Although I made it for myself today and snapped a picture; it's so good!)
See, after 3 years with no inclement weather, the first snowfall of the year happened on party day, and left a lot of my friends snowed in! About half still made it over, and a few more came the next afternoon, and it was like the party lasted the whole weekend. I definitely go crazy cleaning and baking in the weeks leading up to the party, but I wouldn't have it any other way. I was so happy with all my cookie choices this year, and it was so fun watching my friends go around and try them all, as well as fill up their tupperware with cookies to take home.
Hope everyone has a great week with family, friends and cookies!
Notes to self for next year:
Soft Frosted Sugar Cookies: make a half batch of Annie's recipe / split each heaping scoop in half and roll into a ball / press down just a little bit before baking / Bake for 10 minutes, one sheet at a time, rotating after 6 minutes / Yield: 3 dozen cookies
Gingerbread Sandwich Cookies: make a full batch /split each regular scoop in half and roll into a ball / do not press down before baking / Bake for 14 minutes / Yield: 4 dozen cookies
Nutella Stuffed Cookies: half scoop for the bottom / quarter scoop for the top / Bake for 10 minutes / Yield: 2 1/2 dozen cookies