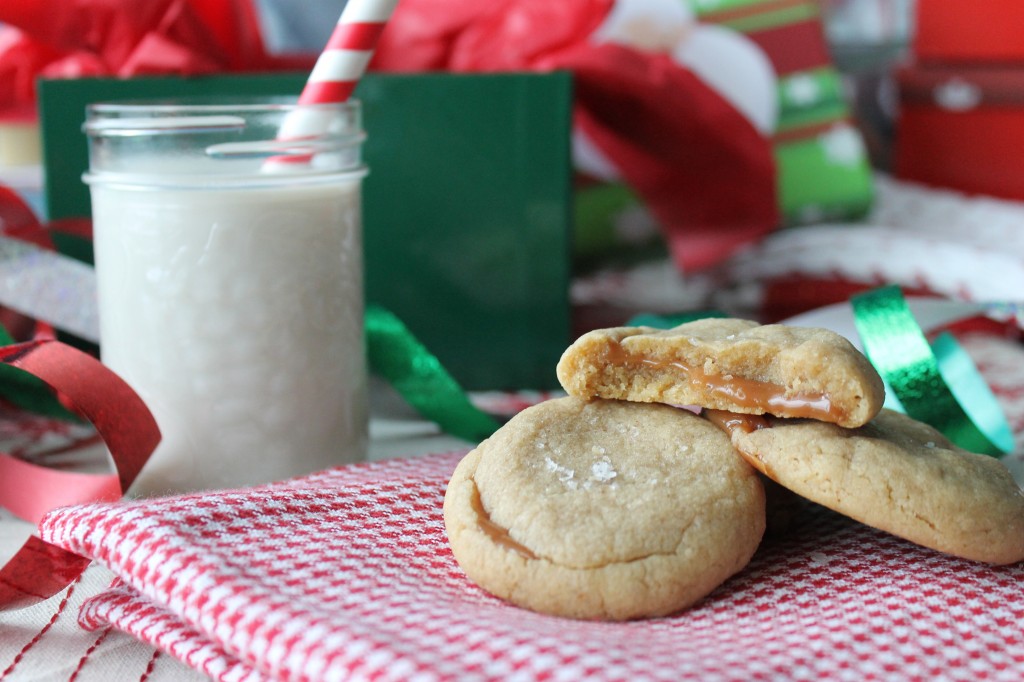 Because I don't have enough cookies to bake in December, this year I decided to do The Great Food Blogger Cookie Swap, thanks to some encouragement from my blogging friends Meg and Heather. The concept is simple: sign up, receive three names and addresses, bake three dozen of the same cookies, and ship out a dozen to each blogger. So fun, right?
In theory yes, but if you're an indecisive Libra, such as myself, you'll spend WEEKS agonizing over what cookies to make! The whole shipping aspect was also sort of limiting in some respects, because I didn't want to pick a flimsy cookie that would crumble if it got tossed around in the mail a little bit. I also didn't want to make anything with icing, or dipped in chocolate, or anything else that might get too messy/oozy/gooey in the mail. Finally, I wanted to pick something Christmas-y. The cookie I originally chose was a Peppermint Chocolate Crinkle Cookie, but it just didn't do anything for me. When I brought the rejects to work, even my co-workers, who will eat ANYTHING, commented that they weren't that great.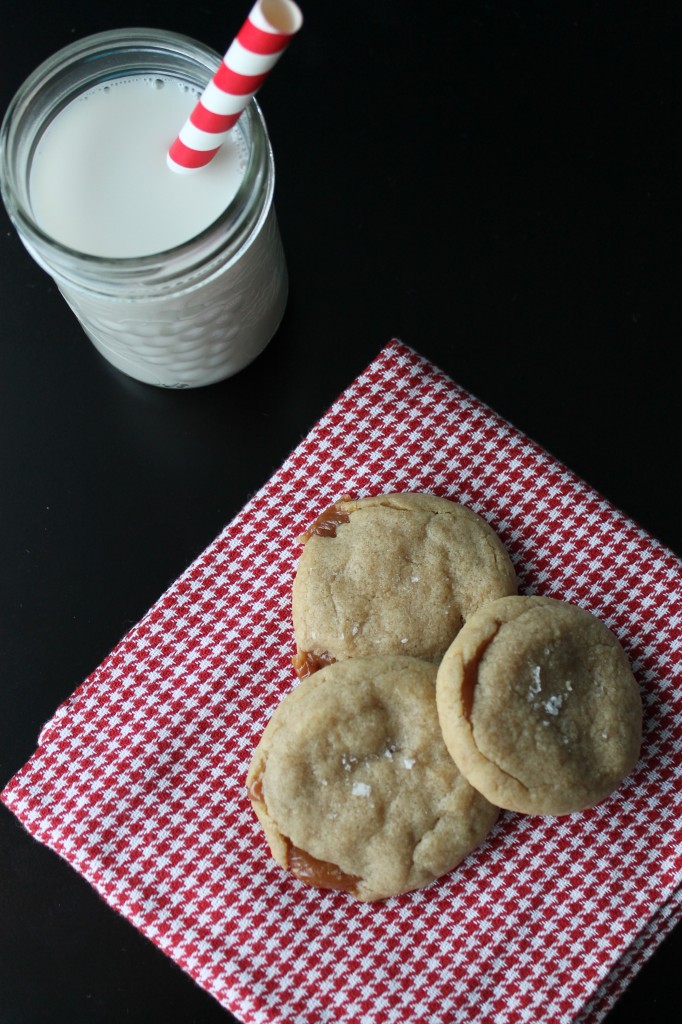 Then I was flipping through Bon Appetit on the newsstand last week, and saw some Bourbon Caramels. Hmmm….interesting. And I had been looking at these Brown Butter Bourbon Chocolate Chip Cookies a while ago. So what if I stuffed them with the caramels? But were they Christmas-y enough? *sigh* Welcome to my Cookie Brain. Finally the answer came to me after Googling Bourbon Cookies: Brown Butter Bourbon SPICE Cookies. YES! I figured the spice factor was enough to satisfy my need for a Christmas component, they seemed pretty sturdy to survive the mail, and they sounded amazing. I made a test batch and my instincts were confirmed! They were glorious: chewy, nutty, BOOZY, and a gooey caramel layer inside. Success!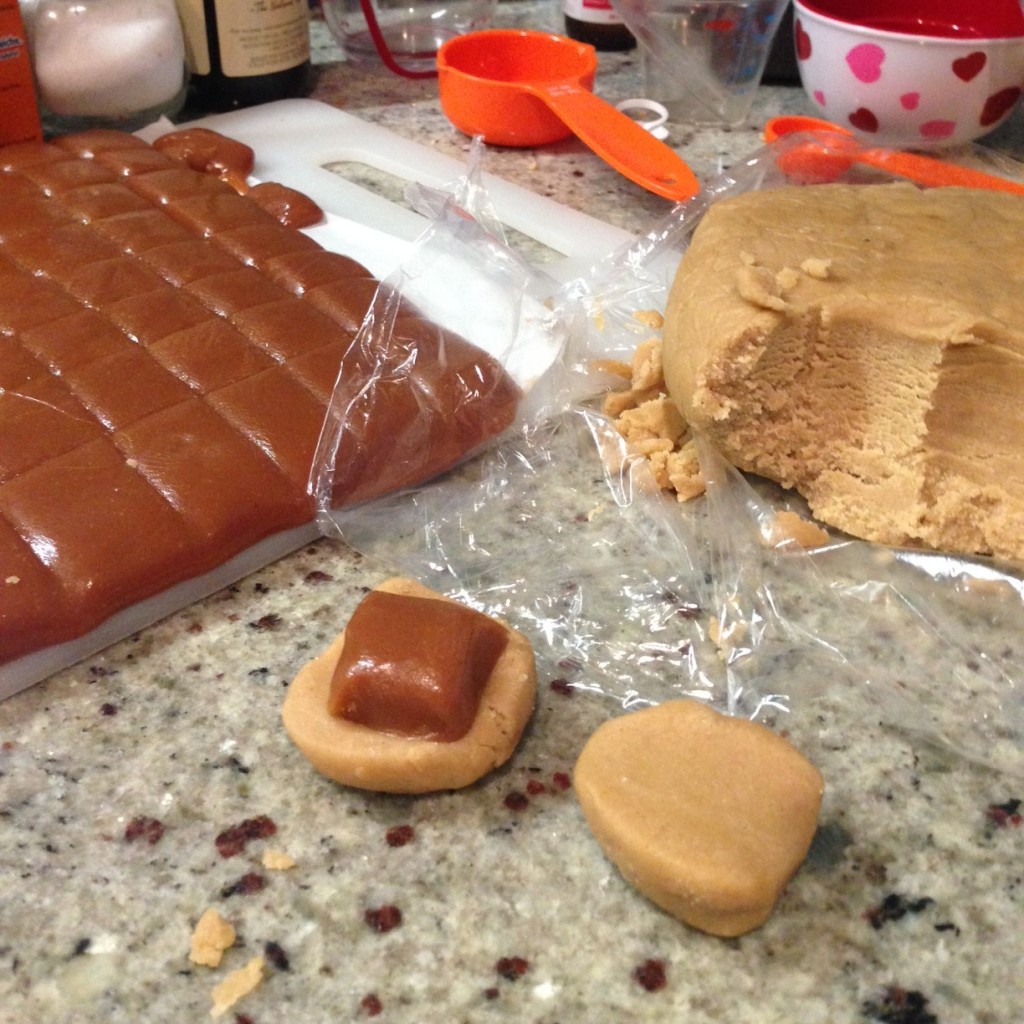 So that left me in the kitchen last Sunday night, with Monday looming as our deadline to ship, baking into the wee hours and getting all my packages ready. I put my cookies in big plastic ziploc bags to keep them soft, tucked them into cute little Christmas boxes, surrounded them with crumpled tissue paper, wrapped them in brown parcel paper and lovingly sent them off into the world. Here's where they traveled:
To Carole (The Yum Yum Factor) in Toronto: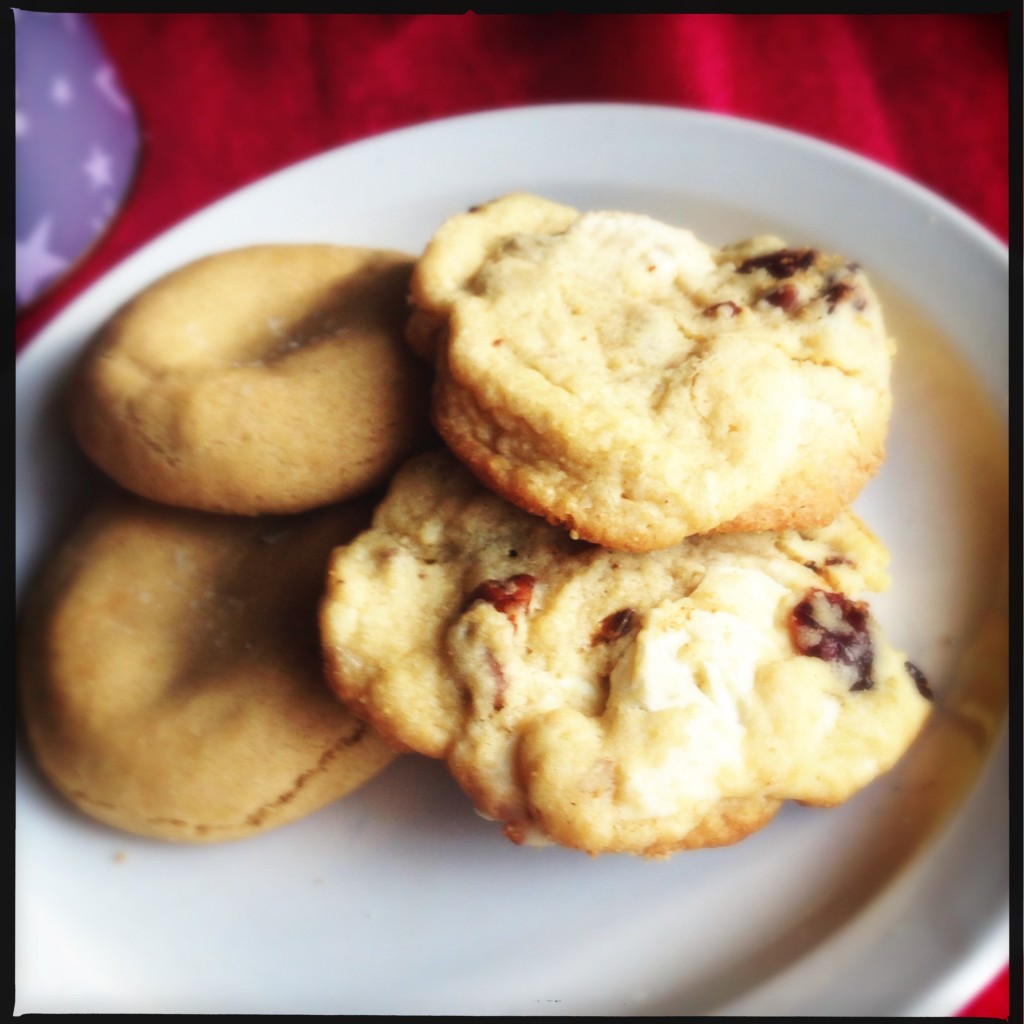 To Dana (Hot Pink Apron) in Whitby: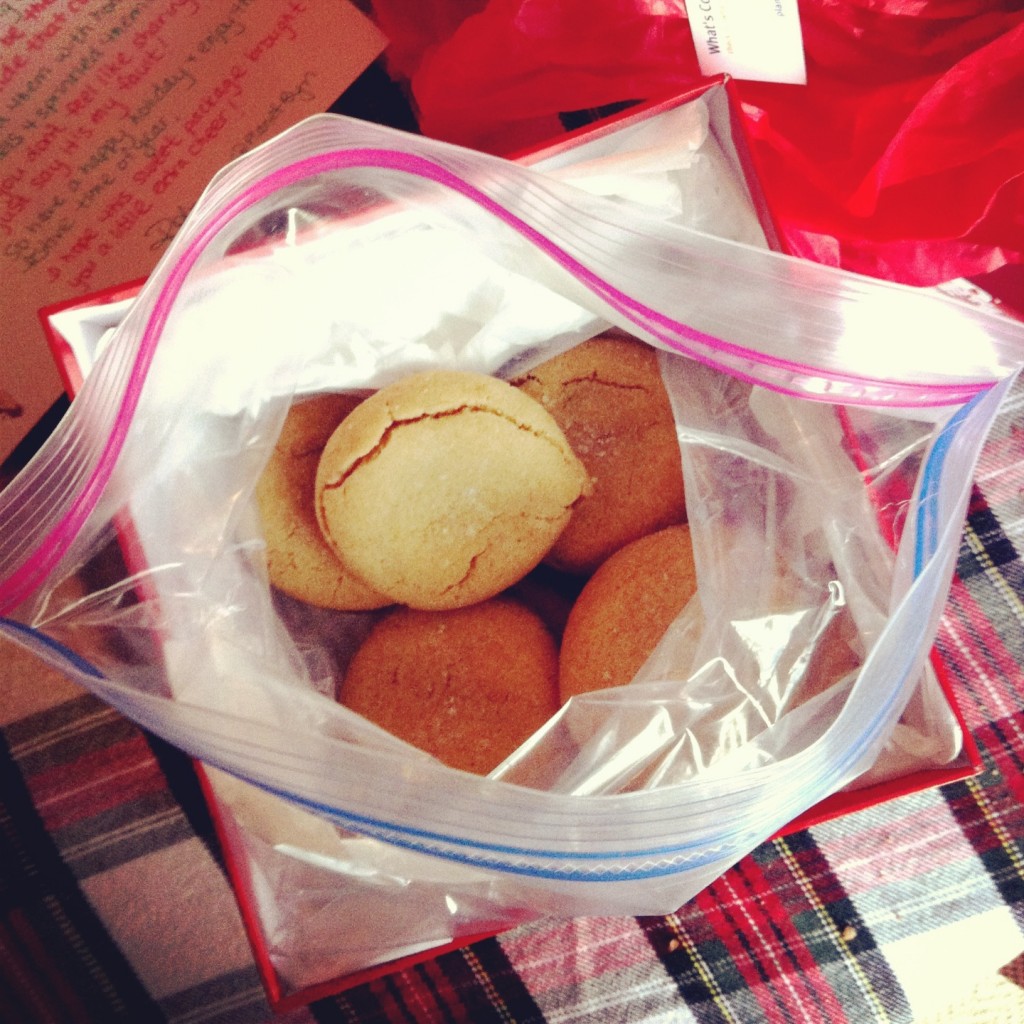 To Katie (Kate's Plate) in Ottawa: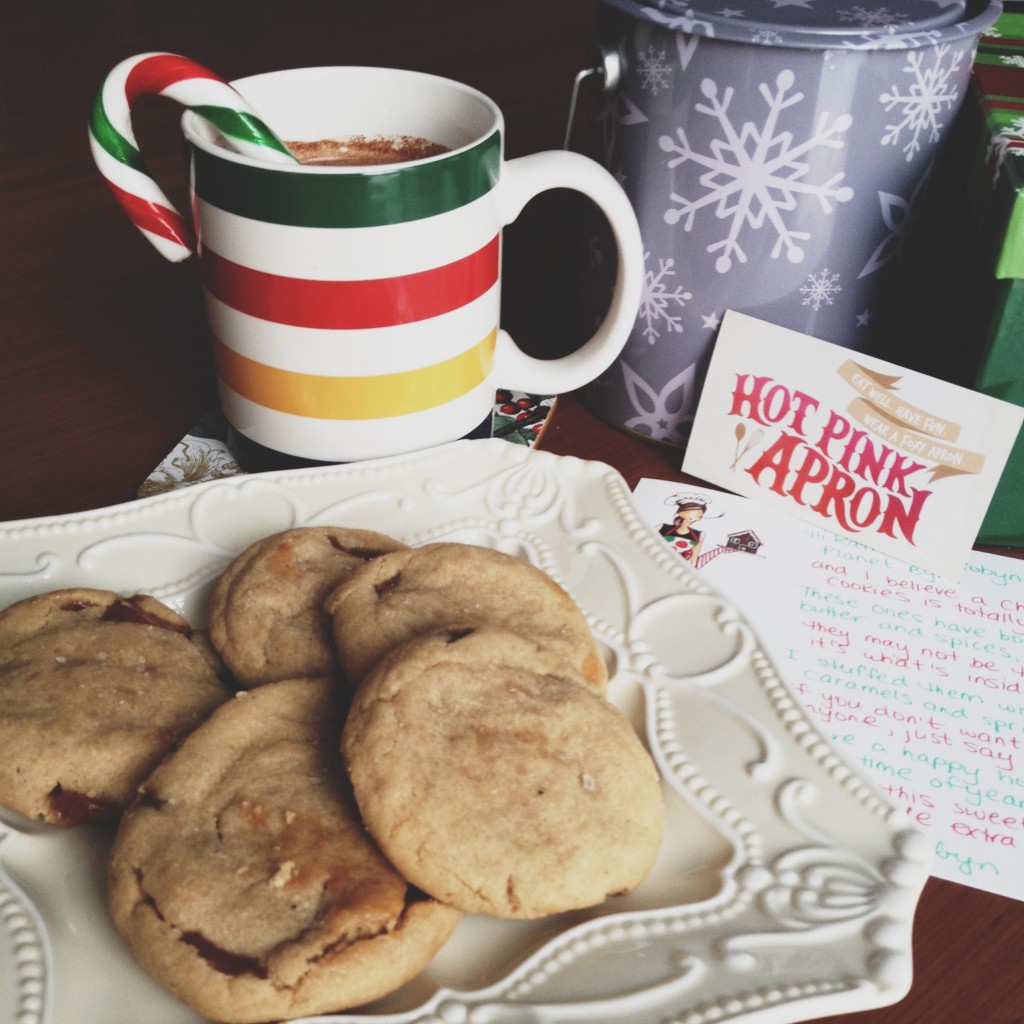 Thanks guys for letting me use your Instagram shots! It was so much fun to see their tweets and photos as they all got their packages!
But that's not even the best part! Then my own cookie packages started rolling in!
Gingerbread Mocha Biscotti From Cheri (Kitchen Simplicity) in Edmonton: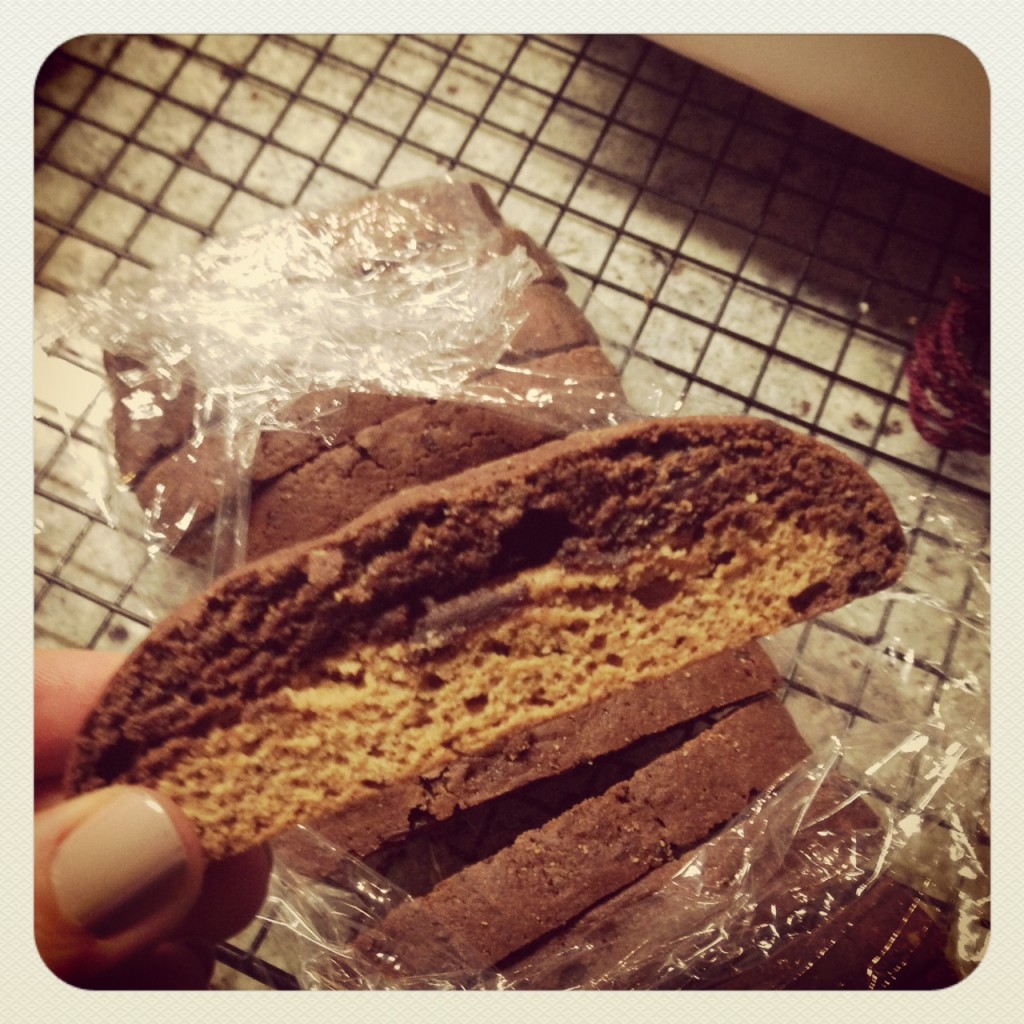 Raspberry Sugar Cookies From Rhonda (Olive & Ruby) in Mississauga: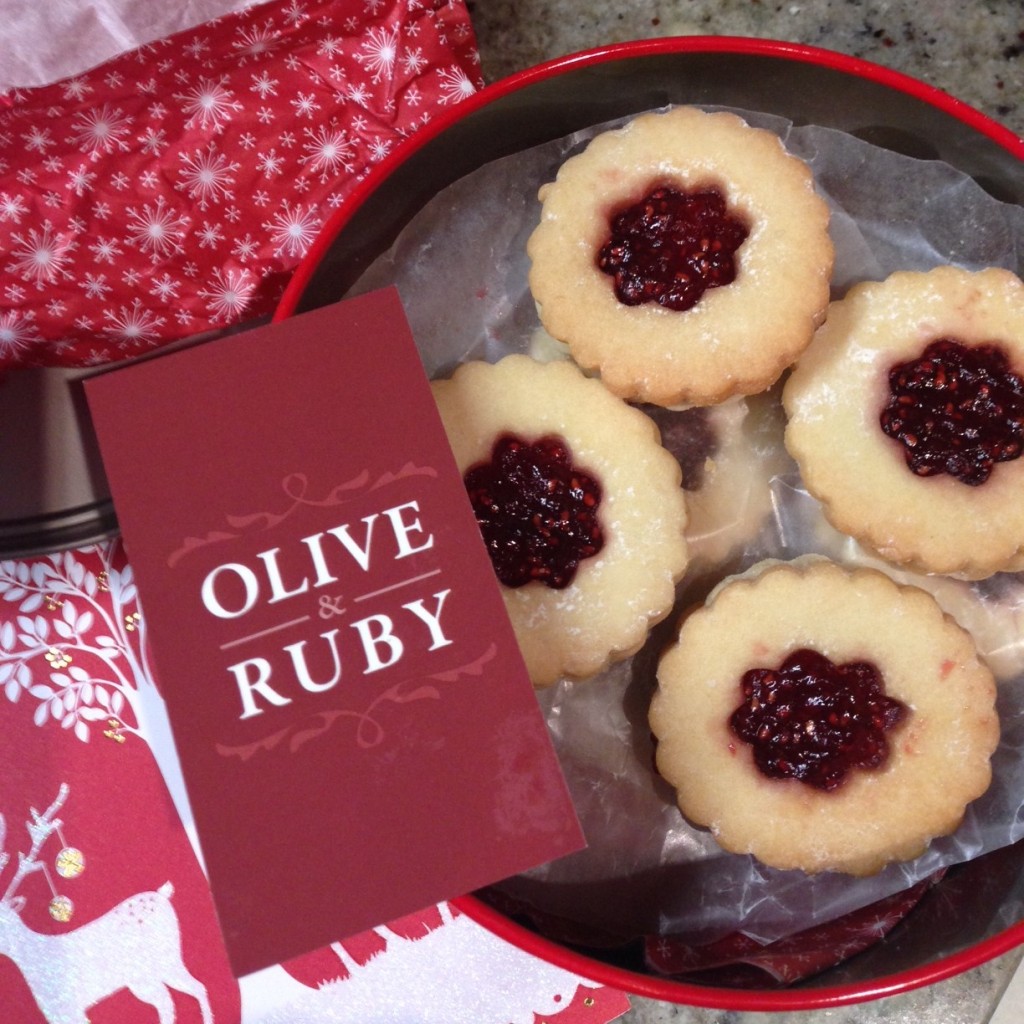 Marshmallow Cornflake Chocolate Chip Cookies From Megan (The Bold Baker) in Vancouver: (recipe not posted yet)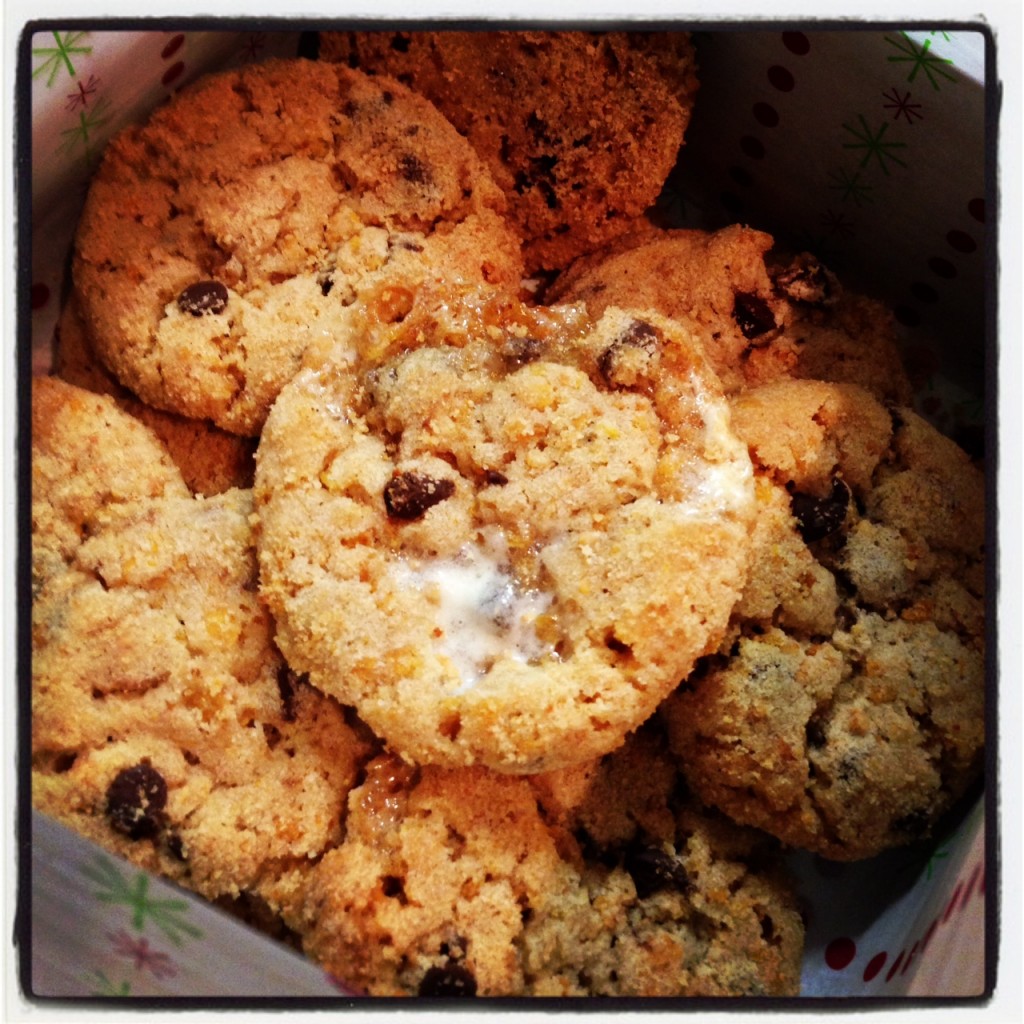 I'm so in on this and can't wait to do it all again next year!
Brown Butter Bourbon Spice Cookies with Bourbon Caramel Filling
Source: Cookies from Bake Your Day, Caramels from Bon Appetit
Note: You'll have to make the caramels the day before you want to make the cookies so they have time to firm up!
Cookies
Ingredients
3/4 cup (1 1/2 sticks) butter, browned and cooled (never done this before? Tutorial here)
1 cup brown sugar
1/2 cup sugar
1 egg
1 egg yolk
2 tbsp bourbon
3 tsp vanilla
2 1/2 cups flour
1 1/2 tsp baking soda
1/2 tsp salt
1/4 tsp cinnamon
1/4 tsp nutmeg
1/4 tsp allspice
Directions
In a large bowl, add the brown butter, brown sugar and sugar. Mix with electric mixer until combined (it'll be a little lumpy, not to worry). Add the egg, egg yolk, bourbon and vanilla and mix again until smooth and combined.
Add the flour, baking soda, salt, cinnamon, nutmeg and allspice and stir until all the dry ingredients are incorporated.
To make the cookies, take a heaping tablespoon of dough and split it in two. Flatten both pieces of dough and stick a caramel in between them. Pinch the edges together and smooth out. Chill the cookies for 30 minutes (this will help the caramel from exploding out the sides).
When ready to bake, preheat the oven to 300, and line your baking sheets with parchment paper. Sprinkle the cookies with sea salt and bake for 12 minutes, one sheet at a time, rotating the sheets halfway through baking. Let cool and store in a plastic bag or tupperware.
Caramels
Ingredients
2 cups sugar
1/2 cup light corn syrup
1/4 cup water
1 can sweetened condensed milk
1/2 cup (1 stick) butter, cut into pieces
2 tbsp bourbon
1/2 tsp kosher salt
Directions
Spray an 8×8 square pan with nonstick spray. Line with parchment paper and spray again.
In a large saucepan, bring sugar, corn syrup and water to a boil over medium high heat. Let it bubble away, and cook for about 10 minutes, keeping a close eye on it, until it turns golden brown. You can swirl the pan a few times to stir things around.
Remove from heat, and add the sweetened condensed milk and the butter and whisk until smooth. Be careful because it will bubble and steam like crazy! Add a candy thermometer and put it back on medium heat until it reaches 240 degrees.
Take off heat and add the bourbon and salt, and whisk to combine. Pour in the pan and let sit at room temperature until firm. (The original recipe sprinkles the caramels with sea salt, but I added the salt on top of the cookies).
Remove from pan and place on a cutting board. I found it easiest to cut with a pizza cutter sprayed with nonstick spray. I started off with 1″ caramels which exploded out of the cookies, so them I did about 1/2″ squares and that seemed to work well.