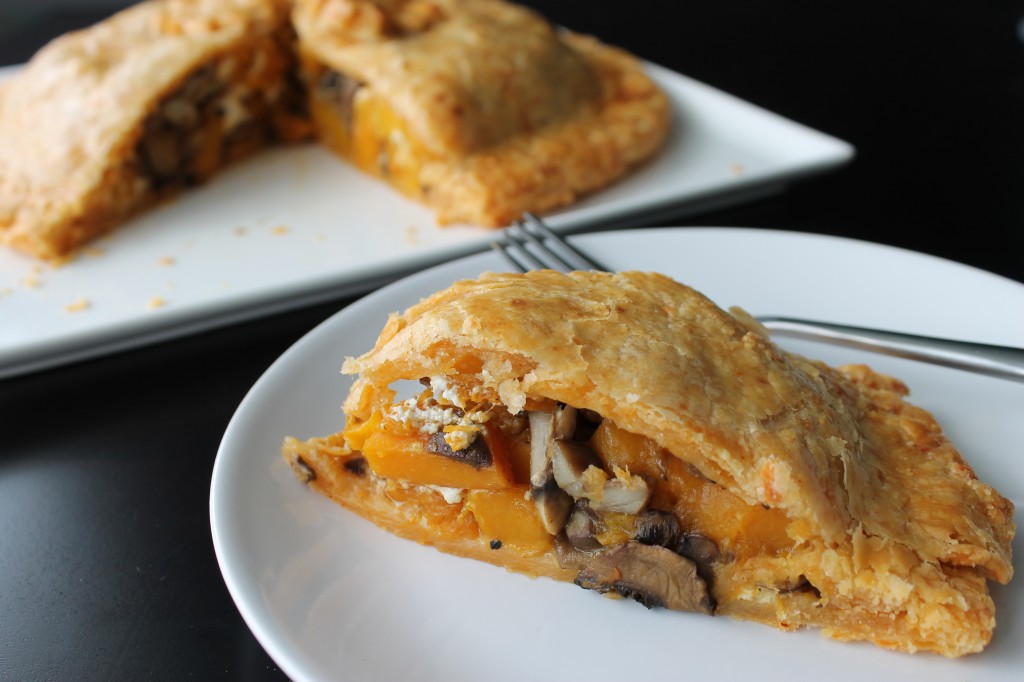 Mushroom BOOM! That was our challenge for this week, and I knew right away what I wanted to make. Smitten Kitchen's Mushroom Bourguignon, which is both on her site and in her cookbook. It was warm, cozy, and filling, but just not really a looker.
Since I had the day off on Remembrance Day, I embarked on this savoury pie recipe that I ripped out of Food & Drink magazine a few years ago. It was a labour of love, but worth every minute. There are two components:
Cheddar Pastry that basically tastes like homemade Cheese Nips (i.e. AMAZING)
Rich filling with roasted butternut squash, sauteed cremini mushrooms, porcini mushrooms and goat cheese
SO GOOD. I feel like this pie is cousins with this Butternut Squash & Caramelized Onion Galette and also this Sweet Potato, Balsamic Caramelized Onion & Goat Cheese Galette. I feel like I want to mix and match all the crust and filling options, because you could start with a regular pastry crust, a whole wheat one, or this cheddar one, and you could swap in any of the fillings. Don't be scared by all the steps, because you can make the pastry and the components for the filling a few days in advance and then just assemble when you're ready to eat. For all those Americans out there, this would be an amazing vegetarian entree for Thanksgiving this week.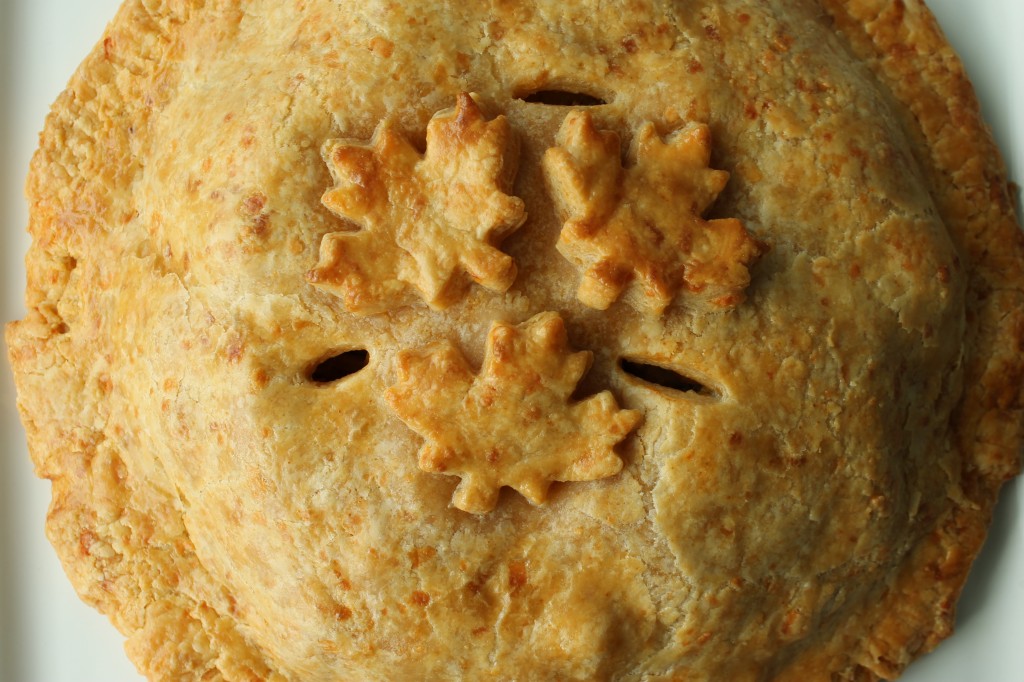 Just a note on the small changes I made:
– Obviously I used all butter in the pastry, instead of a combination of butter and lard (lard scares me)
– I have a general rule when it comes to baked goods, which is that a recipe should never have more than three flavour components going on at any given time. The flavour becomes too cluttered, and I think three is the magic number, so each one can shine through. I used my rule for this pie, because the filling originally called for: roasted butternut squash, roasted garlic, two kinds of mushrooms, fresh sage and goat cheese. That's just too much, and fresh herbs especially can be overpowering, so I left out the sage and the roasted garlic. I don't regret it.
Roasted Butternut Squash & Mushroom Pie with Cheddar Pastry
Source: ever so slightly adapted from Food & Drink
Yield: This is HUGE, and I'm going to say would serve 8-12 people for dinner with a side salad
Ingredients
Pastry
3 cups flour
1 tsp paprika
1/2 tsp salt
1 cup (2 sticks) butter, cold, cubed
1 1/3 cups grated cheddar cheese
1/3 cup ice water
1 tbsp white vinegar
Filling
1 medium butternut squash, peeled, diced into 1/2″ cubes
1/4 cup olive oil
1/2 tsp each coarse salt and freshly ground black pepper
1 pkg (14g) dried porcini mushrooms
8 oz cremini mushrooms, sliced
1/2 cup vegetable stock
2/3 cup goat cheese, crumbled
+ 1 egg whisked with 1 tbsp cold water
Directions
For pastry, whisk together the flour, paprika and salt in a large bowl. Add the butter, and cut into the flour mixture with a pastry cutter, until the mixture is crumbly, and the butter is the size of peas. Add the grated cheese, and toss with your hands until all the cheese is coated in the flour mixture.
In a small bowl, mix together the ice water and white vinegar, and add to the flour mixture. With a fork, toss the mixture together until it comes together into a shaggy dough. If there are still a lot of flour-y bits, add a bit more ice water. Knead the dough briefly until it all comes together.
Split the dough in half, and wrap each separately in plastic wrap. Chill for at least 30 minutes.
For the filling, preheat the oven to 400, line a large baking sheet with parchment paper. Add the butternut squash and 2 tbsp of the olive oil, 1/4 tsp of the salt and 1/4 tsp of the pepper. Toss to coat, and roast for 30 minutes, or until golden brown and cooked through. Set aside to cool.
To rehydrate the porcini mushrooms, get a 2 cup glass measuring cup and fill it with 1 cup water. Add the mushrooms and cover with plastic wrap, and poke it a few times with a fork. Microwave for 30 seconds, then let stand for 5 minutes. Drain, rinse, and give them a squeeze to get out the moisture. Chop and set aside.
In a medium skillet, heat the remaining 2 tbsp olive oil over medium heat. Add the cremini mushrooms, and the remaining 1/4 tsp salt and 1/4 tsp pepper. Saute for 5-7 minutes until starting to brown and cook through. Add the stock and boil until most of the liquid has evaporated. Let cool.
In a large bowl, add the roasted butternut squash, chopped porcini mushrooms, sauteed cremini mushrooms and goat cheese. Fold gently with a spatula to combine.
When you're ready to bake, preheat the oven to 400 and line a large baking sheet with parchment paper. Roll out the first disc of pastry on a floured surface, into a 12″ circle. Transfer to baking sheet. Scoop filling into the centre of the pastry, leaving a 1 1/2″ border. Roll out the second disc of pastry into another 12″ circle, and drape carefully over the top of the filling. Crimp the edges of the pastry together (I tried to do a fancy crimped border, but it didn't work, so I would just recommend pressing the edges together with a fork). Score the top of the pie a few times so steam can escape.
Brush the entire surface of the pie with the egg wash, and bake for 30-35 minutes until golden brown.