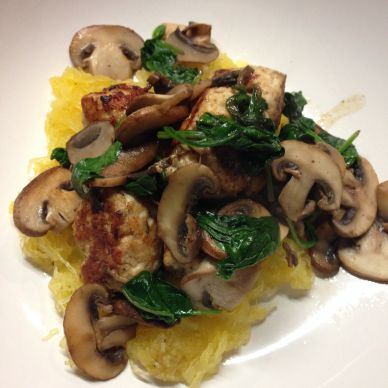 Updated with a new picture January 12, 2017
Dear Future Byn circa Fall 2014,
Hey! What's up! So you got really excited and bought a spaghetti squash at the Farmer's Market, huh? Amazing! Instead of doing what you did in Fall 2013, which was spend an hour Googling spaghetti squash recipes because you couldn't remember which one you made in 2012  just make this. You've made it two years in a row, you love it, it's another quick and easy meal to throw together after work, and spaghetti squash is just fun to scrape out. Here's a little tip though, after you've scraped it out, put it in a fine-mesh sieve while you prep everything else, so the excess moisture/water can drain away. You're welcome.
Love,
Byn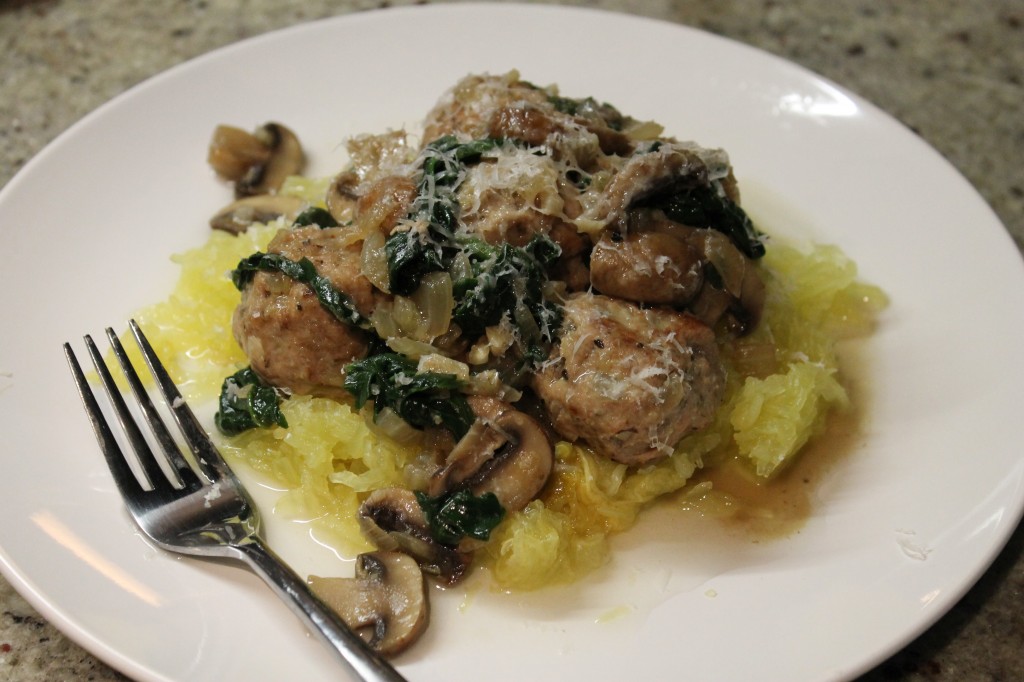 Spaghetti Squash with Turkey Meatballs
Source: adapted just a little bit from Shutterbean
Ingredients
Meatballs
1 big or 2 small garlic cloves, grated with a microplane
2 tbsp grated parmesan cheese
2 tbsp breadcrumbs
1 egg
1 tsp dried oregano
1/2 tsp red pepper flakes
1/4 tsp each coarse salt and freshly ground pepper
1 lb ground turkey
Everything Else
1 spaghetti squash, halved lengthwise, seeds scooped out
1 tbsp olive oil, divided
8oz cremini mushrooms, washed and sliced
2 cups baby spinach
1/2 cup chicken or vegetable stock
+ extra grated parm for sprinkling
Directions
Preheat oven to 400°. Line a baking sheet with foil, and spray with non-stick spray. Sprinkle the cut sides of the squash with salt and pepper, then place them cut side down on the baking sheet. Bake for 45 minutes while you get the meatballs happening.
For the meatballs, mix together the garlic, cheese, breadcrumbs, egg, oregano, red pepper flakes, and salt and pepper in a medium bowl with a fork. Add the ground turkey and mix with your hands until everything is combined. Roll into balls and place on a plate. Set aside.
Heat a non-stick skillet over medium heat and add 1/2 tbsp of olive oil. Add the meatballs, and gently cook until brown on all sides and cooked through. Remove to a clean plate.
Add another 1/2 tbsp of olive oil to the pan, and add mushrooms. Cook until starting to brown, then add spinach and stock, and cook until the spinach has wilted. Scrape up the brown bits with your spatula. Add the cooked meatballs back to the pan and stir until everything is nice and hot.
When squash is done, let cool for 10 minutes or so, then scrape with a fork into strands, and place in a fine mesh sieve or colander to drain.
Serve the meatballs, mushrooms and greens overtop the spaghetti squash, and sprinkle with lots of extra parm.