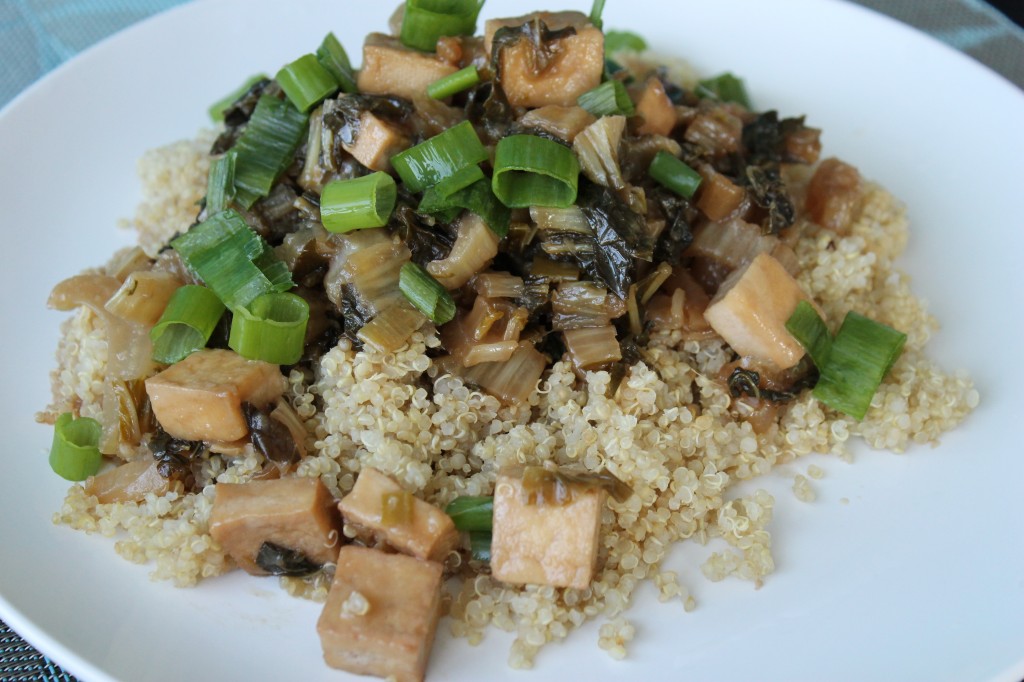 Hey! Happy Monday! I've decided it's UGLY BUT DELICIOUS week on Planet Byn! I have a few recipes I need to document here because I keep making them and forgetting about them and if I don't blog it, it's like it never happened in my kitchen. So hey, they aren't the cutest dishes you'll ever see, but they have winning personalities!
First up, this tasty tofu stir-fry, which brings up many complex feelings for me on tofu. I don't eat tofu frequently, and am slightly wary about the whole soy thing, but I usually buy it when I'm going through one of my anti-chicken phases. (Side note: I should really trend my anti-chicken phases for 2014. I'm convinced I didn't buy chicken breasts for, like, over half of this year. They're so expensive, and sometimes gross, and I don't even want to talk about this anymore. Don't even get me started on chicken thighs).
Anyway, who knows how I stumbled across this recipe, but this was the second time I've made it since September, and that's saying something for an individual who almost never repeats recipes. It has a tangy sauce, uses an entire head of bok choy, and can easily be made on a weeknight for a quick meal. I like eating it over quinoa and it reheats well the next day for lunch, which makes it a winner in my book.
Sweet & Sour Tofu with Bok Choy
Source: Big Girls, Small Kitchen
Yield: 2 servings
Ingredients
1/2 block firm tofu (you can use the whole block if you want…I usually save it to make something else)
2 tbsp flour
pinch salt
2 tbsp vegetable oil (I use grapeseed oil)
1/4 cup lemon juice
1/4 cup soy sauce
1/4 cup honey
1 tbsp grated ginger
1 tbsp grated garlic
1 bunch bok choy, rinsed, trimmed and cut into bite size pieces (separate the crunchy white parts and the leafy green parts)
3 scallions, chopped (white and green parts separated)
+ quinoa & sriracha for serving
Directions
Line a plate with a clean kitchen towel, then slice the tofu into 1″ slices, and place on the kitchen towel. Fold the towel over the tofu, and place a few heavy cookbooks or cans on top. This will press out the excess water. Leave it for 30 mins or so while you do your chopping.
After the tofu has been pressed, cut it into 1″ cubes and toss it with the flour and salt to coat.
In a skillet, warm the oil over medium-high heat. Brown the tofu on all sides until golden brown.
While the tofu is browning, whisk together the lemon juice, soy sauce, honey, ginger and garlic in a small bowl until combined.
When tofu is done, add the crunchy parts of the bok choy and the white parts of the scallions, and cook for about 2-3 minutes.
Add the leafy green parts of the bok choy and cook for 1 more minute.
Add the sauce, and bring to a boil, and let boil for about 10-15 minutes until the sauce reduces. (You can add a bit of cornstarch to thicken the sauce further if you want).
Scoop over cooked quinoa and sprinkle with green parts of the scallions and add a little sriracha if you like it spicy!