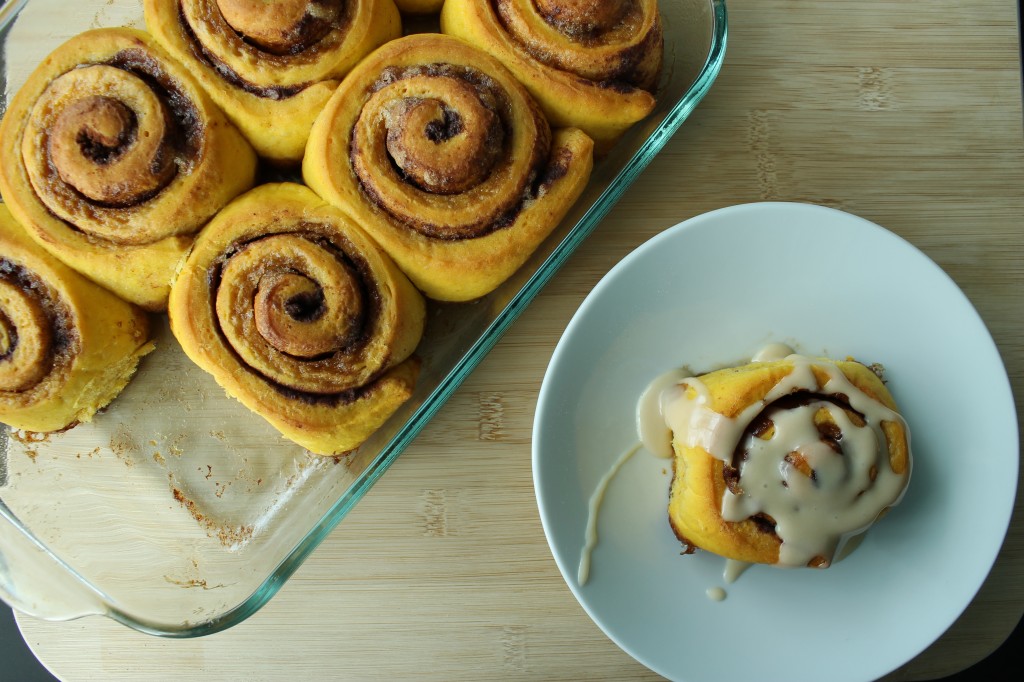 I've been lusting after pumpkin cinnamon rolls for three years. Seriously. You can see my comment from 2010 on Gwendolyn's blog here. I was still pretty scared of yeast projects then, but I'm kind of proud of how I've taught myself to bake up carby goodness since then. I didn't end up using that recipe, but truly there are recipes for these all over the place.
So this is the thing about pumpkin cinnamon rolls, and actually about anything named "pumpkin spice" anything these days: they don't actually taste like pumpkin or sqaush. In the case of these rolls, I think the pumpkin just makes the dough all the more plush and hydrated, and easy to roll out.  I also learned my lesson from the Strubarb Rolls in the summer, and tried to roll them up pretty snugly. Shocker: I also realized when I was kneading the dough that I didn't weigh my flour! So reckless! But it all worked out in the end, and my reward was a big cinnamon roll dripping with maple glaze. Heavenly.
A small note on the glaze which calls for maple extract. So, if you want the glaze to be super sweet, like the kind you'd find on a maple donut from Tim Horton's, use maple extract. Yes, the fake stuff in the little bottle.  If you want a more subtle and natural flavour, use real maple syrup. Of course, these would be equally delicious with cream cheese frosting.
Pumpkin Cinnamon Rolls with Maple Glaze
Source: Lauren's Latest
Yield: this is half the original recipe and I got 8 medium rolls and 4 teeny ones
Ingredients
Rolls
1/4 cup warm water (110 degrees)
1 1/8 tsp dry active yeast
1/8 tsp sugar
1/4 cup milk
2 tbsp melted butter
1/3 cup sugar
1/2 tsp salt
1/4 cup + 2 tbsp pumpkin puree
2 cups flour, plus a little more for kneading
Filling
1 tbsp butter, melted
2 tbsp maple syrup
1/4 cup + 2 tbsp brown sugar
1 tbsp cinnamon
Glaze
1 cup icing sugar
1 1/2 tbsp milk or cream
1/2 tsp maple extract (or more or less to taste, or sub in maple syrup)
Directions
In a large bowl, add the warm water, and sprinkle the yeast and sugar overtop. Let sit 5 minutes until foamy.
Stir in milk, butter, sugar, salt, pumpkin puree and flour. Stir with a spoon until most of the floury bits have been incorporated, then dump out on a counter and knead for about 5 minutes, sprinkling with flour if the dough becomes too sticky.
Place the dough into a clean bowl sprayed with non-stick spray, spray the top of the dough lightly, cover with a clean tea towel, and set aside to rise for 1-2 hours.
Punch down dough, and place on a lightly floured counter. Roll out into a rectangle shape (mine is always more of an oval), then spread on the butter and maple syrup. Sprinkle on the brown sugar and cinnamon. Roll up tightly into a log, and cut into 1 1/2″ slices.
Place rolls in a buttered baking pan (you can use a glass rectangle pan, round cake pans, whatever you like), cover and let rise for another hour.
Bake at 350 for 20-25 minutes until lightly golden brown. Let cool (or shove in your face while warm).
For glaze, whisk the icing sugar, milk or cream and maple extract or syrup together and drizzle over the rolls.