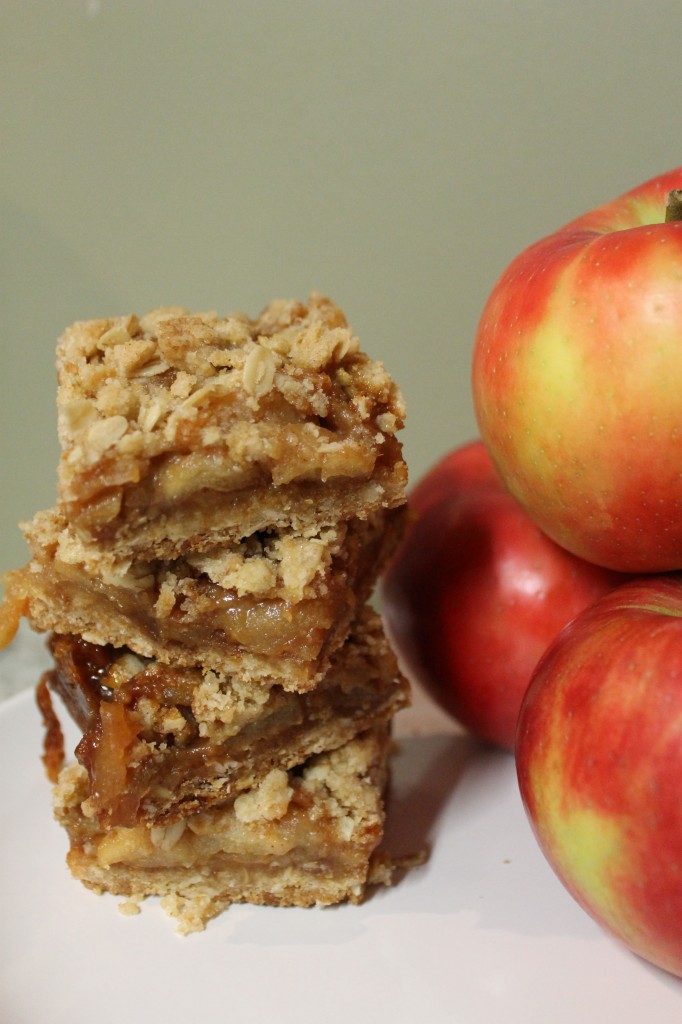 It's coming. Christmas cookie season. Time to make Pinterest boards, hoard butter, sign-up for cookie exchanges and send out a Save the Date for Champagne & Cookies IV. I can't wait!  Truth be told, I've been working on my Christmas cookie list since September, but don't worry about that. I still have a few Fall recipes to share, and some pumpkin to use up, so it's still Autumn around here for a few more weeks anyway.
First up, these Salted Caramel Apple Crumble Bars. I actually made these last year and brought them to work, and one of my co-workers has mentioned them a couple times as her favourite treat of all the ones I've baked for them. Of course I had to make them again for her birthday.
They aren't the quickest bar to pull together, but are basically a portable version of apple crisp with a salty caramel layer, so obviously they're worth the time in the kitchen!
Salted Caramel Apple Crumble Bars
Source: Annie's Eats
Yield: 1 8×8 pan, which I cut into 16 big squares
Ingredients
Filling
2 tbsp butter
5 apples, peeled and thinly sliced (I used Granny Smith)
3 tbsp sugar
3/4 tsp cinnamon
pinch nutmeg
+ 1 batch Salted Caramel (this recipe makes the perfect amount)
Note: If you don't want to make your own caramel, you can melt 9 oz caramel candies with 2 tbsp whipping cream and stir until smooth. I haven't used those, so can't vouch for it, but that's what the original recipe calls for
Crust & Crumble
1 1/2 cups flour
1 cup oats
1/3 cup sugar
1/3 cup brown sugar
3/4 tsp baking powder
1/2 tsp salt
1/4 tsp cinnamon
3/4 cup (1 1/2 sticks) butter, cold and cubed
1 egg yolk
1 tsp vanilla
Directions
For the filling, set a big skillet or saucepan over medium heat. Melt the butter, then add the apples, sugar, cinnamon and nutmeg and stir together. Cook, stirring frequently, until apples are soft and caramelized, about 15 minutes. Set aside to cool.
Preheat the oven to 375, and line a 8×8 square pan with foil, and spray the foil with non-stick spray.
In a large bowl, add the flour, oats, sugar, brown sugar, baking powder, salt and cinnamon and stir to combine. Add the butter, and cut in with a pastry cutter or fork until the butter is the size of peas and the mixture is crumbly. Add the egg yolk and vanilla and stir with a fork to incorporate.
Press about 2/3 of the mixture into the pan making an even layer, setting aside the remaining 1/3 which you'll use for the crumble topping. Bake for 12-14 minutes until starting to turn golden brown. Set aside to cool for a bit, I stick mine in the fridge for about 15-20 minutes to speed this up.
While the crust is cooling, make your salted caramel, or melt your caramel candies, or even just crack open a jar of the stuff, no big deal.
To pull it all together, start with your cooled crust. Pour your caramel over top, and use an offset spatula to spread into an even layer. Top with the caramelized apples, and spread those into an even layer as well. Take the reserved crust mixture, and crumble over top. Bake the whole thing for 20-25 minutes, until the caramel is bubbling and the topping is golden brown. Let cool completely (I put it in the fridge) before slicing.