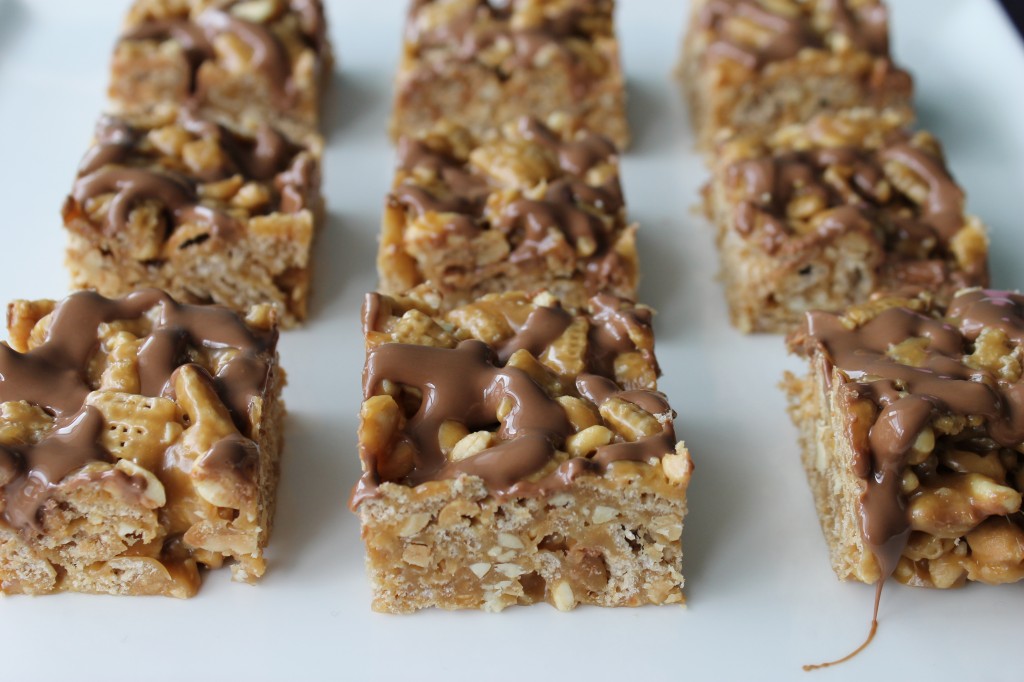 After another brief six-month hiatus, I'm BACK on Baked Sunday Mornings! And I picked the perfect recipe to join back in on! A super simple, no bake, sugar explosion called Good Morning Sunshine Bars. These bars are just Chex cereal (Side note: I was convinced this was an American cereal that I wouldn't be able to find in Canada, but lo and behold, three trips up and down the cereal aisle and I found it!) and salted peanuts tossed with a goopy brown sugar peanut butter concoction and pressed into a pan. They remind me of Peanut Butter Rice Krispie Squares (or their cuter cousin, Fluffernutter Rice Krispie Squares), but without the marshmallows.
These bars also have the added bonus of a milk chocolate drizzle (or swirls in my case, although you can't really see it in the picture), which takes them over the top. I feel this would be an ideal treat for a bake sale, but I guess not for a school, as peanut butter is viewed as the devil's tool these days.
Anyway, I'm happy to be back! This is my first recipe out of Baked Elements and I'm excited for many more!
You can find the recipe here!
More Baked Sunday Mornings here!