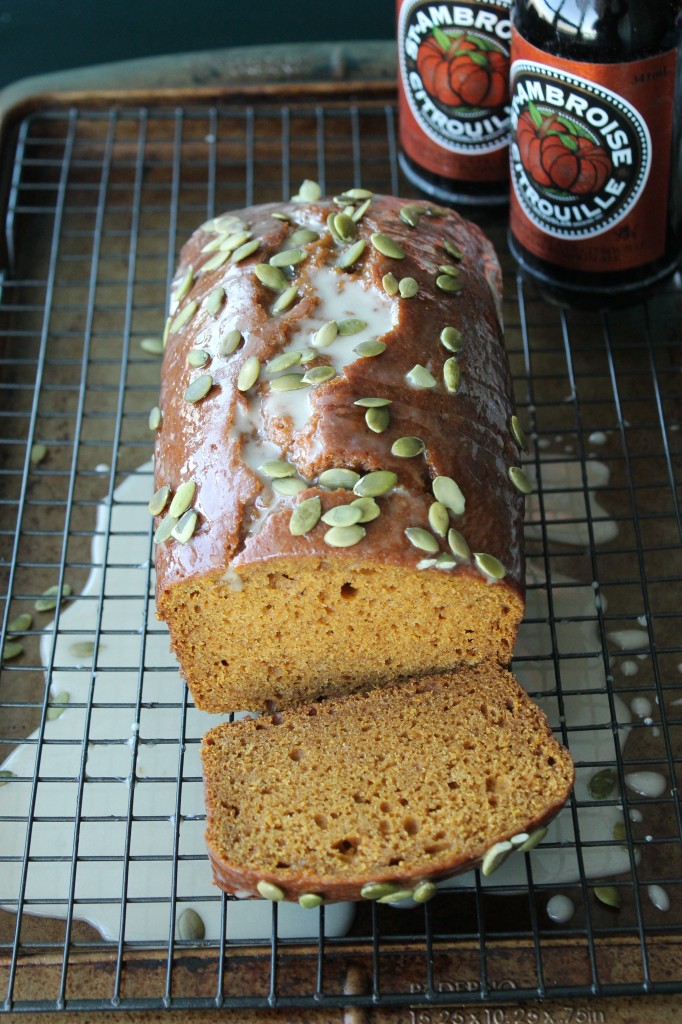 Gastropost asked us a tough question this week: Beer vs Wine? This is a tough call, because cooking with wine means Boeuf Bourguignon, one of my favourite cold-weather dishes. But the recipe for this Pumpkin Ale Loaf  was calling my name.
Have you tried this Pumpkin Beer from St. Ambroise? You can get it at the LCBO. It's not sweet, but you can detect some fall spices, like cinnamon, nutmeg and cloves. Perfect match for this loaf, with lots of pumpkin and the same mixture of spices, and a nice beer to try in the Fall.
This loaf comes together in no time, and turns out to be super hydrated and lovely. The glaze also has a bit of Pumpkin Beer in it, but you could swap that out for milk if needed.
Pumpkin Ale Loaf
Source: Chatelaine, October 2013
Ingredients
Loaf
2 eggs
1 cup brown sugar
1 cup pumpkin puree
1/3 cup Pumpkin Ale
1/4 cup vegetable oil
1 tsp vanilla
1 3/4 cups flour
1 tsp baking soda
1 tsp pumpkin pie spice (learn how to make your own here)
1/2 tsp salt
Glaze
2/3 cup icing sugar
2 tbsp Pumpkin Ale
1/4 cup pepita (pumpkin seeds)
Directions
Preheat oven to 350 and spray a loaf pan with non-stick spray.
In a large bowl, whisk together the eggs, brown sugar, pumpkin puree, Pumpkin Ale, vegetable oil and vanilla.
Add the flour, baking soda, pumpkin pie spice and salt and whisk again, just until the dry ingredients have been incorporated. Pour into loaf pan and bake for about 60-65 minutes. (If your loaf starts to get too brown, you can stick some foil overtop while it finishes baking).
Let cool for 15 minutes or so, then turn out onto a wire rack. When totally cooled, whisk together glaze ingredients, and drizzle overtop. Sprinkle with pepita. Done!