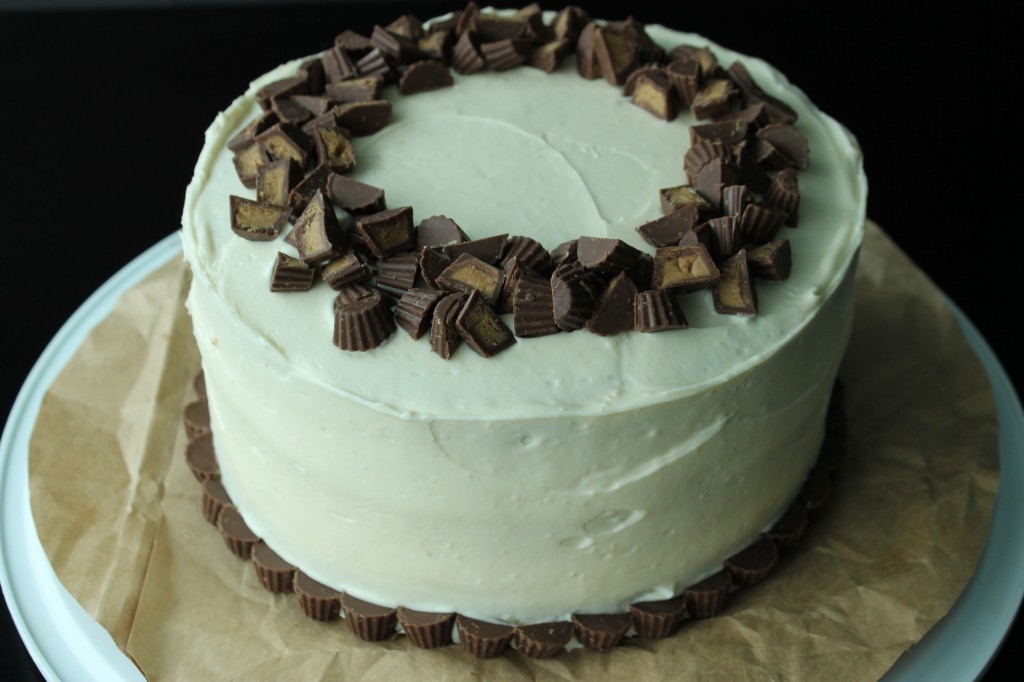 I have seriously been waiting to make this cake for an entire year. On Thanksgiving it's a toss up between making Fall-themed desserts, or concocting a ridiculous birthday cake for myself. Last year, I kind of combined the two with this Caramel Apple Cake, but that meant putting this beast on the back burner. I was so excited to make it this year, and it was definitely worth the weight wait.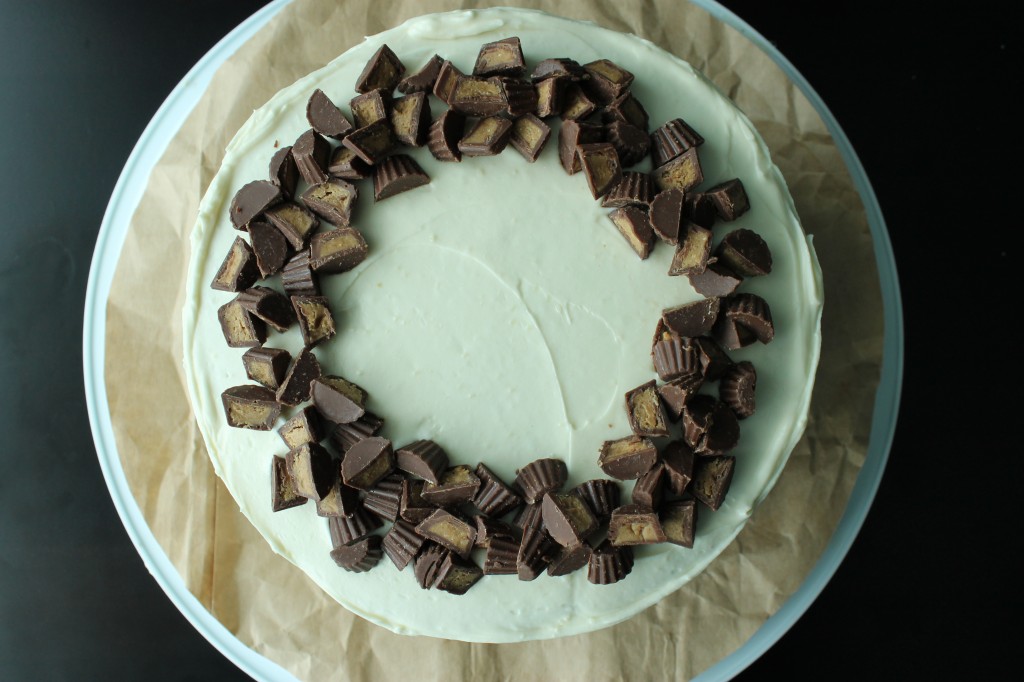 So let's break it down: three layers of fluffy peanut butter cake, sandwiched together with a thick, super rich chocolate peanut butter ganache, frosted with a fluffy cream cheese/whipped cream icing and topped with chopped mini peanut butter cups. I wish I had an excuse to make it again, it was so insanely good. I also think it might make excellent cupcakes, carving out the middles to fill with ganache, and piping on the frosting. Any takers?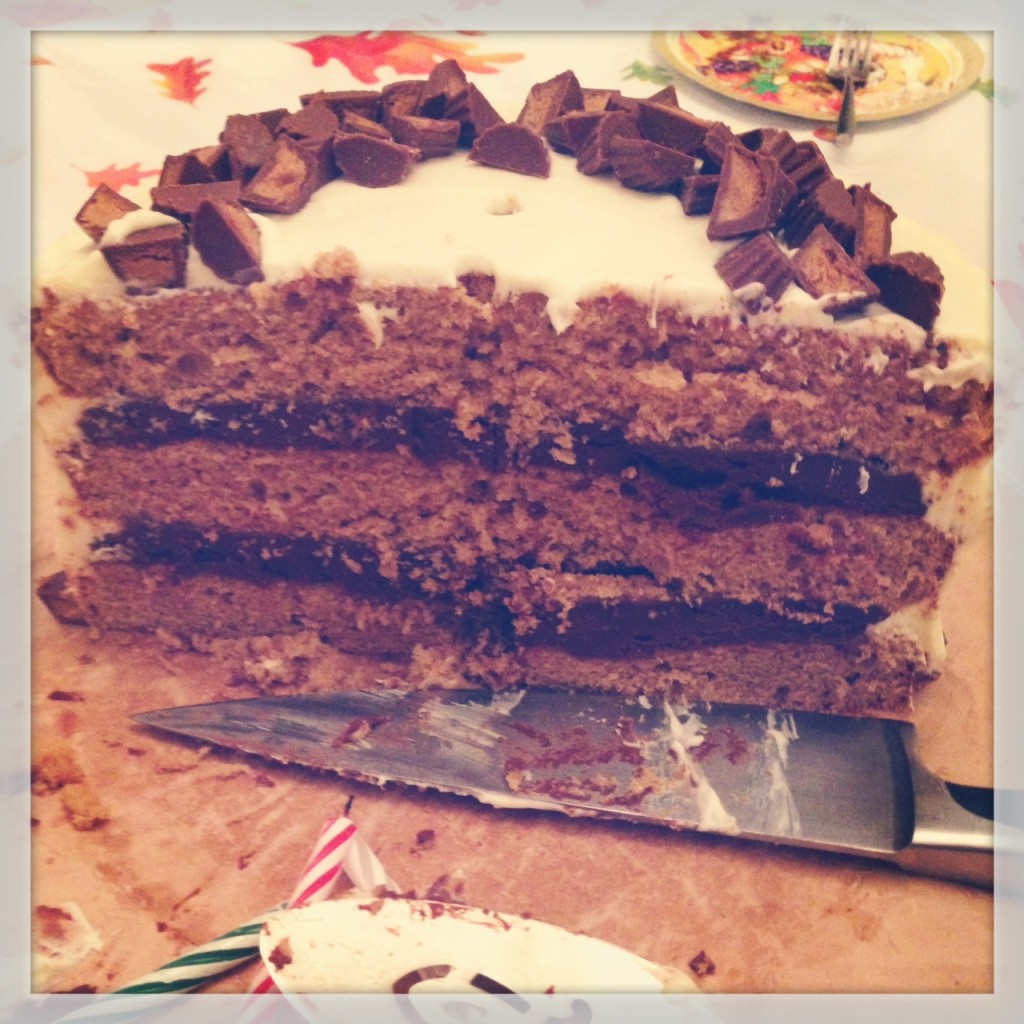 Peanut Butter Cake with Cream Cheese Frosting & Chocolate Peanut Butter Filling
Source: Bon Appetit
Yield: will serve 8 grown-ups and 4 little kids with lots of leftovers
Ingredients
Filling
2 1/4 cups whipping cream
1/2 cup brown sugar
12 oz semi-sweet chocolate, finely chopped
1/2 cup natural, smooth peanut butter
Cake
2 1/2 cups flour
1 tsp baking powder
1 tsp baking soda
1/2 tsp salt
1/2 cup + 2 tbsp (1 1/4 sticks) butter, room temperature
1/2 cup natural, smooth peanut butter
1 lb brown sugar (no idea why this measurement is in weight, just go with it)
4 eggs, room temperature
1 tsp vanilla
1 cup buttermilk
Frosting
1 1/2 packages cream cheese, room temperature
2 cups icing sugar, divided
6 tbsp (3/4 stick) butter, room temperature
1 tsp vanilla
3/4 cups cold whipping cream
+ chopped Mini Reese Peanut Butter cups for topping
Directions
For filling, heat whipping cream and sugar in a small saucepan over medium heat, stir until the sugar dissolves, and bring to a simmer. Remove from heat and add chocolate. Wait a minute, then whisk until smooth, add peanut butter and whisk again. Chill overnight. ***Note: This gets super firm after you chill it overnight, like unspreadable. Take it out an hour or so before you assemble the cake so it can soften up***
For cake, get your pans ready first. Line the bottoms of three 9″ pans with parchment paper, and spray the pans with non-stick spray. Preheat the oven to 350.
In a medium bowl, whisk together the flour, baking powder, baking soda and salt. Set aside.
In a large bowl, beat together the butter and peanut butter until smooth and fluffy. Add the sugar and beat again until smooth. Beat in the eggs, one at a time, and scrape down the sides of the bowl a few times. Beat in the vanilla. Stir in the dry ingredients, alternately with the buttermilk, making four additions of the flour mixture, and three of buttermilk. Scrape down the bowl and divide the batter into the three pans. Bake for 20-25 minutes until a toothpick inserted into the centre comes out clean. Cool cans in pans for 10 minutes, then turn out onto wire racks to cool completely. ***Note: I made the cakes a week in advance, wrapped them in plastic wrap once cool, and stuck them in the freezer. They were perfect***
For the filling, beat the cream cheese, 1 1/4 cups of the icing sugar, butter and vanilla in a large bowl until smooth. In a separate bowl, whip the whipping cream with the rest of the icing sugar (3/4 cup) until medium peaks form. Fold into the cream cheese mixture in three additions, and chill for an hour to firm up. ***So when you put this in the fridge to chill, take out the filling to soften***
To assemble, put one of the peanut butter layers on your cake platter/plate/carrying case. Spread half of the chocolate peanut butter filling on top, then add the second cake layer, then the rest of the filling, then the final cake layer. Crumb coat the whole cake in a thin layer of cream cheese frosting, and chill for about 30 minutes to set up. Add the rest of the icing and decorate the top with chopped Mini Reese Peanut Butter Cups. Sensational!