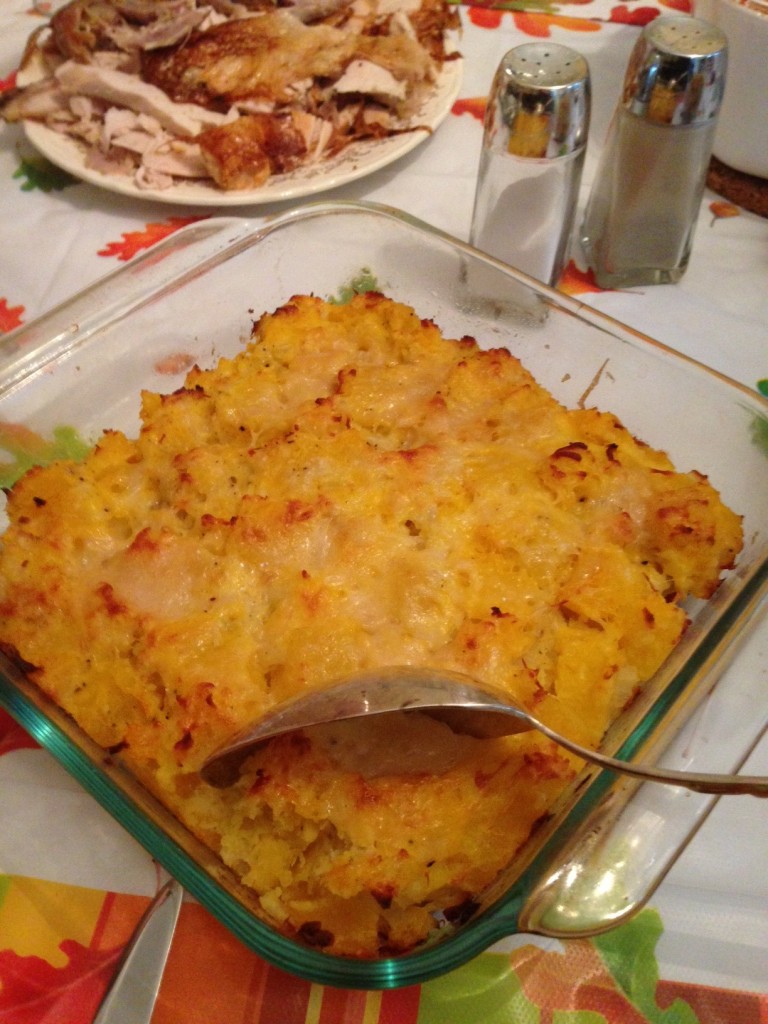 Taking a look back in my archives it seems like I only contribute dessert to Thanksgiving dinner, so I'm making sure to blog about the sides I brought this year, because they were AMAZING. The thing with my family is that they just want the regulars around the table, and are sometimes suspicious when new things show up. Brussels sprouts received a lukewarm reception last year, and are hard to make in advance, so this year I turned to my favourite fall vegetable: Butternut Squash (although this prompts questions from the dairy-averse members around the table, who ask:  Is there butter in it? And also is that cheese on top? And what else is in there?).
There are two important points about this gratin: 1) it's delicious 2) you can make it the day before and just reheat before dinner. What more do you need in a Thanksgiving side? Oh, caramelized onions? They're in there. Freshly grated, salty parmesan? In there too. I'm making this again tout de suite, and I'm not waiting for Christmas dinner, that's for sure.
I also brought some Savoury Bacon Biscuits this year, which, duh. Obviously these are awesome, and there were no leftovers! I mixed up a little Sage Butter to go alongside, and that was a nice treat too.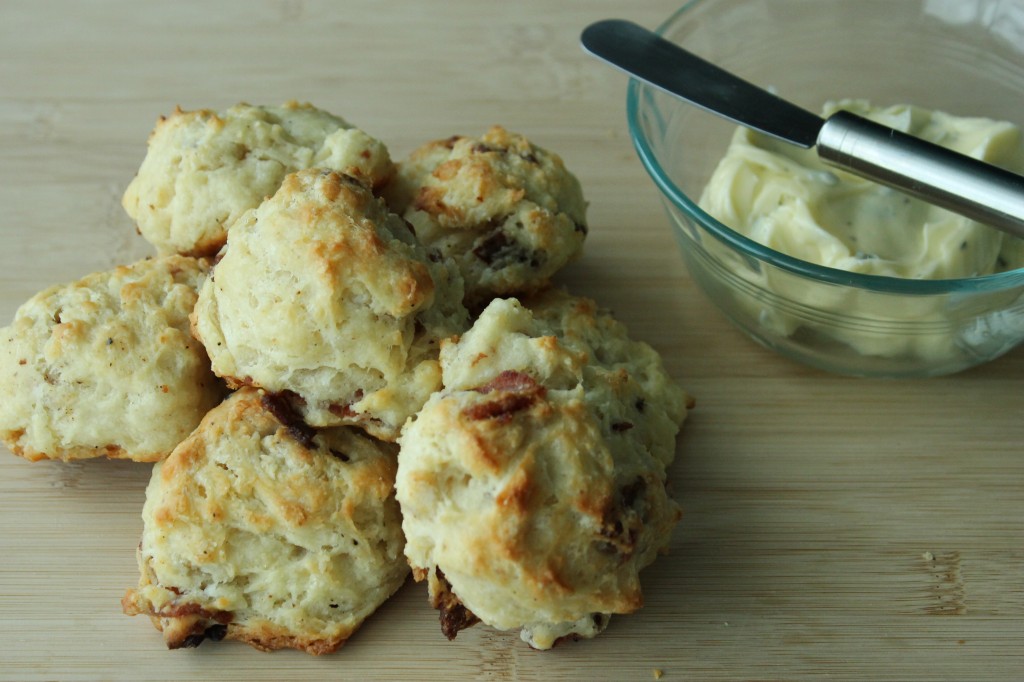 Aside from that, it was a nice lazy weekend of baking (more on that later this week), playing with my nieces and nephews, and an 85 minute anxiety attack, otherwise known as Gravity, which my Mom, Dad and I went to see on Monday afternoon, after a lunch of leftovers. Hope you guys had fun, too! Ah, here's my turkey sammie with cranberry sauce that I ate at my desk on Tuesday. I'm definitely thankful for that!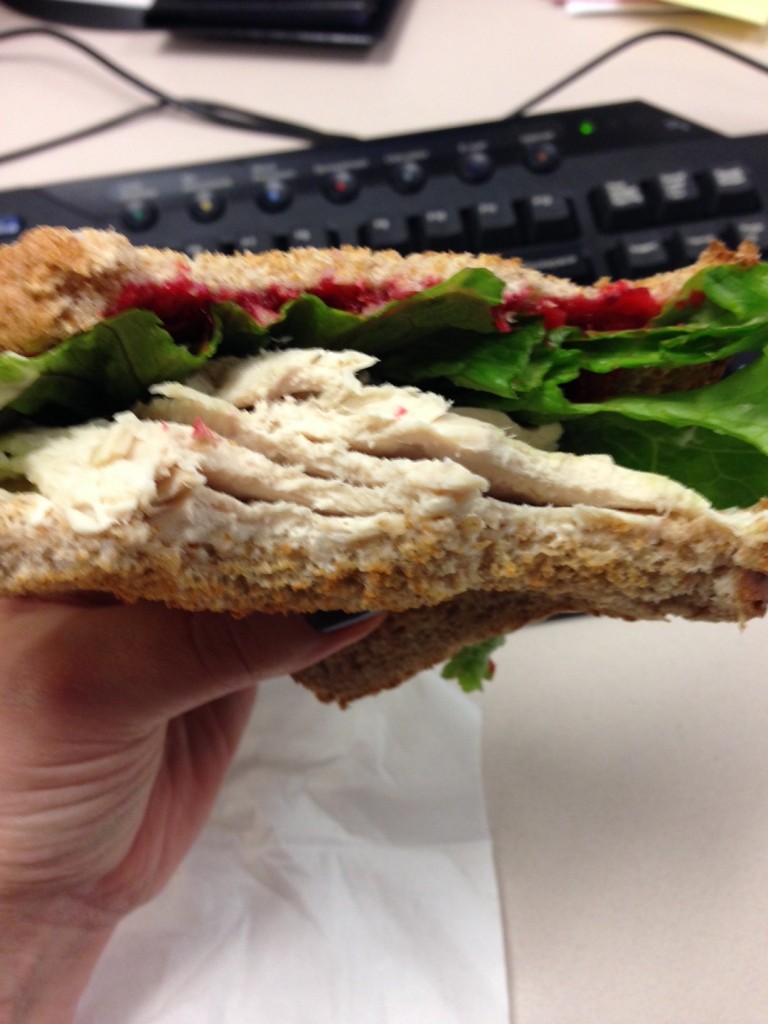 Previous Thanksgivings:
Butternut Squash Gratin
Source: Simple Bites
Yield: 8×8 baking dish, enough for small servings at an 8 person Thanksgiving dinner. I would double it next time to make sure there were lots of leftovers.
Ingredients
3 cups peeled and diced butternut squash (aim for 3/4″ cubes)
1 tbsp olive oil
1 medium onion, finely chopped
2 tbsp mayo
1 egg
1/2 tsp salt
2/3 cup grated parmesan, divided
1/3 cup panko breadcrumbs
freshly grated black pepper
Directions
In a large pot, add the squash and cover with cold water. Bring to a boil over high heat, then reduce heat to medium and simmer for 15 minutes until soft. Drain and rinse with cold water.
While squash is simmering, heat the olive oil in a skillet over medium heat, then add onions, stir and cook until very soft, and starting to caramelize, about 20 minutes.
In a large bowl, whisk together the mayo, egg, salt, 1/3 cup of parmesan, and panko. Add the cooked squash and onions, and gently fold to combine. Add to a buttered or sprayed baking dish, sprinkle remaining parmesan over top and bake at 350 either for 1 hour (if you're eating it right away).
To prepare in advance, bake for 30 minutes, then let cool at room temperature, cover, and chill until your Turkey Dinner. At that point, pop it in the oven for 20 minutes until hot.
Savoury Bacon Biscuits with Sage Butter
Source: adapted from Food & Drink Magazine (I subbed in buttermilk)
Ingredients
2 cups flour
2 tsp baking powder
1/4 tsp salt
1/4 tsp freshly ground black pepper
1/2 cup (1 stick) cold butter, cut into cubes
1 cup + 2 tbsp buttermilk
1/2 cup (about 8 slices) crumbled, crispy cooked bacon
+ soft butter, chopped fresh sage
Directions
Preheat the oven to 400, and line a baking sheet with parchment paper.
In a large bowl, whisk together the flour, baking powder, salt and pepper. Add the cold butter, and cut into the mixture with a pastry cutter or fork until the butter is the size of peas.
Pour over the buttermilk and sprinkle on the bacon. Use a fork to stir until a nice dough is formed.
Use a tablespoon or a cookie scoop to drop spoonfuls of dough onto the baking sheet (I kept mine on the small side). Bake for 15-20 minutes, until nicely golden brown.
To make sage butter, just mix softened butter (I used 1/2 stick) with a bit of sage.