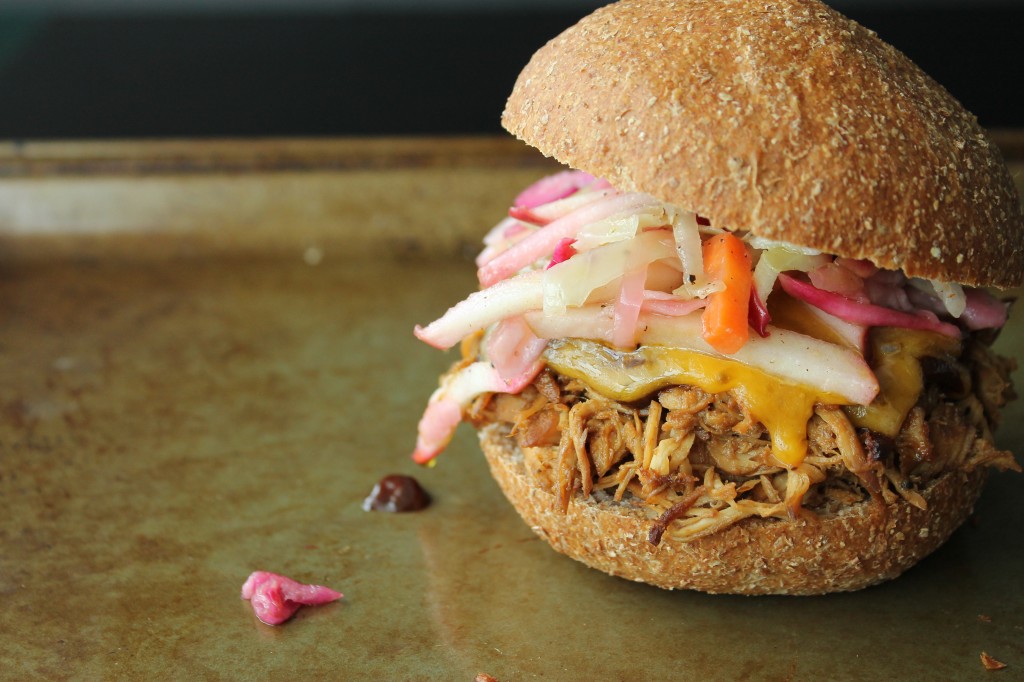 It's Gastropost Saturday guys! Can we make this a thing? I'm going to start posting the recipes for whatever I've Gastroposted for the week on the Saturday that the mission is in the paper. Well, I'm going to try anyway.
Our mission for this week was Sporting Goodies so we're supposed to share what we chow down on when we watch sports. So the thing is, I've been trying to get into football the last few years, and from what I understand, it's 50% about the game and 50% about the snacks. I'm still learning the game, but I have the snacks part down.
These sandwiches are pretty amazing: pulled chicken, a boozy barbecue sauce, and crunchy apple 'slaw all piled on a soft roll with some melted cheddar. The best part is that the chicken is made in the slowcooker, which I feel is a football fan's best friend on a lazy Sunday when a bunch of games are on. Throw all the ingredients in it in the morning, and by kick-off all you have to do is slice the rolls, toss the quick 'slaw together and grate some cheese.
Pulled Chicken Sandwiches with Brown Sugar Bourbon Barbecue Sauce
Source: Iowa Girl Eats
Yield: 4 sandwiches (this is half the original recipe)
Ingredients
For the chicken & sauce
1/2 cup ketchup
1/4 cup bourbon
1 1/2 tbsp brown sugar
1 1/2 tbsp molasses
1 1/2 tbsp apple cider vinegar
1 tbsp worcestershire sauce
1/2 tbsp each soy sauce
1/2 tbsp dijon mustard
1/2 tsp onion powder
1/2 tsp garlic powder
1/4 tsp crushed red pepper flakes
1/4 tsp pepper
4 chicken breasts
For the 'slaw
1 tbsp olive oil
1 tbsp apple cider vinegar
1/2 tbsp honey
1/2 tbsp lime juice
salt & pepper
1 bag 'slaw mix (this is the only time I buy salad in a bag)
1/2 apple, cut into thin strips
+ soft rolls
+ grated cheddar
Directions
Add the ketchup, bourbon, brown sugar, molasses, apple cider vinegar, w.sauce, soy sauce, mustard, onion powder, garlic powder, pepper flakes, and pepper to the slowcooker and stir to combine. Throw in the chicken, and set the slowcooker to low for about 3 or 4 hours.
When the chicken is done, remove to a bowl or plate and shred with two forks and set aside.
Remove 1 cup sauce from the slowcooker and add to a small saucepan. Bring to a boil and let reduce for about 15 minutes. Add the chicken back to the slowcooker with the remaining sauce. Stir to combine.
For the slaw, whisk together the olive oil, vinegar, honey, lime juice, a sprinkle of salt and pepper and a few handfuls of slaw mix, plus the apple, then toss to combine.
To assemble the sandwiches, slice rolls and pile on chicken. Add a few spoonfuls of the reduced barbecue sauce, and some grated cheese. Run under the broiler for a couple of minutes to melt the cheese if you want. Top with slaw and off you go.