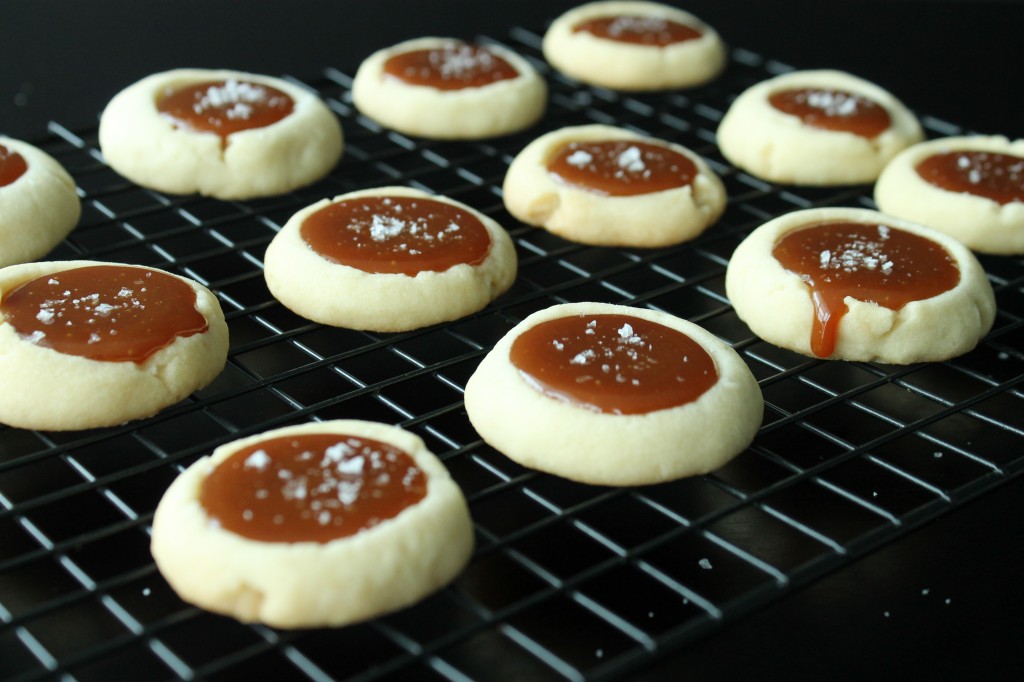 Too soon to start thinking about Christmas cookies? Not on Planet Byn! I just can't help it! Things get so crazy in December that there's no time for recipe testing, so I thought I would try out a few new cookies whenever I have a minute over the next couple of months. Last Sunday gave me the perfect chance; fog and rain cancelled my plans for a trip to see Tatiana, so I baked the afternoon away.
Plain shortbread cookies weren't a huge hit at the very first Champagne & Cookies, but how about these? Crisp, buttery shortbread with a salted caramel filling and a sprinkle of sea salt? Let's just say I put these out at work and they were snatched up in record time. That definitely makes them a top contender for Champagne & Cookies IV.
My only issue with the recipe is that the cookies spread quite a bit in the oven, so the thumbprints ended up quite shallow. Note to self: chill the cookies after rolling and adding the thumbprint for about 30 minutes before baking. That'll help hold the shape a bit.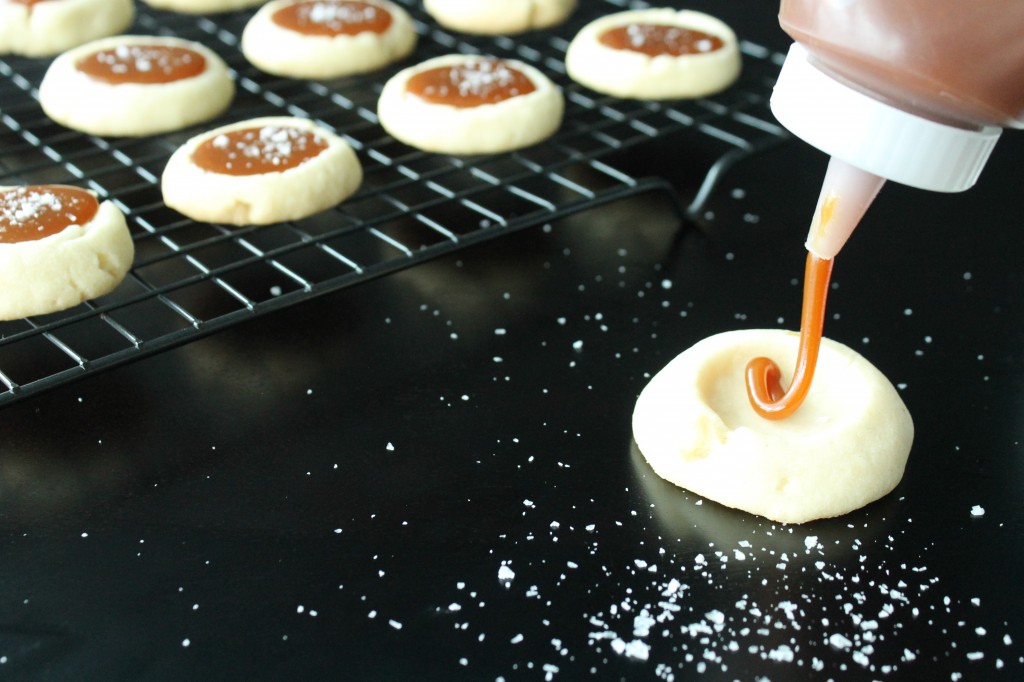 Salted Caramel Shortbread Thumbprints
Source: Canadian Living
Yield: I made half the recipe and got 18 cookies, so if you make the whole batch below, you should get about 36
Ingredients
Cookies
1 cup (2 sticks) butter, room temperature
3/4 cup icing sugar
1/2 tsp vanilla
1/2 tsp salt
2 cups flour
Salted Caramel
1/2 cup sugar
1/4 cup white corn syrup
1/4 cup whipping cream
2 tbsp butter, room temperature
1 tsp vanilla
1/4 tsp flaky sea salt (I have Maldon)
+ more flaky sea salt for sprinkling
Directions
In a large bowl, cream together the butter, sugar, vanilla and salt with an electric mixer until nice and fluffy.
Add the flour and mix until smooth.
Roll dough into balls, just a little more than a tsp each (seems small, but they'll spread). Place on a cookie sheet lined with parchment paper. Use your thumb, end of a wooden spoon, or wine cork to make a deep indentation in the middle of each cookie. Chill the cookies for 30 minutes.
When ready to bake, preheat the oven to 300, and bake cookies for 25 minutes. Let cool.
To make the salted caramel, attach a candy thermometer to the side of a small saucepan, turn heat to medium high, and add the sugar and corn syrup. Let boil and bubble away until it reaches 350 on the thermometer. Remove from heat and add the cream, butter, vanilla and salt. **Be careful, 'cause it will bubble and steam like crazy** Stir until everything is incorporated and the bubbling has stopped.
Spoon caramel into cookies. I used a squeeze bottle and that worked perfectly. Sprinkle with sea salt. Store in one flat layer so they don't stick together.