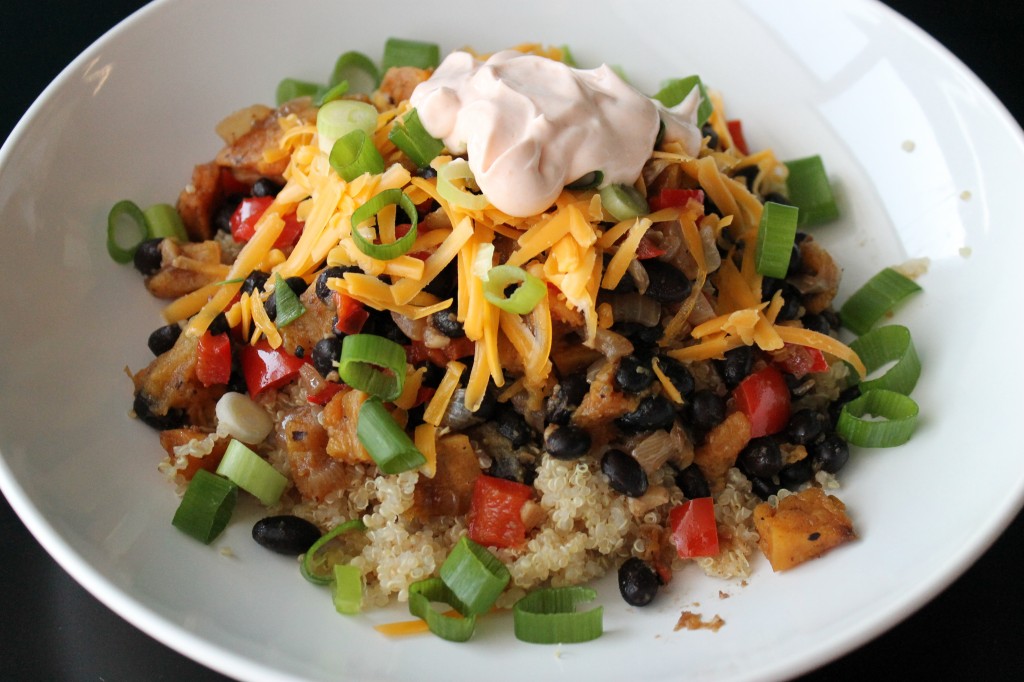 One of my goals for September was obviously not blogging to cook more real dinners at home. Once my big project launched at work at the end of June, I was busy having fun in July & August, and wasn't really doing a good job of meal planning and cooking. After a super relaxing Labour Day weekend, I put a new notepad on the fridge, and the meal plans went back into effect. I didn't always stick to it 100%, but just having the plan is a great start. Here are a few of the yummy un-blogged about things I made in September:
Sweet & Sour Tofu with Bok Choy: This tofu stir-fry uses a whole head of bok choy, and I gobbled it up. Didn't grab any photos though, so I'll definitely make it again and blog about it. Don't you just feel so good when you're eating your greens?
Caesar Wrap with Tofu Croutons & Broccoli: Whenever I'm cooking with tofu, I always plan two meals, because it doesn't keep well in the fridge for too long. With the remaining tofu from the stir-fry, I made these wraps and loved them, as you know I love my homemade caesar salad dressing. Would love this on flatbread like she describes in the post.
 Take-out Fake-out General Tso: I like the sauce on this, although I had to purchase a jar of apricot jam for it, which means I'll be making it a few more times. I had this with rice and roasted broccoli.
Oh She Glow's Big Salad: I once wrote that when I need to reset my eating, Angela's site is the first one I go to. So true. This month she was doing a Vegan Mofo challenge, and posted so many things that looked so good. This salad is awesome, and actually filling because of the roasted sweet potato rounds.  But the true star is the dressing: almond butter, lime juice, garlic, ginger, sesame oil and soy sauce. Sounds weird but it just works.
I also reached back into my own archives and made some old faves: Sesame Beef & Broccoli and Crispy Chickpea Bites Salad.
So that brings us to these Butternut Squash & Black Bean Burrito Bowls I made this week. I actually made these last year too, but they didn't get blogged. This filling is pretty quick and simple to pull together, especially if you buy a container of peeled and diced butternut squash. Roast it, then toss it with sautéed onion, garlic, red pepper, black beans, and some spices. So filling, healthy and delicious. You can roll it up in a wrap with whatever toppings sound good, or eat it as a bowl, like I did here, on top of quinoa. A sprinkle of grated cheddar, green onions and a dollop of sour cream mixed with hot sauce finish it off. The leftovers taste even better and I love having a tasty, homemade lunch to look forward to at work.
Butternut Squash & Black Bean Burrito Bowls
Source: adapted just a bit from Oh She Glows (she adds cooked brown rice to the filling, I left it out)
Yield: depending on the size of your squash, this will make 3 or 4 bowls or burritos
Ingredients
1 medium butternut squash, peeled and diced into bite-size chunks
2 tsp olive oil
1 small onion, diced
2 garlic cloves, minced
2 tsp cumin
1 tsp coarse or kosher salt
1/4 tsp cayenne pepper
1 red pepper, diced
1 can black beans, drained and rinsed
+ tortillas or quinoa
+ toppings (shredded cheddar, chopped green onions, sour cream, hot sauce, avocado would be nice if you have it)
Directions
Preheat the oven to 425, and line a baking sheet with tin foil, then spray with non-stick spray. Add the butternut squash, and drizzle over a small amount (1 or 2 tsp) of olive oil, and salt and pepper. Toss with your hands to coat, then roast for about 40 minutes, turning halfway through.
Meanwhile, heat a drizzle (about 1/2 tbsp) olive oil in a large non-stick skillet over medium heat. Add the onion and garlic and saute for about 5 minutes until soft. Add the spices and salt and stir well.
Add the red pepper and black beans, and saute for 10 minutes until everything is soft and smells amazing. Turn heat down to medium-low.
When the squash is ready, add it to the skillet and stir gently.
Add to a bowl with some quinoa and throw on your toppings, or wrap up in a tortilla.