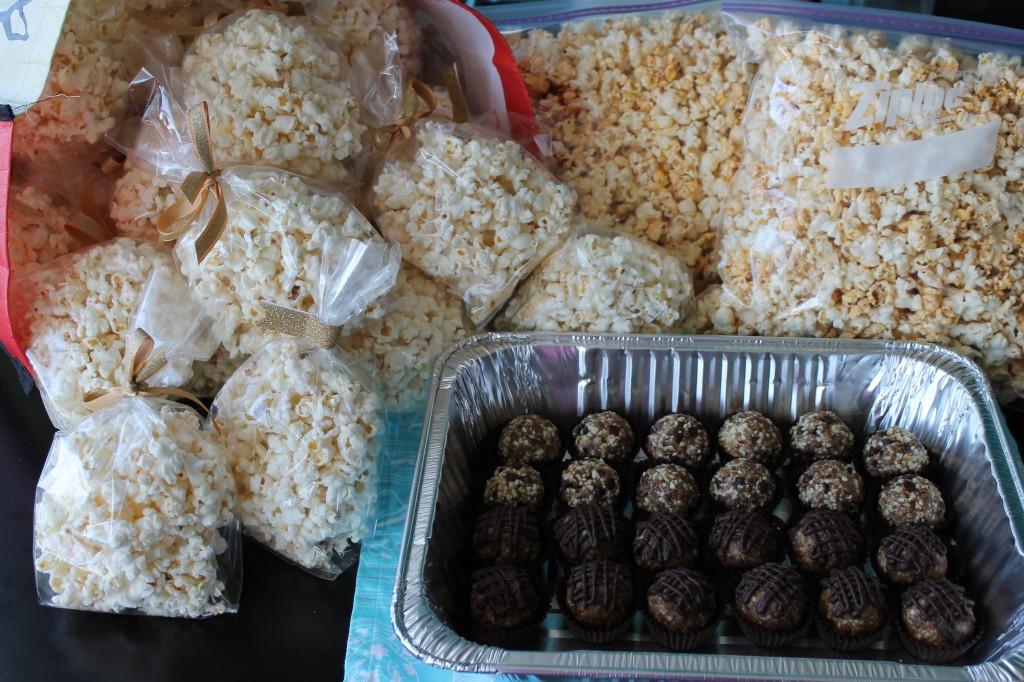 It was my absolute pleasure to help out my friend Aoife with her sister's bridal shower treats last month, because I love her family so much, and also because showers are often where baking and crafts collide. An additional little challenge was that all of the food for the shower had to be gluten- free and dairy-free. We brainstormed a bit to come up with a strategy and this is what I ended up making:
Toasted Coconut Popcorn: If you recall, I have a little bit of a history with popcorn projects, but Aoife wasn't really interested in the candy coating I worked with for that baby shower. I have to agree, it's gross. Instead, I suggested this Toasted Coconut Popcorn from Shutterbean, as Aoife wanted a take-home treat for her guests. I can't emphasize enough how easy and how delicious this is. You use coconut oil instead of butter, toss it with air-popped popcorn (use this genius paper bag method my brother taught me), sprinkle with toasted coconut and flaky sea salt, and you're done. I used sweetened, shredded coconut, so the whole mixture had a very salty/sweet vibe going on. I packaged about two cups of popcorn in little cellophane bags and tied them with gold sparkly ribbon. When I ran out of ribbon, I used some sparkly gold tape to make little flags. Super cute!
Mexican Popcorn: Aoife thought it would be a good idea to set out some bowls of spicy popcorn around the room, and so I made another Shutterbean recipe that uses coconut oil, mixed with a bunch of spices (smoked paprika, oregano, cumin), more flaky sea salt, and lime juice & zest. I just put this in big ziploc bags so she could add it to bowls later on.
Now, as for treats, my original plan was to make some vanilla bean meringues, but it was raining and this turned out to be a total disaster. The baked meringues deflated as they cooled, and were just about the sorriest looking things you've ever seen. Luckily I had another treat planned. Aoife had seen these Black Bean Chocolate Truffles on Ambitious Kitchen, but I was skeptical that they would taste good, so I went in another direction: homemade Larabars! They're something I've been meaning to try making at home for about 5 years, so I was pretty excited to finally dive in. If you've ever had a Larabar you know what I mean when I say that they're chewy, rich and awesome. I made two flavours:
Chocolate Chip Cookie Dough Truffles: Cashews, dates, vanilla, salt and mini chocolate chips. That's it. Grind everything up in the food processor and you're finished! I rolled the mixture into balls and set them in brown mini cupcake liners. They taste amazing…and I would even say better than an actual Larabar. I'm going to make more this week in actual bar formation for myself!
Peanut Butter Cookie Dough Truffles: Almonds, dates, natural peanut butter, vanilla, cinnamon and salt. Again, super easy. The peanut butter makes these ones a lot richer and stickier than the first one I made. To distinguish them visually I melted some dark chocolate, added it to a squeeze bottle, and drizzled it over the top of each one. I can't decide which flavour I like the best…they were both so good!
So that was it! The truffles took no time at all, and the popcorn was pretty quick too, it just took a little while to bag everything up and tie the ribbons. Congratulations to Niamh & Trevor!