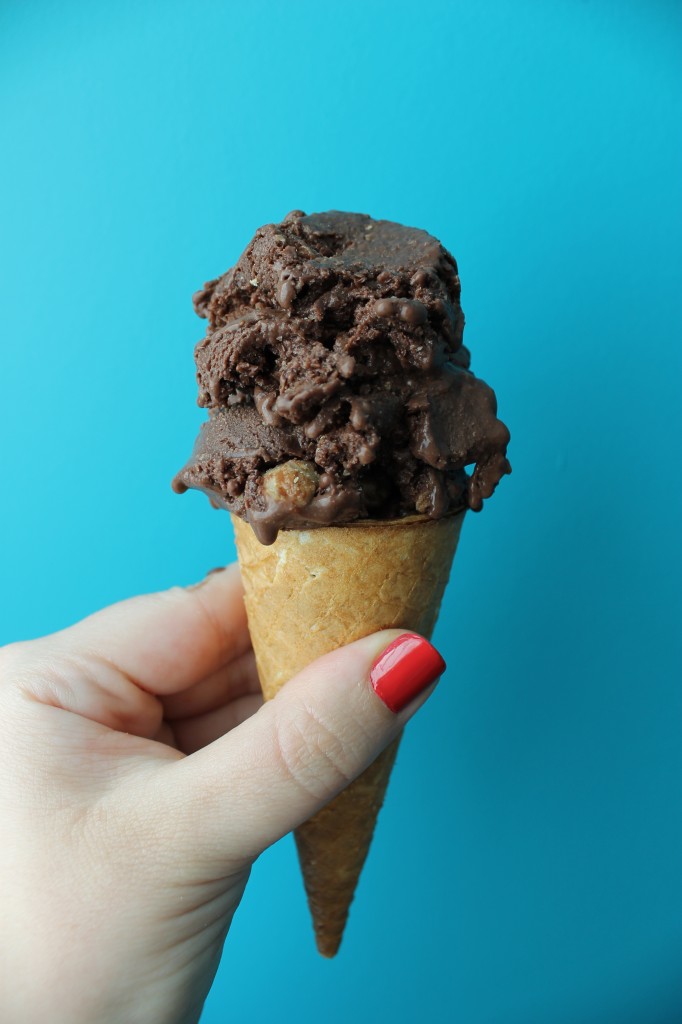 My friend Nicole came over for a belated birthday dinner a few weeks ago, and I thought this would be an excellent opportunity to further develop my ice cream skillz. I'm still learning about how it all works, and it looks like eggs are the wild card. All the recipes I've seen in the past use egg yolks (many, many egg yolks), but then when I made the Strawberry Rhubarb Crumble Ice Cream earlier, it called for whole eggs (not the shell of course, haha). Then I made this recipe from the Joy the Baker Cookbook, and lo and behold, it does not call for eggs. However, instead of spending my time researching the differences that no eggs/just the yolks/whole eggs make in ice cream, I decided to just dive right into this insane Chocolate Peanut Butter Ice Cream.
You're essentially making a thick, rich, chocolate pudding here, and then churning it up into frosty heaven. I tried to get a little creative with the peanut butter swirl, by adding some icing sugar, but this ended up working out to be more of peanut butter chunks instead of a swirl, so I'd just go ahead and follow the recipe next time. Anyway, needless to say, this is out of control, and made the birthday girl very happy!
I decided to make A Very Smitten Dinner for us, after staring at the Tomato Shortcake photo that graces the cover of The Smitten Kitchen Cookbook since November. Such a perfect summer dinner: scallion shortcakes topped with a tomato salad dressed with olive oil and red wine vinegar, then dolloped with whipped goat cheese. Amazing! On the side is another recipe from Deb's book, a raw zucchini salad tossed with almond pesto. Another hit!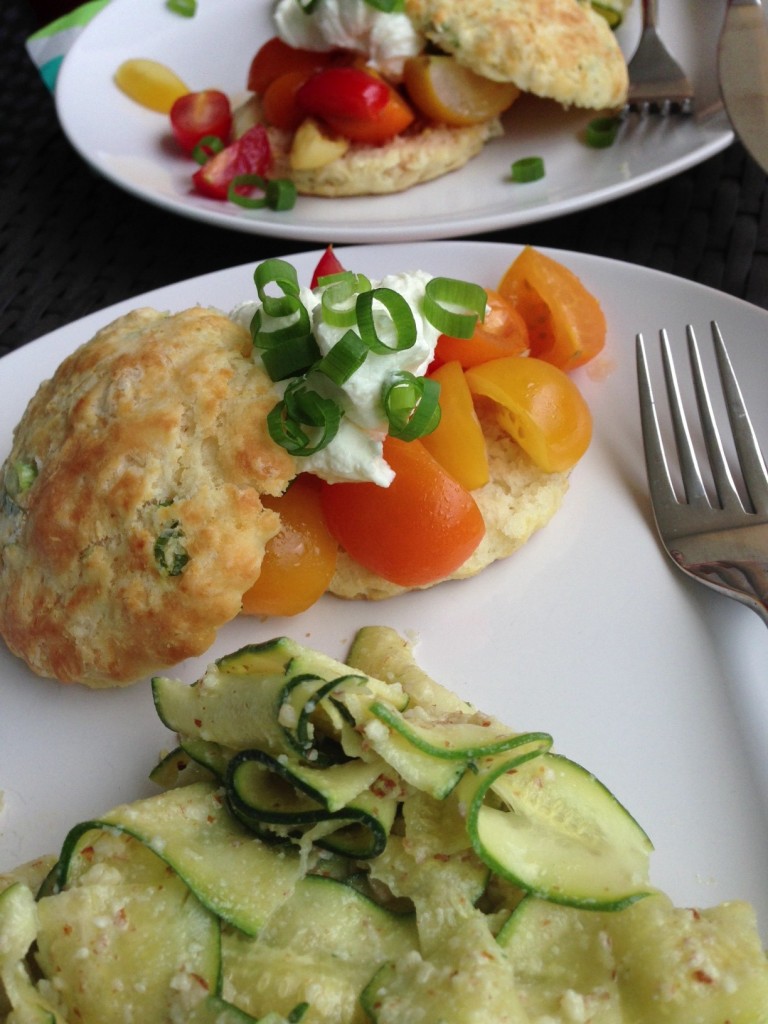 Chocolate Peanut Butter Ice Cream
Source: Joy the Baker Cookbook
Ingredients
Chocolate Ice Cream
1 cup sugar
1/3 cup cocoa powder
1/4 tsp salt
3 tbsp cornstarch
2 1/2 cups milk (I used 2%)
3/4 cup whipping cream
3/4 cup chocolate chips
Peanut Butter Swirl
1/2 cup smooth natural peanut butter, salted if you can find it
1 tbsp whipping cream
pinch salt
Directions
In a medium saucepan, whisk together the sugar, cocoa powder, salt and cornstarch, then add the milk and whisk again. Place over medium heat, and bring to a boil, whisking frequently, until the custard thickens. Remove from heat and strain into a medium bowl. Stir in the cream and chocolate chips and whisk until smooth. Place plastic wrap directly over the surface of the custard, and chill overnight or until totally cool.
For the peanut butter swirl, whisk together the peanut butter, whipping cream and salt.
Churn the custard in your ice cream maker, and layer into your freezer friendly container of choice, adding dollops of the peanut butter filling, swirling it around with a knife.