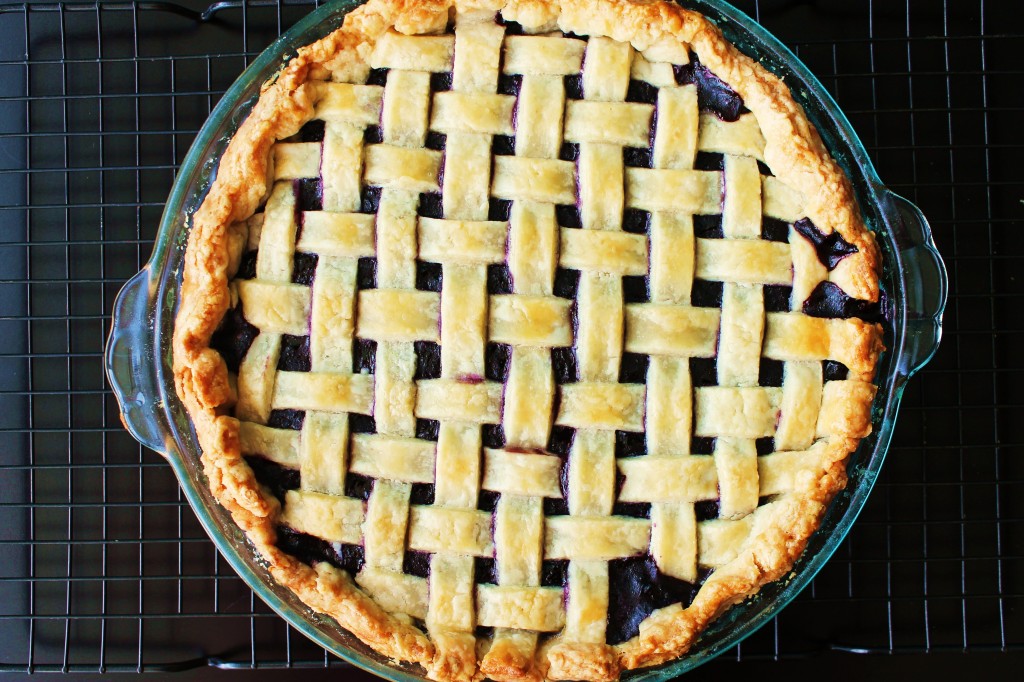 Last Summer when Danielle was visiting, we caught an episode of Bake with Anna Olson, where Anna proceeded to blow our pie-making minds. Every belief we had about pastry making was challenged. After hearing for my entire pie-making-life that everything has to be freezing cold, especially the butter, Anna said it was okay if the butter wasn't super cold. Wait, WHAT? Historically, every one of my pie-making efforts has begun with cutting butter into cubes, and putting it in the freezer, so it was super ice cold when I needed it. Then she proceeded to add vegetable oil to the mixture. PARDONNEZ-MOI? Neither of us had ever heard of this before. Butter, of course. Shortening, sure. Lard, yup. But never oil! Finally, the water added at the end just needed to be cool. Not cold. Not ice cold. What the what?!?!
Since Anna is the person who essentially taught me how to bake when I started watching her Sugar show over 10 years ago, I trusted her, but Danielle and I knew we had to test this pastry out for ourselves. True to form, Dani made it as soon as she got home, while it took me over a year to finally give it a try.
But first, a note about the filling.
I have never had Blueberry Pie before. I guess when it comes to fruit pie, I'll always choose Peach Pie first, so I've just never given blueberry a chance. My Mom and Dad are huge Blueberry Pie fans, as both of my grandmothers used to make it, and so I was super excited to make it for them. I picked up a HUGE basket of blueberries at the Farmer's Market last weekend and got to work. The cooked blueberry filling was so good, it inspired me to make some Blueberry Jam (using this same skillet method), which I've been eating on everything since.
Back to the crust. Would I have spent all this time telling you about it if if didn't work out? Of course not. This crust is a dream. It came together nicely, rolled out smoothly, and didn't crumble or tear with all the lattice work on the top. And the flakiness! Who knew you could get such flaky pastry without using shortening? I assume that's the vegetable oil, doing it's thing. I would say you get the best of both worlds here: the flavour of the butter, plus the flakiness that the oil brings, without a cube of shortening or lard in sight.
Long story short (too late): this pie is a summer dream. It's what summer baking is all about. It's the kind of thing I'm sad to stop making when summer ends. Make it while you still can!
Blueberry Lattice Top Pie
Source: Bake with Anna Olson
Yield: 1 pie…how many it serves is up to you!
Ingredients
Double Crust Pie Dough
2 1/2 cups flour
1 tbsp sugar
1 tsp salt
3 tbsp vegetable oil (I used grapeseed oil)
1 cup (2 sticks) butter, cubed, does not have to be ice cold (!!!)
1/4 cup cool water
2 tsp white vinegar or lemon juice
Cooked Blueberry Filling
4 cups fresh blueberries
1 apple, peeled, cored, and coarsely grated
1 cup sugar
1 tbsp lemon juice
1 tsp lemon zest
2 1/2 tbsp cornstarch
+ 1 egg whisked with 2 tbsp water for brushing
Directions
In a large bowl, whisk together the flour, sugar and salt. Pour in the oil, and stir with a wooden spoon until evenly distributed, and mixture is sort of clumpy. 

Add the butter, and cut in with a pastry cutter until mixture is crumbly, and butter is the size of peas.
In a small bowl, stir the water and vinegar (or lemon juice) together, then drizzle overtop the flour/butter mixture. Stir until dough comes together. If the mixture is still too dry, add a bit more water. I usually gently knead the mixture 2 or 3 times, then shape into 2 discs. Wrap in plastic wrap and stick in the fridge for about an hour. (You can also make it a few days ahead of when you need it)
For the filling, add the blueberries, grated apples, lemon juice and zest to a medium saucepan. Place over medium heat and bring to a simmer. Let cook for 10 minutes, until the blueberries are soft and have started to break down.
In a small bowl, whisk the cornstarch with 2 tbsp cold water, then stir into the blueberry mixture, and cook until thickened. Remove from heat so the filling can cool to room temperature. To speed this up, I poured it out onto two plates.
When you're ready to assemble the pie, preheat the oven to 400, and get out your pie plate and rolling pin. Roll out the first disc on a lightly floured surface to 1/4″ thickness, it should be a few inches bigger than your pie plate. Transfer the pastry to the pie plate, and leave the edges untrimmed. Pour in the blueberry filling.
Now, if you want, just roll out the second disc and drape over the top of the filling, cut a few air vents, and call it a day. But, if you're feeling fancy and want to do a lattice top, better minds than mine can explain it to you. Try here for a step-by-step tutorial with pictures or here for an instructional video.
Brush the top of the pie with the egg wash, then bake for 10 minutes. Reduce oven to 375, and bake for 40 more minutes until the pastry is golden brown.