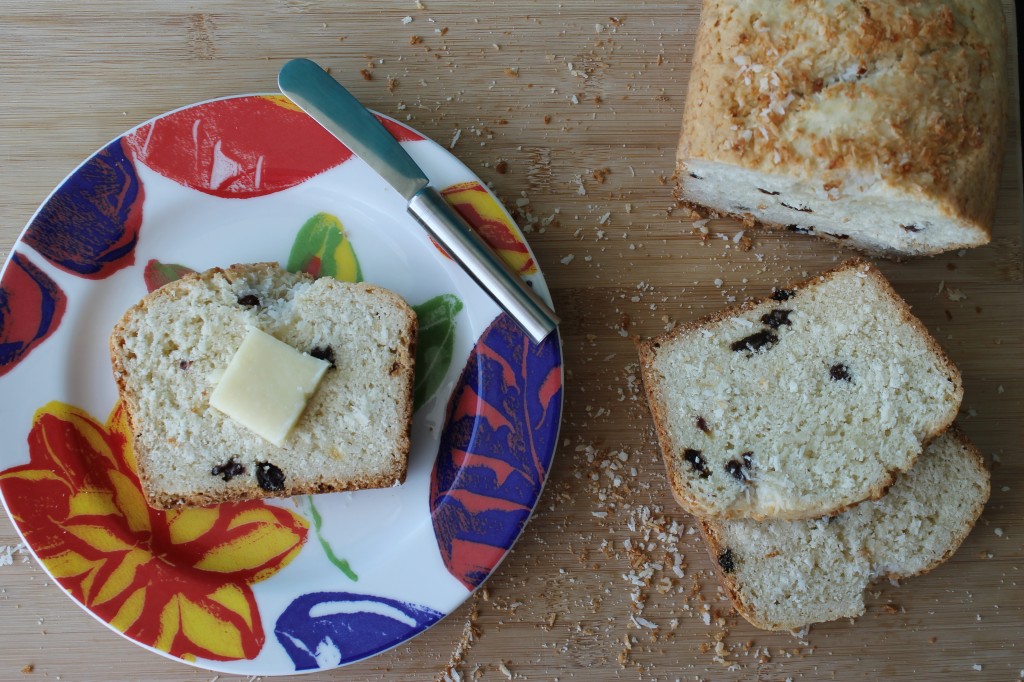 A Caribana Mission! Jump up! But…not so fast. I had some doubts about my ability to make legit jerk chicken, patties or doubles at home…here's what I had to say:
While my fellow Gastroposters made delicious Caribbean meals this week, I decided to play to my strengths and bake something instead. But what? My friend's mom came to the rescue with her recipe for Bajan Coconut Bread. This is a sweet quickbread, flavoured with almond extract, filled with shredded coconut and studded with raisins. It's delicious plain, accompanied by a cup of tea, or toasted with butter and jam.  
So, I had asked my co-worker to tell me about a treat his mom baked for him growing up, or around the holidays or something like that, and right away he thought of this Coconut Bread. He forwarded the recipe to me from his mom, which I scaled down, and made just a few adjustments (subbed in butter for margarine, nixed the mixed peel and nutmeg). It was so good that I ate about half of it myself, and brought in the rest for Kirk to sample, and anxiously awaited the verdict. I passed!
Coconut Bread
Source: Kirk's mom
Yield: 1 loaf
Ingredients
1/2 cup (1 stick) butter, room temperature
3/4 cup sugar
1 egg
1/2 cup milk (I used 2%)
1/4 tsp almond extract (you can also use vanilla, but I love, love, love the flavour the almond extract gave to this bread)
3 cups flour
2 1/4 tsp baking powder
3/4 cups unsweetened, shredded coconut
1/4 cup raisins (Kirk's mom said these are essential, but if you are morally opposed to raisins, go ahead and leave them out)
+ other things I left out: 2 tbsp mixed peel, nutmeg to taste
Ingredients
Preheat oven to 325 and spray a loaf pan with non-stick spray.

In a large bowl, cream together the butter and sugar until nice and fluffy. Add the egg and mix again until smooth.
In a liquid measuring cup, combine the milk and almond extract.
In a medium bowl, whisk together the flour and baking powder.
Alternately add the dry ingredients and the milk to the butter mixture, beginning and ending with the dry ingredients (I did three additions of dry ingredients alternated with two additions of milk).
Fold in the coconut and raisins (+ mixed peel and nutmeg, if using).
Shape the batter into a loaf shape and place in the loaf pan. If you want, you can score the top of the loaf and stuff in a little more coconut.
Cover loaf pan with foil and bake for an hour, then uncover and bake for 30 more minutes until golden brown on the top, and a skewer inserted into the centre of the loaf comes out clean.