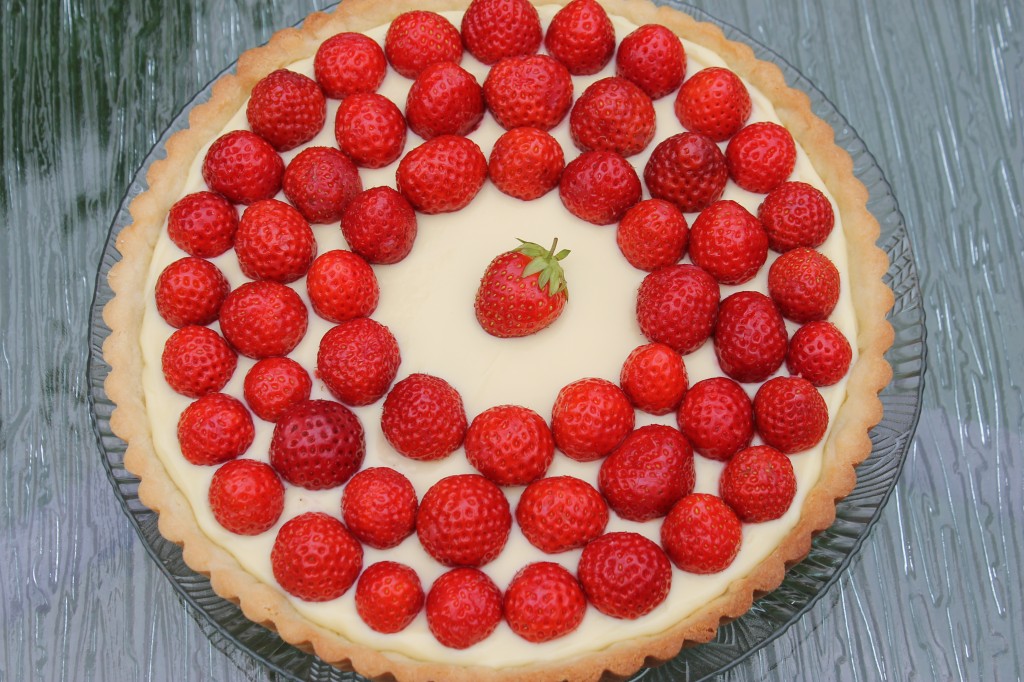 I was so, so excited to be featured as the Mission Inspiration for this week's Gastropost Berry Delicious Mission! My passion/obsession for local Ontario fruit just gets stronger every year, and even though it's hard to pick a favourite, I think strawberries come out on top! Here's what I had to say:
I wait all year for fresh, sweet, local Ontario strawberries, and when they come along, I just can't get enough. I don't believe they need anything more than a quick rinse and hull before I eat them by the handful, but when I'm in the mood to show them off, this fresh strawberry tart with a sweet pastry crust and vanilla cream filling does the trick!
This tart is a labour intensive treat, but if you split up the work over a few days, it doesn't seem quite so daunting. The vanilla cream filling is essentially like the most luxurious vanilla pudding you've ever had, then there's the crisp shortbread-esque crust, and of course, the star of the show. This is the best thing I've made all summer!
Fresh Strawberry Tart
Source: Annie's Eats (substituting in strawberries for all other fruit, natch)
Ingredients
Sweet Pastry Crust
1 egg yolk
1 tbsp whipping cream
1/2 tsp vanilla
1 1/4 cups flour
2/3 icing sugar
1/4 tsp salt
1/2 cup (1 stick) butter, cold, cubed
Vanilla Cream Filling
5 egg yolks
2 tbsp sugar
3 tbsp cornstarch
2 cups 1/2 & 1/2 cream
6 tbsp sugar
pinch salt
1/4 cup (1/2 stick) butter, cold, cubed
1 1/2 tsp vanilla
+ fresh, delicious strawberries for topping
Directions
For the pastry, whisk together the egg yolk, cream and vanilla in a small bowl. Add the flour, sugar and salt to your food processor and pulse a few times to combine. Add the butter, and pulse until the mixture is crumbly and the butter is the size of peas. Add the egg/cream/vanilla mixtures and pulse until the dough comes together into a ball. At this point the original recipe wants you to chill the dough, then roll it out. This was a bust for moi, and I ended up just pressing the dough into the pan. Do that instead. Into a 9″ tart pan. Freeze for 30 minutes.

Preheat the oven to 375, remove the tart pan from the freezer, and line it with foil. Fill it with pie weights or dried beans, and bake for 30 minutes. Remove the foil and weights and bake for 5 more minutes until lightly golden brown. Let cool.
For the vanilla cream filling, whisk together the egg yolks and 2 tbsp sugar in a medium bowl until the sugar starts to dissolve. Add the cornstarch and whisk again until everything is creamy and combined.
In a medium saucepan over medium heat, heat the 1/2 & 1/2, 6 tbsp sugar, and salt until simmering, stirring occasionally. Add a splash to the egg mixture, and whisk until combined, and repeat a few more times (you're slowing bringing up the temperature of the egg mixture so you don't end up with scrambled eggs!), then add the rest of the cream mixture in a slow stream, whisking constantly. Pour all of the mixture back into the saucepan, and return to medium heat. Whisk constantly until the mixture thickens, like the consistency of pudding. Remove from heat and whisk in butter and vanilla.
Strain mixture through a fine mesh sieve into a clean bowl to remove any little bumps or lumps.  Place a piece of plastic wrap directly on top of the surface of the cream filling and chill for 2 hours or overnight.