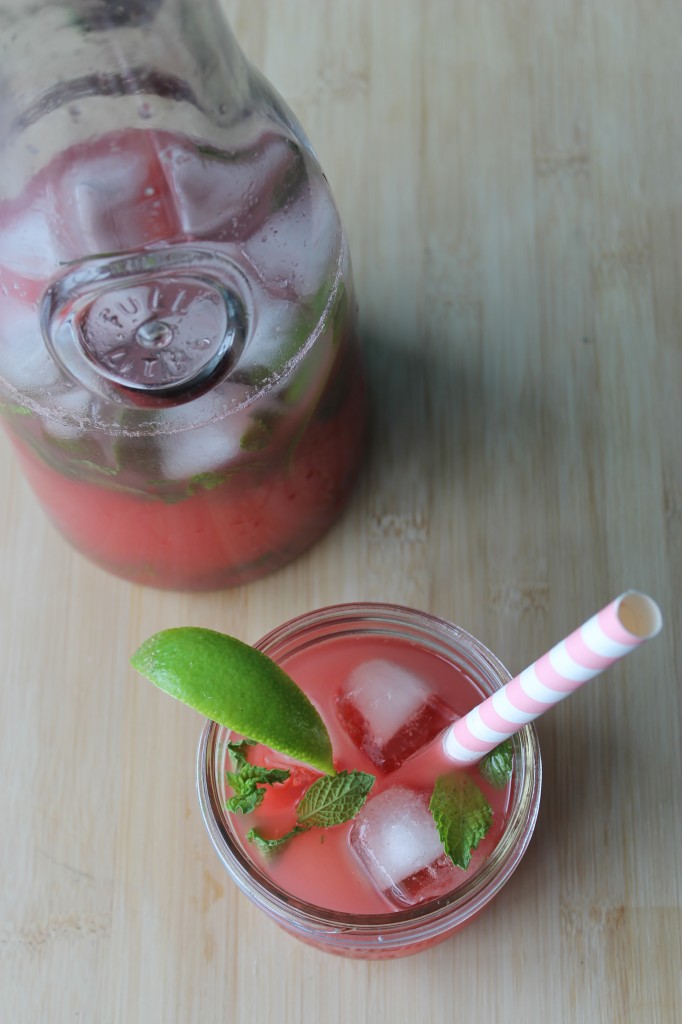 Do you need a palate cleanser after all that Strawberry Rhubarb goodness? I don't, because I can't get enough, but let's pause for the cause and have a delicious Watermelon Mojito. Here's what I had to say, as I "Hit Refreshment" for this latest Gastropost Mission:
My usual go-to summer refreshment is homemade watermelon lemonade, but I kicked it up a notch for this mission with a watermelon mojito instead. Lime & fresh mint muddled with a little bit of sugar, mixed with pureed, strained watermelon and rum. So easy, and so refreshing!
I'm usually a tequila girl when it comes to cocktails. Margaritas on the rocks are my jam. But I'm so into fresh mint this summer, so I went the mojito route here.  I've also used it in these salads annnnd I just googled Peach Mojito, so you see where this is going.
Watermelon Mojitos
Source: Everyday Food, July/August 2012
Ingredients
4 cups cubed watermelon
1 bunch mint, pluck off the leaves
1 tbsp sugar
1 lime, cut into wedges
1 1/4 cups white rum (you can adjust this according to how much of a Boozy Susan Rampage you'd like to go on)
Directions
First of all, puree that watermelon, then strain it to catch all the seeds and pulp. You should have about 3 cups of juice.

In a pitcher, add the mint, sugar and lime. With a pestle or a wooden spoon, muddle the mint and lime until the sugar dissolves.
Add watermelon and rum, and stir to combine. Add lots of ice. It's best to serve these right away, as the watermelon will start to separate as it sits.